To Purchase Concert Tickets

No need to make an additional table reservation -
it's already included with your concert tickets!!
---
New Shows Recently Added



3/10 Songwriters in the Round

3/11 School of Rock Cast Cabaret Showcase 

3/ 15 Moises Borges

3/21 Take 6

---
"Late Night at Nighttown" ** Every Week **
Fridays
Jackie Warren
on piano 10:30PM - 1:00AM No cover
Saturdays
Jackie Warren
on piano 10:30PM - 1:00AM No cover
Nighttown Newsletter


Click here to sign up for the Nighttown newsletter. Subscribers receive advance notice and discounts to many of the shows.
Nighttown
Tickets

and Seating Policy

To purchase tickets go here, Do not make an additional table reservation - it is already included with your purchased tickets. All seats are General Admission. All seating is based on the time that you arrive for the show and based on how many people are in your party and where we have tables of that size. You may be sharing a table with other people.

---
Nighttown Student Discount Policy
Students up to age 26 are 1/2 off the regular price. Student priced tickets are only available the night of the show, are available only at the door, and are subject to availability. Students must have a photo ID from a generally-recognized high school, college or university. Full-paying ticket holders get priority on admission and seating. Certain select shows have no discount based on arrangements with the artist. On evenings when there are two shows (i.e. shows at 7 & 9PM), the discount is only good for the second show. Students under the age of 18 must be accompanied by an adult paying full price in order to be eligible for the discount.
---

Grant Green Jr. featuring Donald Harrison & Mike Clark
$30.00
Thursday
2/28
8:00 pm
Buy Tickets
Friday
3/01
8:30 pm
Buy Tickets
Dynamic Soul Jazz Guitarist pays tribute to his legendary father Grant Green and explores the Evolution of Funk live at Nighttown!
Featuring: Grant Green Jr.-guitar & vocals, Donald Harrison-sax, and Mike Clark-drums
Grant Green Jr - As the son of legendary jazz guitarist Grant Green (1931-1979), Grant Green Jr. was exposed to exceptional musicianship right from the start. Growing up in Detroit, Grant enjoyed a constant parade of jazz greats streaming through his living room. His neighbors included Marvin Gaye, Stevie Wonder and Gladys Knight, members of the Four Tops and the Temptations. Miles Davis was known to join impromptu jam sessions in their home. Grant Green Jr. has released music as part of the Godfathers Of Groove (w/Bernard Purdie), and is often seen as part of Col. Bruce Hampton's band,
Donald Harrison - Emerging from the talent-laden New Orleans jazz scene in the 1980's along with Wynton Marsalis, Branford Marsalis, Harry Connick, Jr., and Terrence Blanchard, Donald Harrison has established himself as the preeminent alto saxophonist of the post-bop generation.
After recording and performance stint's with Art Blakey's Jazz Messengers, Ellis Marsalis, Roy Haynes, Jack McDuff, Larry Coryell, Eddie Palmeieri, Rahsaan Roland Kirk, Lenny White, and Tony Williams, Donald Harrison broke out with a number of trend setting albums in the late-80's that included fellow Jazz Messenger Terrence Blanchard.
Donald was the Music Director for the famous HBO series "Treme", and appeared in several of the episodes.
With dozens of albums under his belt, Donald has solidified his role as the leading alto sax player in jazz today
Mike Clark - Drum virtuoso and jazz musician Mike Clark gained worldwide recognition as one of America's foremost jazz and funk drummers while playing with Herbie Hancock and The Headhunters in the early seventies. His incisive playing on Hancock's "Actual Proof" garnered him an international cult following and influenced generations of drummers. His versatility led him to a two-year stint with Brand X, the British jazz/rock fusion band founded by Phil Collins. With them he recorded "Do They Hurt?" and "Product."
Mike is a co-leader with several other artists. "The Wolff and Clark Expedition 2," with pianist Michael Wolff, was considered one of Downbeat's Top 25 releases in 2016. Along with Delbert Bump, he released "Retro Report," an organ trio CD, in April 2018. He continues to tour with the Headhunters.
The Sacramento, CA native has recorded and toured with jazz greats Herbie Hancock, Christian McBride, Chet Baker, John Scofield, Nicholas Payton, Tony Bennett, Wayne Shorter, Joe Henderson, Eddie Henderson, Bobby Hutcherson, Vince Guaraldi, Woody Shaw, Donald Harrison, Albert King, Larry Coryell, Mike Wolff, Wallace Roney, Billy Childs, Jack Walrath, Jack Wilkins, Dr. Lonnie Smith, Chris Potter, Bobby McFerrin, Nat Adderly, Oscar Brown Jr., and the Gil Evans Orchestra.
https://ropeadope.com/grant-green-jr/
https://www.drummermikeclark.info/
Watch Video
---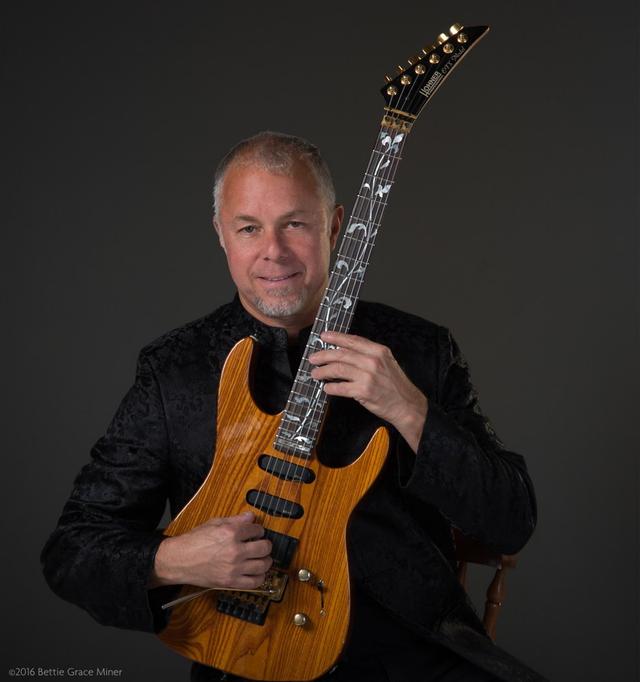 Special EFX featuring Chieli Minucci
$30.00
Saturday
3/02
7:00 pm
Buy Tickets
9:00 pm
Buy Tickets
Guitarist extraordinaire and Legendary Contemporary Jazz Group hit the stage at Nighttown! Playing music from their new CD "Deep as the Night" & more.
Featuring: Chieli Minucci-guitar, Lao Tizer-keyboards, Jerry Brooks-bass, & Tony Lewis-drums.
Guitarist, composer, and arranger Chieli Minucci is longtime leader of the Grammy-nominated jazz-fusion group SPECIAL EFX, featuring Chieli Minucci. A major force on the jazz and world music scene for 35 years, Chieli has recorded and released 31 CDs. "Deep as the Night", the title track from the band's 2017-18 CD was recently named the number one smooth jazz song for 2018 by Billboard Magazine. The music of Special EFX has been described as "accessible yet slightly experimental music that combined…smooth jazz, rock, and various African and Latin rhythms".

Besides writing and performing his own music, Chieli shares his guitar brilliance throughout the entertainment world. He has recorded and performed with many top artists, such as Celine Dion, Lou Reed, Lionel Richie, Jennifer Lopez, Jewel, Mark Anthony, Michael Bolton, Eartha Kitt, Eddie Fisher, Anastasia, as well as jazz artists Kirk Whalum, Jeff Lorber, Norman Brown, Bernie Williams, Marion Meadows, Lao Tizer, Mindi Abair, Rick Braun, Gerald Veasley, Omar Hakim, and many others. Although renowned in the jazz and pop world, Chieli is also a gifted television and film composer. He has won 3 Emmy Awards and been nominated 10 times for his eclectic compositional work. His music can also be heard on the soundtracks of the films Bowfinger, Legally Blonde, Panic, No Country For Old Men, and others. Chieli's original scoring work can be heard in live stage productions of Peter Pan, Dora the Explorer, Thomas the Tank Engine, and others.
Visit Website
Watch Video
---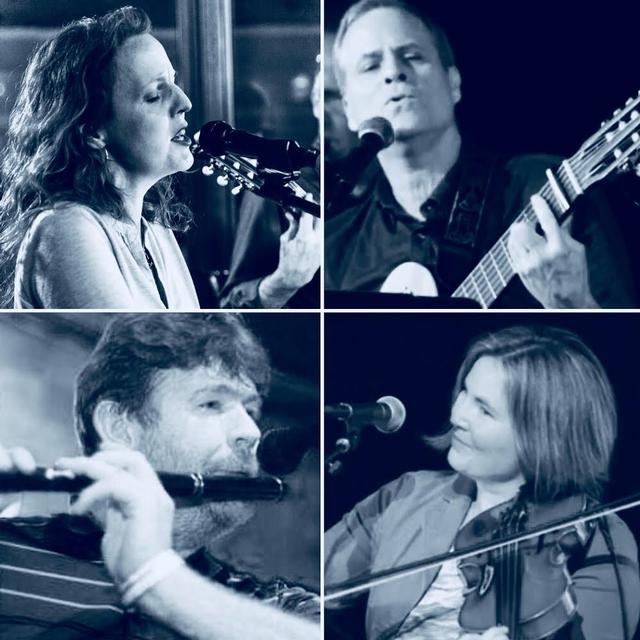 Webster, Carr, & Custy
$15.00
Sunday
3/03
7:00 pm
Buy Tickets
North Coast Folk, Pop, and more from Shaker Hts. Trio!
Featuring:
Laura Webster-vocals
Jim Carr-guitar & vocals
Nikki Custy-violin & vocals
Webster, Carr & Custy are excited to be back at Nighttown!
These seasoned musicians have delighted local audiences as solo artists, and as members of other area groups at concert venues and pubs, including numerous times here at Nighttown. All vocalists, the quartet includes Laura Webster and Jim Carr on guitar, Nikki Custy on fiddle and djembe, and Pat Custy on Irish flute. The quartet will be joined by Greg Coleman on percussion. Together they will perform a special evening of music from Ireland and the British Isles, from high energy traditional tunes to lyric acoustic ballads. Get your toes tapping for an entertaining evening of great music.
Visit Website
Watch Video
---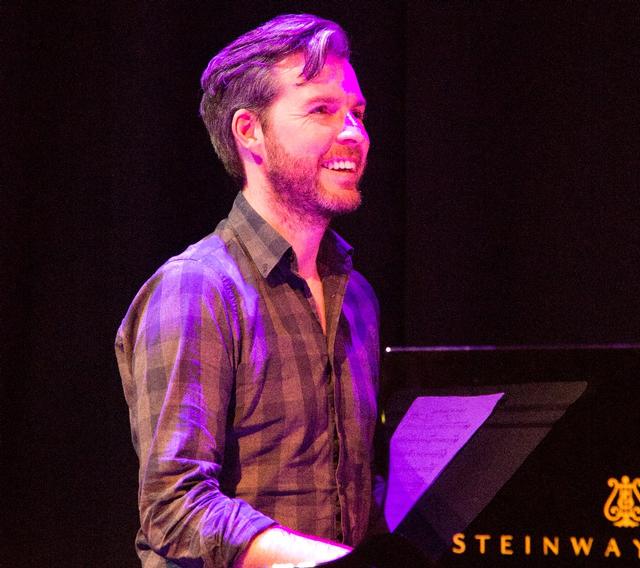 Gwilym Simcock
$20.00
Thursday
3/07
8:00 pm
Buy Tickets
From Wales, and England UK! Pianist extraordinaire from the Pat Metheny Group plays special Solo show at Nighttown!
While traveling the world as a member of Pat Metheny's quartet, British pianist Gwilym Simcock has used time away from the stage to compose pieces that have become his second solo album, Near and Now (ACT Music). He will give a series of solo concerts in the U.S. to debut the work as well as material yet to be recorded. Each piece in the album is dedicated to a fellow pianist – Billy Childs, Brad Mehldau, Russell Ferrante, Egberto Gismonti – and his first jazz teacher, Les Chisnall. Recorded in his home, the music has Simcock's signature sound of rich, modern harmony, driving rhythm, and melodic narrative. Near and Now follows his solo piano debut on ACT Music, the acclaimed Good Days at Schloss Elmau.
A virtuoso pianist and imaginative composer, Gwilym Simcock is a leading artist on the European music scene. Trained as a classical pianist from his youth, at the age of fourteen he turned his attention to jazz and composition, putting his musical foundation to work in a quest for a new and original sound. That his endeavor has borne fruit is confirmed by a myriad of awards, including the UK's Parliamentary Jazz Awards and the BBC Jazz Awards designation as "Jazz Musician of the Year." Moving effortlessly between classical and jazz forms, he has been described as reminiscent of Keith Jarrett, complete with "harmonic sophistication and subtle dovetailing of musical traditions." Pianist and composer Chick Corea called him "a creative genius."
The range of his work both as pianist and composer are testament to the depth of his musicianship. His solo performances include those recorded on the albums Blues Vignette (Basho) and Good Days at Schloss Elmau (ACT Music), the latter of which was nominated alongside albums by Adele and P.J. Harvey for the most prestigious music award in the UK, the Mercury Prize. His duos include those with such artists as violinist Thomas Gould, bassist Yuri Goloubev, and pianist Leszek Mozdzer; and he co-leads the Anglo-American quartet The Impossible Gentlemen. He has been commissioned to write new works for dancers, choirs, small ensembles, big bands and large orchestras and continues to be in demand as a composer and arranger. The LSO Percussion Ensemble commissioned him to write Quintet for Percussion and premiered it earlier this month. Germany's NDR Big Band has appointed him to be their first composer in residence and will premiere his Sawgrass Suite in May.
Among his newest fans is Pat Metheny, whose early albums were part of Simcock's inspiration to pursue jazz. While in a London radio station on a tour, a producer gave Metheny a copy of one of Simcock's albums and mentioned that Simcock had often remarked about the influence of Metheny's music. Metheny loved what he heard on the album and, in 2014, the two met up. What was planned for an hour or two became an entire afternoon of music making, and led to Simcock joining Metheny's quartet and touring worldwide.
Visit Website
Watch Video
---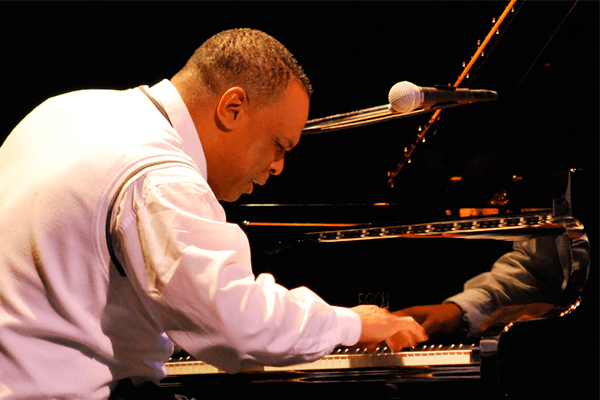 Chuchito Valdes
$30.00
Friday
3/08
8:30 pm
Buy Tickets
Saturday
3/09
8:30 pm
Buy Tickets
From Cuba! Piano virtuoso and his group heat up the cold winter with Hot Latin Jazz Live at Nighttown!
Featuring: Chuchito Valdes-piano, Sammy DeLeon-timbales, Jose 'Cheito' Hernandez-bass, & Rafael Guzman-percussion.
The hot sounds of Cuba's roots and modern jazz come alive in the explosive hands of pianist and six-time Latin Grammy nominee Chuchito Valdes. Son of Chucho Valdes, grandson of Bebo Valdes, Cuba's most beloved musical dynasty. Following in the footsteps of his famed father and grandfather, Chuchito continues the legacy of great piano players form Cuba.

With influences of Caribbean rhythms and jazz, Chuchito creates an exciting and energetic blend of spicy music that drives audiences wild. This piano master captivates with his sensitivity and drives excitement with his dynamic band.

Chuchito has recorded and performed piano with the world renown Cuban band, Irakere, which he led for two years. He has also performed at festivals, clubs and concerts throughout the world: from Cuba and the Caribbean to North America, South America, and Europe.

Chuchito is recognized as a master of Cuban music including Son, Danzon, Cuban Timba and Guaguanco. He has also extensively studied classical music including harmony and composition. His original compositions and arrangements draw on classical harmonic and structural techniques. In his performances, Chuchito's music draws on many styles including Afro-Cuban Latin Jazz, Bebop, Danzon, Cha-Cha-Cha, Son Montuno and much more. Chuchito Valdés currently resides in Cancun, Mexico and is a frequent performer in the United State and Canada.
Watch Video
---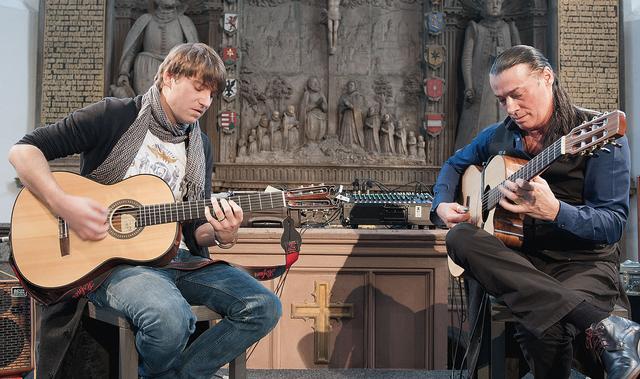 Lulo Reinhardt & Daniel Stelter
$20.00
Sunday
3/10
7:00 pm
Buy Tickets
Direct from Germany!
Gypsy Guitar Masters Lulo Reinhardt (Great Nephew of Django Reinhardt) & Daniel Stelter play the classics with a contemporary approach Live at Nighttown!
LULO REINHARDT & DANIEL STELTER are Germany's Gypsy Swing masters, two famed solo guitarists who have gone on to even greater
success as a duo. Whether playing a scorching lead or a cool rhythm, they bring new life to classics from Lulo's great uncle, Django
Reinhardt to Duke Ellington.
"In combination, the two are unbeatable, and one again and again is astonished at which sound colors the two purely acoustic instruments
elicit."
- Andreas Schiffmann / Musikreviews.de
Visit Website
Watch Video
---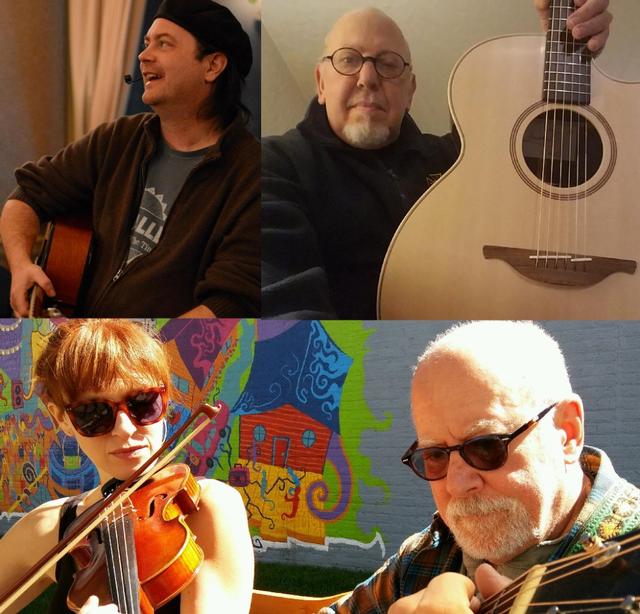 Songwriters in the Round - Benefit for Roots of American Music
$20.00
Sunday
3/10
7:00 pm
Buy Tickets
Singer/Songwriters tell stories and perform original material live on the Nighttown Stage!
Featuring: ?Charlie Mosbrook, Richard Shack (from the James Gang), Amanda Walsh & Rick Szekelyi (Bridgetown Junction).
Special Benefit Program for Roots of American Music (ROAM).
On Nighttown's Fully heated and covered Stephens Green Patio.
For over 25 years, Charlie Mosbrook has been performing original and traditional folk music. Based in Cleveland, he has played a significant role in promoting and preserving the folk music tradition. Locally this work is best recognized in the many open mics he has coordinated through the years as well as Folknet, an organization he currently serves as president. Nationally Charlie has presented many workshops and concerts on the life and legacy of Woody Guthrie. Charlie also serves as the Folk Alliance Region Midwest Conference workshop coordinator.
Charlie has been recognized by FolkAlley.com as its featured artist of the month in 2012, was voted the best singer songwriter in a Scene Magazine Best of Cleveland readers poll. His last two CDs are current nominees for the best traditional folk album by Just Plain Folks music awards.
Richard Shack, an accomplished guitarist, has been performing and recording for over 30 years. The founding member of The Case of E.T. Hooley, Richard has recorded with the legendary "Swamp Blues" artist Slim Harpo. Richard also played with "Jump Blues" artist Jimmy Witherspoon and recorded with the hard-edged, power pop/rock band Uncle Tom on United Artists label. Perhaps most notably, here in Cleveland, Richard was a member of The James Gang, recording with the group on the ATCO label.
While still rocking, a few years ago Richard turned his focus on songwriting. His style is Americana with a particular bent towards the reminiscent soul of Sonny Terry and Brownie McGhee.
Amanda Walsh has been playing piano and violin since she was seven years old. Her training began with Anita Pontremoli, Head of Collaborative Piano at The Cleveland Institute of Music. In 1998, she graduated with a Bachelor of Music in piano performance from The University of Cincinnati College-Conservatory of Music. In her late 20s, she discovered a passion for songwriting, combining her love of fiction and poetry with her love of unpredictable chord changes and dreamy piano passages. Her influences include Claude Debussy, Paul Simon, Joni Mitchell, and Nina Simone. She recently released her first solo album entitled "Magic is Real," which debuted at Nighttown.
Rick Szekelyi first picked up a guitar at the age of eight and performed in various bands during his teens and throughout college, but gave it up for family and career in his mid 20s. Since turning 60, his interest in music and songwriting has reemerged. He has had the opportunity to work with a number of songwriters including Steve Earle, Beth Nielsen Chapman, Mary Gauthier, David Wilcox, Jonatha Brooke, and Don Henry. While influenced by the likes of Townes Van Zandt , Guy Clark and Kris Kristofferson, Rick's music also captures sounds from days gone by, ethnic flavorings and other cultural sounds.
---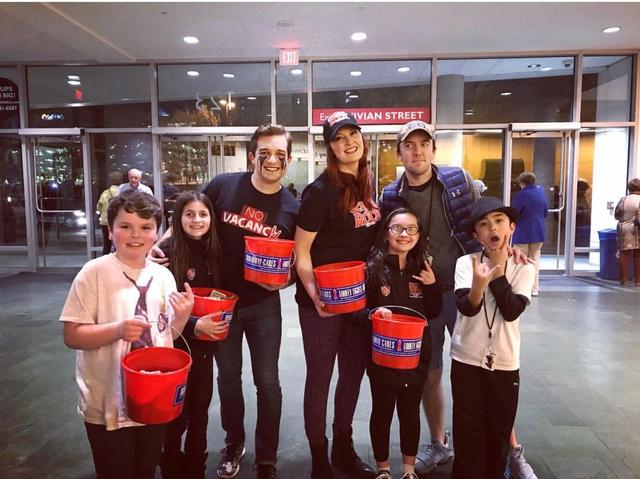 School of Rock Cast Cabaret Showcase
$20.00
Monday
3/11
7:00 pm
Buy Tickets
Cast of Touring Andrew Lloyd Weber Hit Broadway Musical in Special Benefit Cabaret Program Live at Nighttown!
Proceeds will Support Broadway Cares Equity Fights AIDS.
Cast members age 9 to Adult present Rock and multiple Genres with Full Band!
Join the touring cast of the Andrew Lloyd Webber hit Broadway musical "School of Rock" for a night of classics, jazz standards, familiar musical theatre tunes, and of course rock and roll! The night is a benefit for Broadway Cares Equity Fights AIDS. The company ages 9 to adult will be providing quality entertainment with sensational vocals, piano, electric guitar, drums, and more! With a lineup that spans all genres of music, there's bound to be something for everyone! Come rock out with the cast of a Broaday tour while supporting a great cause!
Visit Website
---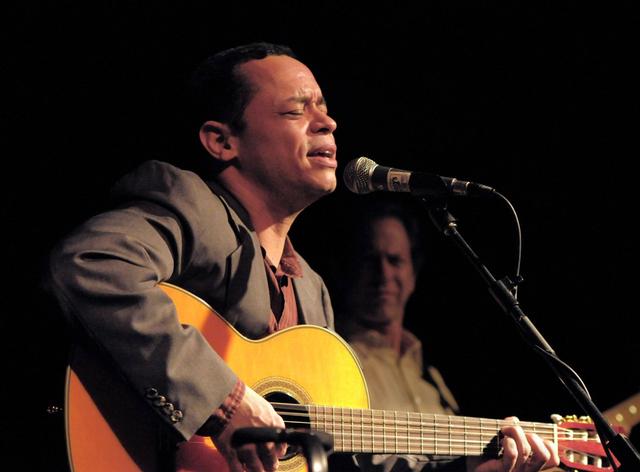 Moises Borges
$15.00
Friday
3/15
9:00 pm
Buy Tickets
Brazilian Vocalist & Guitarist plays Bossa Nova, Samba, and More in a Special International Show!
On Nighttown's intimate all weather and fully covered Secret Garden Patio. Limited Seating!
Moises Borges a native of Brazil now living in Cleveland has become a prolific performer one the Northeast Ohio scene in recent years. A gifted vocalist and guitarist, Borges plays in the Bossa Nova tradition interpreting classics by Jobim, Gilberto, and many others. This far away from his native Brazil the music of his homeland is very much alive when he is on stage.
Visit Website
Watch Video
---




St Patrick's Day with The New Barleycorn


$25.00


Sunday

3/17


1:00 pm

Buy Tickets
5:00 pm

SOLD OUT


8:00 pm

Buy Tickets

Celebrate St. Patrick's Day at Nightown with Irish Music Masters The New Barleycorn!
The place to be for St Patrick's Day!!.
Both Alec and John were born and raised in Ireland in counties Dublin and Down where they learned to play music at an early age, they have both performed professionally since their teenage years both enjoying considerable success with their respective careers.
John Delaney a founding member of the internationally acclaimed Irish group 'Barleycorn', joined forces with Alec DeGabriele nine years ago to form 'The New Barleycorn', after the other finished a 24 year run ending in 1995. John plays, 5 string and tenor banjos, mandolin, guitar, whistle and bodhran. He also has played banjo on many other Irish artists' recordings.
Alec DeGabriele spent his formative years learning the business of music, theatre and entertaining with his families traveling theatrical show, 'The Shannon Players', which was well known and highly regarded throughout Ireland. Alec plays guitar and bass and was the band leader with a top Irish Show Band for some years before deciding to come to live in the U.S.A.
Don't miss St Patrick's Day at Nighttown!!
Visit Website
Watch Video
---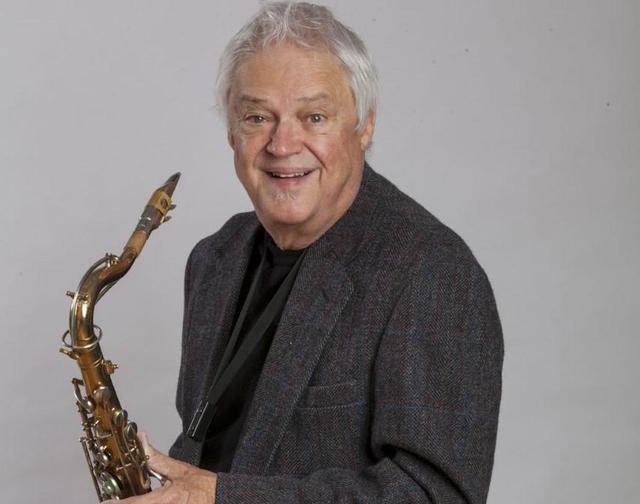 John Richmond Quintet "Celebrating Duke Ellington"
$10.00
Tuesday
3/19
7:00 pm
Buy Tickets
Dynamic North Coast Sax & Clarinet player pays Tribute to Jazz Legend Duke Ellington on the 120th Anniversary of his birth Live at Nighttown!
Featuring: John Richmond-clarinet/sax, Dave Kosmyna-trumpet, George Foley-piano, George Lee-acoustic bass, & Sunny Tabler-drums.
Also featuring Vintage Film Clips of Duke Ellington & Orchestra from personal collection of John Richmond.
This year marks the 120th anniversary of the birth of Edward Kennedy "Duke" Ellington, who remains the most influential jazz composer, arranger and bandleader of all time. Nighttown is celebrating by presenting Ellington authority John Richmond leading a five-piece band performing well known Ellington classics, and many that swing so hard or are so lyrical that they deserve to be better known. The program will also include choice film footage covering many decades of Ellington's career. In just a couple of weeks after the Nighttown show, Richmond will perform the program at the Toulouse Jazz Festival in France.
A great treat will be the presence of crack trumpet player Dave Kosmyna. Dave is a professor of trumpet, music theory, composition and jazz band at Ohio Northern University, but most importantly he is one of the most swinging trumpet players you will ever hear. Dave is a regular member of Toledo's Cakewalking Jazz Band, records with the Climax Jazz Band of Toronto, and has performed with the famous New Orleans Rascals of Osaka Japan. He has also been the principal soloist with several symphony orchestras and has recorded classical music on TELARC records.
Rounding out the band is George Foley on piano, George Lee on bass and Sunceray Tabler on drums. Lee and Tabler have recorded with French Boogie Woogie pianist Philippe LeJeune, and recently performed with him here at Nighttown.

---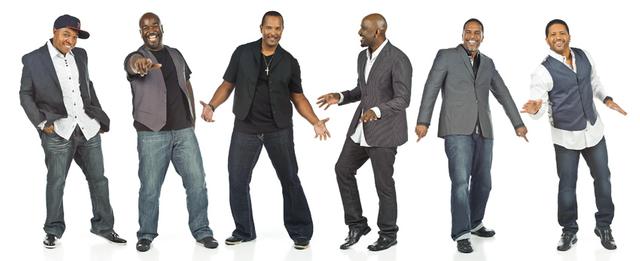 Take 6
$80.00
Thursday
3/21
7:00 pm
Buy Tickets
9:00 pm
Buy Tickets
Legendary A Cappella Vocal Group Live on the Nighttown Stage for 2 Big Shows!
Rare Club Appearance!
The most awarded a cappella group in history, heralded by Quincy Jones as the "Baddest vocal cats on the planet!" are the quintessential a cappella model for vocal genius.
With 10 Grammy Awards, 10 Dove Awards, 2 NAACP Image Awards, a Soul Train Award, and more, Take 6 (Claude McKnight, Mark Kibble, Joel Kibble, Dave Thomas, Alvin Chea and Khristian Dentley) continues to bring extraordinary vocals to their worldwide audiences. April 2018 marks the release of their sixteenth album, aptly titled ICONIC (SRG/Universal) and the debut of a PBS special, The Summit, alongside The Manhattan Transfer.
The new recording, ICONIC, is composed of the songs the sextet loves to perform both on stage and for the pure joy of lending their voices to songs that have taken on a greater meaning to them and to their audiences over their career of nearly four decades. These eclectic tunes pay tribute to both the music and the artists that made them famous, from a fun and vocally significant cover of Justin Timberlake's Can't Stop the Feeling, a unique and harmonic interpretation of Christopher Cross' Sailing, Khristian's melodic and memorable vocal on Norah Jones' Don't Know Why to a jazz cover that the Beatles would surely be pleased with of Got To Get You Into My Life. They pay homage to their friend Al Jarreau, with their rendition of Roof Garden, and are true to their gospel roots with the hymn Nothing But the Blood. Change The World (Eric Clapton), the first single, was the most-added tune in Smooth Jazz upon its release. Take 6's last release, in 2016, Believe (SRG/Universal) landed on six Billboard charts simultaneously.
Take 6 has admirably and adeptly crossed most musical genres, from straight-ahead Jazz to Pop to adult R&B, doo wop to blues. Like a fine-tuned vocal orchestra (Alvin, bass; Khristian, baritone; Claude, Mark and Joel, tenors), the group continues to push the boundaries of creativity and musical genius with every new release, and with their ever-evolving live performances.
Any singer who aspires for vocal excellence cannot overlook the contributions these men have made to music. Take 6 has performed with and won praise from such luminaries as Stevie Wonder, Brian Wilson, Ben E. King, Ladysmith Black Mambazo, Al Jarreau, Ella Fitzgerald, Ray Charles, and Whitney Houston, to name a very few.
Some of the honors Take 6 has enjoyed over the past few years include being chosen as the first musical group to perform in Cuba at the normalization of relations between our two countries, and their induction into The Gospel Music Hall of Fame.
Visit Website
Watch Video
---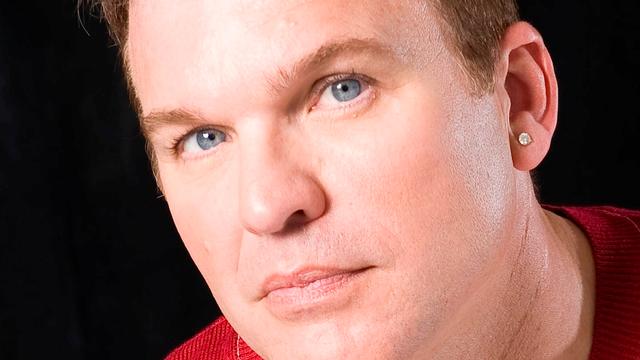 Dane Vannatter
$20.00
Saturday
3/23
8:30 pm
Buy Tickets
Dynamic Jazz Vocalist and recent arrival in Cleveland back by Popular Demand with his Quartet!
Dane Vannatter-vocals, Max Leake-piano, James Moore-trumpet, Brent Hamker-guitar, Demetrius Steinmetz-bass, & Ricky Exton-drums.
Dane Vannatter has received Bistro awards for Outstanding Vocalist and for his second recording Flight by the critics of BackStage in New York. Dane has been acclaimed by reviewers at The New York Post, The Boston Globe, and BackStage for a style that "blends facets of cabaret and jazz with intelligence and care."
The Boston Globe remarks "Dane Vannatter's distinctive style leaves an imprint on whatever music he sings. His voice has a floating quality that gets in your head and won't leave….his music is a swinging, soaring adventure!" He has been nominated for 4 MAC awards and is a Nightlife Award finalist.
Dane has performed for several years at the annual Mabel Mercer Cabaret Convention in New York. In Pittsburgh, Dane has performed for First Fridays at the Frick, and sings regularly at Fairmont Hotel's Jazz at Andy's and James Street Gastropub & Speakeasy. On July 31, 2015 Dane was called to the stage by Patti LaBelle during her concert in Columbus, Ohio. After hearing Dane sing and inviting him to duet on her classic "Lady Marmalade" Patti exclaimed "You better sing, fool. My God!."
Dane released his 4th CD Give Me Something Real in 2016 to much critical acclaim
Visit Website
Watch Video
---

"Gentlemen of the Piano" w/David Thomas, Cliff Habian, & Theron Brown
$20.00
Sunday
3/24
7:00 pm
Buy Tickets
North Coast Piano Masters take the Stage Live at Nighttown!
Featuring: David Thomas-piano, Cliff Habian-piano, Theron Brown-piano, Eli Heath-bass, & Sunny Tabler-drums.
Presented in Association with Quad City Productions.
The piano is a sweet and melodic instrument. Especially when play by individuals have mastered their craft. Dave Thomas, Cliff Habian and Theron Brown are the featured pianists for Gentlemen of the Piano. The three of them are distinguished and highly recognized. Each will be bringing his ideas about the purity of the compositions on the program. Rounding out the musical lineup will be drummer Sunceray (Sunny) Tabler and bassist Eli Heath. The audience will see them perform in various alignments throughout the evening.
---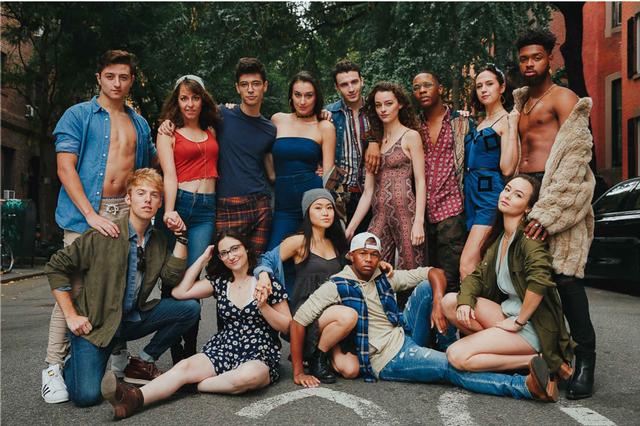 Baldwin Wallace Musical Theatre Program
$10.00
Monday
3/25
7:00 pm
Buy Tickets
Next Generation of Broadway Stars hit the Stage at Nighttown!
Music theatre seniors will preview their 54 Below Concert, which will later kick off their Senior Showcase week at New York's hottest supper club in April.
From lead roles on Broadway and London's West End to prime time television, film and more, students and alumni from Baldwin Wallace's music theatre program have garnered top acclaim for more than 20 years and was most recently ranked as the number 1 Music Theatre program in the country by onstageblog.com! Program director Victoria Bussert continues to lead students to successful careers.
Watch Video
---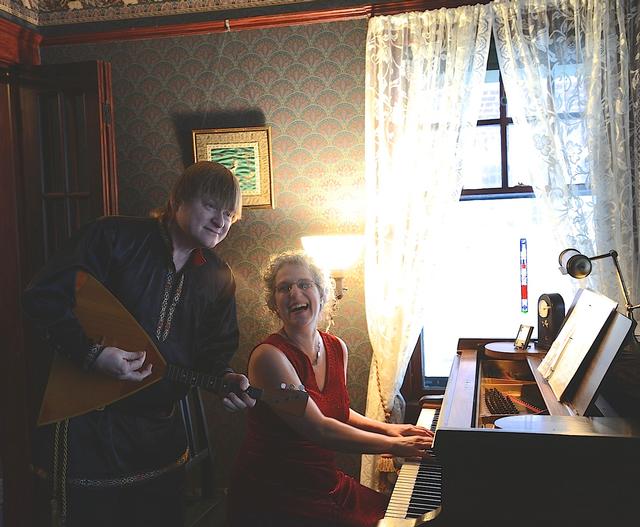 Russian Duo
$20.00
Thursday
3/28
7:30 pm
Buy Tickets
Traditional Tunes, Classical Elegance
Featuring: Oleg Kruglyakov-balalaika & vocals, & Terry Boyarsky-piano.
From Russian roots to classical favorites, from vocals to ragtime, the Russian Duo is a magical collaboration between virtuoso balalaika and concert piano, creating a vibrant, cross-cultural musical experience.
Russian Duo is an international project born out of a love of traditional music and classical elegance. Oleg Kruglyakov is a balalaika virtuoso from Siberia and Terry Boyarsky is an American concert pianist with Russian heritage. They have joined forces to perform exuberant, compelling, magical concerts.
The Duo takes audiences on a journey across the span of Russian culture, ranging from humorous pieces, elaborate sets of variations, pulsating dance music, rhythmic folk songs, gypsy melodies, and lyrical romances. In addition, their program combines the diverse flavors of traditional Russian folk songs, chamber music classics and unique transcriptions of favorites from around the world.
Oleg Kruglyakov was born in Omsk City, Siberia, Russia. Educated at the renowned Ekaterinburg Conservatory in conducting, balalaika performance and ethnic singing, he performed as balalaika soloist with many Folk Russian groups, touring throughout Russia, Siberia, Ukraine, France, Belgium, Denmark, Germany, Malta and Turkmenistan.
Terry Boyarsky has been performing chamber music for almost 50 years and is an internationally recognized educator in music and movement. She has collaborated with instrumentalists, singers and dancers across the United States, Canada, France, Switzerland, Thailand, and Venezuela.
Don't miss the dynamic world sounds of Russian Duo live at Nighttown.
Visit Website
Watch Video
---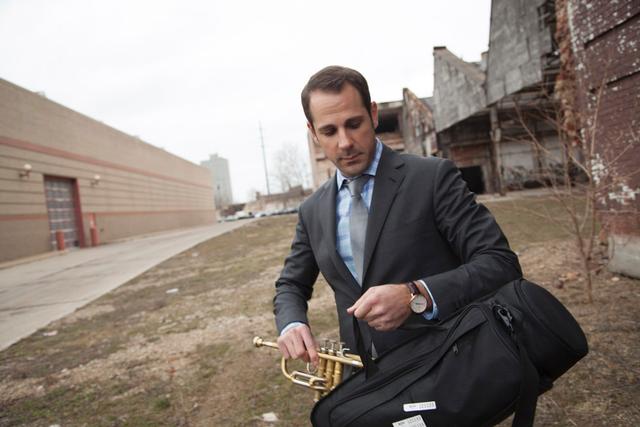 Dominick Farinacci - "Spirit of the Groove"
$20.00
Sunday
3/31
7:00 pm
Buy Tickets
Rising Trumpet Star with All-Star & Next Generation Lineup for Special Spring Show at Nighttown!
Trumpeter Dominick Farinacci has been recently credited the title Global Ambassador to Jazz at Lincoln Center by Wynton Marsalis, working to further integrate jazz into communities around the world. He graduated from The Juilliard School in 2005 launching his career in Japan with a prolific run of eight albums, later releasing two more globally. He has performed in more than 120 cities in 14 countries around the world, was a featured guest on ABC's Good Morning America, and is a TED Speaker. Music icon Quincy Jones says of Dominick's accomplishments in performance, recording, education & advocacy, "This kid is 360 degrees!"
His most recent recording "Short Stories" is produced by Tommy LiPuma. This is Tommy & Dominick's first collaboration, and was recorded in their hometown of Cleveland at the Gill and Tommy LiPuma Center for Creative Arts.
In addition to touring around the world with his band, Dominick has been successful in his personal endeavors on bringing music into the community through Arts and Wellness & Education. He was invited by TED to be a TED Speaker at the 2014 TED MED conference at the Kennedy Center in Washington, DC.
Watch Video
---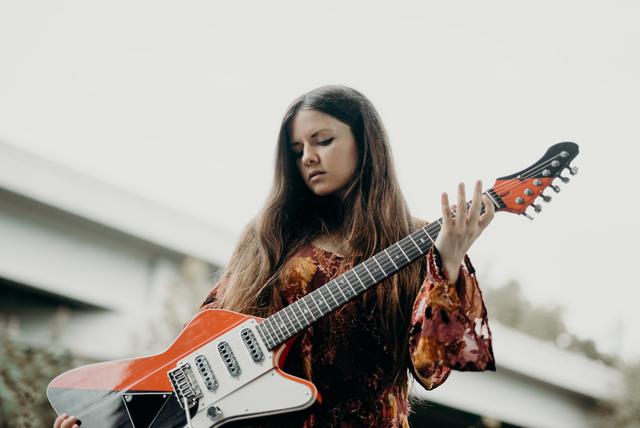 Arielle
$15.00
Saturday
4/06
8:30 pm
Buy Tickets
Rapidly rising Guitarist and Singer/Songwriter from Nashville/LA makes Cleveland debut at Nighttown!
Arielle is considered a music industry triple threat because she could enjoy an impressive career solely as a singer, songwriter or guitar player, but she has combined all three of those gifts to create a unique artistry that defies genres and borders.
She recently opened for Eric Johnson on his 3-month long tour earlier this year, as well as played and/or opened for Vince Gill, Gregg Allman, Heart, Joan Jett, Country Joe McDonald, Eric Johnson, Paul Gilbert, Andy Timmons, and many more. She has already made the cover of Guitar Player magazine and released the single "California," which reached No. 3 on CMT Pure Charts.
She is the guitar player for Avery in the TV show Nashville, where she currently resides. Her voice gains comparison to Karen Carpenter and Eva Cassidy for the purity with a fouroctave range.
Arielle has an associate degree from the Musician's Institute in L.A. and studied at London's Institute of Contemporary Music Performance. Queen's Brian May created a guitar role specifically for her in the West End musical We Will Rock You. She also played guitar on tour with Cee Lo Green.
Her most recent release, 'My Gypsy Heart,' her classic folk rock release debuted for 8 weeks on the Billboard Charts in 11 different categories.
Arielle is also a dolphin and whale activist, and is currently working on a unique guitar line, based off her custom prototype, Two-Tone, with Brian May (Queen). Whether it's her guitar playing or singing, she never feels the need to show off. Indeed, she adheres to the philosophy that less can be more when it comes to expressing experiences through her songs. "The hardships and the insecurities are the reasons why I'm able to be vulnerable and real" she says.

Visit Website
Watch Video

Planning a
reception,

wedding,

b

usiness
meeting,
graduation, birthday or B'nai Mitzvah?


. . . . . . . . .think Nighttown!

We give you the best package in town at a price that won't break the bank. And everything is included at no extra charge. Our experience is as accommodating as our atmosphere. Private function spaces from 20 - 150. Valet parking available.
To book your party, call Brendan Ring directly at

216-952-9133
Nighttown uses Yamaha Pianos exclusively


For more information about the

Yamaha C-7

,
The New

Avant

Grand Piano or any of the Yamaha pianos,
Please contact Mattlin-Hyde at (440) 449-6180
Nighttown drums provided by




www.fortunedrums.com
Nighttown/JWP graphic designer
Kathy Kelly
216-941-5439



Gerry Paluck RPT

Registered Piano Tuner/Technician

(216) 346-9308
www.gerrythetuner.com
12387 Cedar Road (top of Cedar Hill)
Cleveland Heights, OH
216-795-0550
No need to make an additional table reservation -
it's already included with your concert tickets!!
www.nighttowncleveland.com
Map to
N
ight
t
own
Producers of All the Great Music at Nighttown
Call us for Music for your Private Event
216-721-5624 jwadsworth@aol.com
www.jwpagency.com

To Purchase Concert Tickets

No need to make an additional table reservation -
it's already included with your concert tickets!!




"Late Night at Nighttown"
Fridays Jackie Warren on piano 10:30PM - 1:00AM No cover
Saturdays Jackie Warren on piano 10:30PM - 1:00AM No cover






Thursday & Friday, Feb. 28 & March 1 Grant Green Jr. featuring Donald Harrison & Mike Clark 8pm Thurs, 8:30pm Friday $30.
Dynamic Soul Jazz Guitarist pays tribute to his legendary father Grant Green and explores the Evolution of Funk live at Nighttown!
Featuring: Grant Green Jr.-guitar & vocals, Donald Harrison-sax, Mike Clark-drums, & Jerry Z-organ.



Saturday, March 2 Special EFX featuring Chieli Minucci 7 & 9 PM $30.
Guitarist extraordinaire and Legendary Contemporary Jazz Group hit the stage at Nighttown! Playing music from their CD "Deep as the Night" & more!.
Featuring: Chieli Minucci-guitar, Lao Tizer-keyboards, Jerry Brooks-bass, & Tony Lewis-drums.



Sunday, March 3 Webster, Carr, & Custy, 7 PM $15.
North Coast Folk, Pop, and more from Shaker Hts. Trio!
Featuring:
Laura Webster-vocals
Jim Carr-guitar & vocals
Nikki Custy-violin & vocals



Thursday, March 7 Gwilym Simcock 8 PM $20.
From Wales, and England UK! Pianist extraordinaire from the Pat Metheny Group plays special Solo show at Nighttown!



Friday, & Saturday, March 8 & 9 Chuchito Valdes 8:30 PM $30.
From Cuba! Piano virtuoso and his group heat up the cold winter with Hot Latin Jazz Live at Nighttown!
Featuring: Chuchito Valdes-piano, Sammy DeLeon-timbales, Jose 'Cheito' Hernandez-bass, & Rafael Guzman-percussion.



Sunday, March 10 Lulo Reinhardt & Daniel Stelter 7 PM $20
Direct from Germany!
Gypsy Guitar Masters Lulo Reinhardt (Great Nephew of Django Reinhardt) & Daniel Stelter play the classics with a contemporary approach Live at Nighttown!



Tuesday, March 19 John Richmond Quintet "Celebrating Duke Ellington" 7 PM $10.
Dynamic North Coast Sax & Clarinet player pays Tribute to Jazz Legend Duke Ellington on the 120th Anniversary of his birth Live at Nighttown!
Featuring: John Richmond-clarinet/sax, Dave Kosmyna-trumpet, George Foley-piano, George Lee-acoustic bass, & Sunny Tabler-drums.
Also featuring Vintage Film Clips of Duke Ellington & Orchestra from personal collection of John Richmond.



Thursday March 21 Take 6 7 & 9 PM $80.
Legendary A Cappella Vocal Group Live on the Nighttown Stage for 2 Big Shows!
Rare Club Appearance!



Saturday, March 23 Dane Vannatter 8:30 PM $20.
Dynamic Jazz Vocalist and recent arrival in Cleveland back by Popular Demand with his Quartet!
Dane Vannatter-vocals, Max Leake-piano, James Moore-trumpet, Brent Hamker-guitar, Demetrius Steinmetz-bass, & Ricky Exton-drums.



Sunday, March 24 "Gentlemen of the Piano" w/David Thomas, Cliff Habian, & Theron Brown 7 PM $20.
North Coast Piano Masters take the Stage Live at Nighttown!
Featuring: David Thomas-piano, Cliff Habian-piano, Theron Brown-piano, Eli Heath-bass, & Sunny Tabler-drums.
Presented in Association with Quad City Productions.



Monday, March 25 Baldwin Wallace Musical Theater Program 7 PM $10.
Next Generation of Broadway Stars hit the Stage at Nighttown!



Thursday, March 28 Russian Duo 7:30 PM $20.
Russian Folk Music, Romances, Dances, Classical Music, Gypsy Melodies, Russian Songs.
Featuring: Oleg Kruglyakov-balalaika & vocals, & Terry Boyarsky-piano.



Sunday, March 31 Dominick Farinacci - "Spirit of the Groove" 7 PM $20.
Rising Trumpet Star with All-Star & Next Generation Lineup for Special Spring Show at Nighttown!



Saturday, April 6 Arielle 8:30 PM $15.
Rapidly rising Guitarist and Singer/Songwriter from Nashville/LA makes Cleveland debut at Nighttown!


###