To Purchase Concert Tickets

No need to make an additional table reservation -
it's already included with your concert tickets!!
---
New Shows Recently Added





7/06 Kristina Koller

7/15 Dred Scott Trio + Tom Scott

7/17 The Four Freshmen

7/18 & 7/19 Phil Keaggy

7/20 Sam Hooper

7/21 Lou Armagno "Sinatra Selects"

7/22 "Beautiful Sisters 2" w/Shirley Cook & Theresa Haney

International Music Festival at Nighttown

7/27 Matt Baker Trio & Oscar Stenmark Trio

7/28 Diego Figueiredo & Chiara Izzi

7/29 Randy Shane & Daniel Bruce "Tribute To George Michael"

7/30 Seth Johnson Trio

8/03 Andre Cavor & The Cavor Project

8/04 Travis 'Moonchild' Haddix

8/05 Cliff Habian

8/06 & 8/07 Peter Asher & Jeremy Clyde







---
Nighttown Selected as Best Jazz Club and Best Blues Club in Scene Magazine Reader's Poll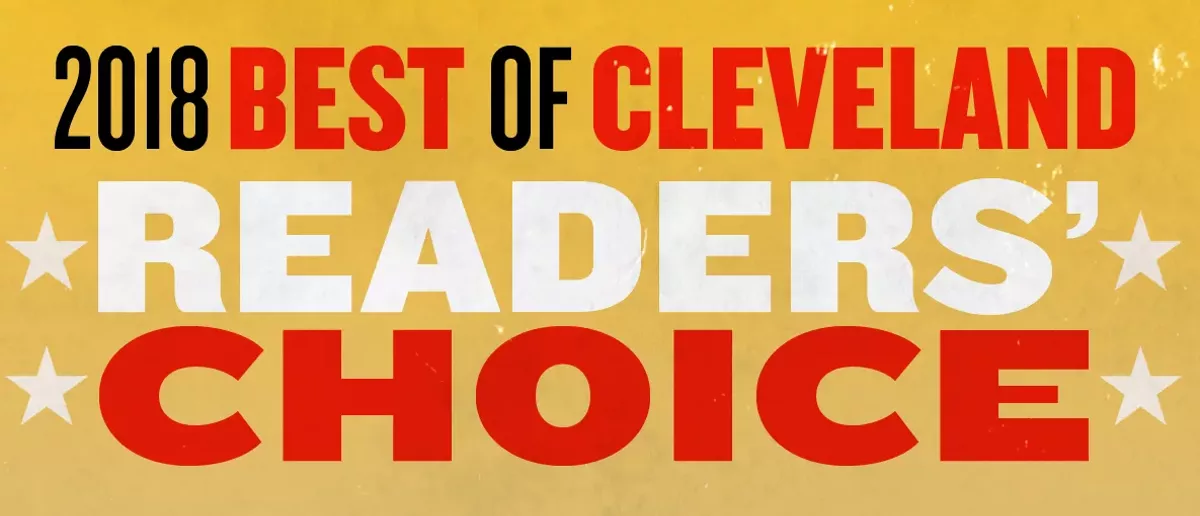 Thank you for selecting us as your favorite place for jazz and blues in NE Ohio. We work hard to bring you amazing international artists, and the best of NE Ohio artists, in an acoustically perfect room, with fantastic food, and a warm atmosphere. Everyone at Nighttown is working hard and committed to briningg you a great place to enjoy music, food, family and friends. Thank you to the people who voted, and to Scene Magazine.
---
"Late Night at Nighttown" ** Every Week **

Fridays
Jackie Warren
on piano 10:30PM - 1:00AM No cover
Saturdays
Jackie Warren
on piano 10:30PM - 1:00AM No cover
Nighttown Newsletter


Click here to sign up for the Nighttown newsletter. Subscribers receive advance notice and discounts to many of the shows.
Nighttown
Tickets

and Seating Policy

To purchase tickets go here, Do not make an additional table reservation - it is already included with your purchased tickets. All seats are General Admission. All seating is based on the time that you arrive for the show and based on how many people are in your party and where we have tables of that size. You may be sharing a table with other people.

---
Nighttown Student Discount Policy
Students up to age 26 are 1/2 off the regular price. Student priced tickets are only available the night of the show, are available only at the door, and are subject to availability. Students must have a photo ID from a generally-recognized high school, college or university. Full-paying ticket holders get priority on admission and seating. Certain select shows have no discount based on arrangements with the artist. On evenings when there are two shows (i.e. shows at 7 & 9PM), the discount is only good for the second show. Students under the age of 18 must be accompanied by an adult paying full price in order to be eligible for the discount.
---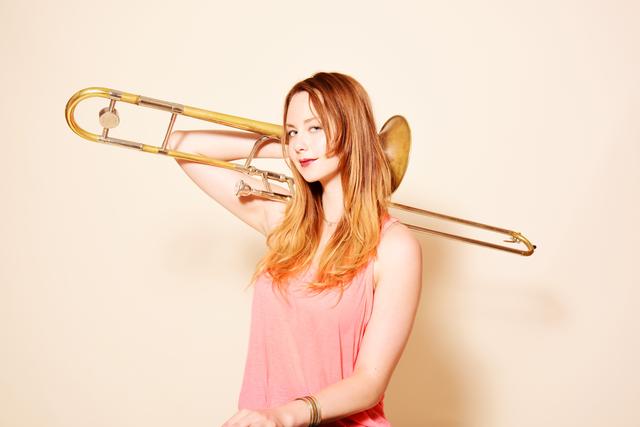 Natalie Cressman
$15.00
Thursday
6/28
8:00 pm
Buy Tickets
Vocalist @ trombonist extraordinaire from Trey Anastasio's Group hits the stage at Nighttown with her top flight East Coast Quintet!
Featuring: Natalie Cressman-trombone & vocals, James Casey-sax & vocals, Mike Bono-guitar, Scott Thompson-bass, & Michael Mitchell-drums.
Possessing a voice as cool and crystalline as an Alpine stream, Natalie Cressman is a rising singer/songwriter and trombonist who draws inspiration from a vast array of deep and powerful musical currents. Her new EP five-song EP Traces reveals her latest evolution, a sleek and sensuous electronica-laced sound with even a trace or two of dance floor sweat.
Steadily evolving in many directions, the 25-yearold Cressman has already put down deep roots in several overlapping scenes. A prodigiously talented New York City-based trombonist, she's spent the past seven years touring the jam band circuit as a horn player and vocalist with Phish's Trey Anastasio (and recently played with Phish at Madison Square Garden). Deeply versed in Latin jazz, post-bop, pop, and Brazilian music, she tapped the interlaced traditions on her first two solo albums, 2012's Unfolding and 2014's Turn the Sea.
The Traces EP follows on the heels of 2016's Etchings in Amber, a gorgeous duo album with guitarist Mike Bono that introduced Cressman as a formidable musical force without her horn. While the project focuses on songs featuring lyrics she wrote for several Bono compositions, Cressman also wrote words and music for three of her songs, contributing to the atmospheric suite of jazz-inflected, genre-bending tunes.
With Traces, Cressman expands her creative reach into post-production, meticulously crafting Soundscaped tracks. Her vocal work in increasingly intimate and rhythmically insinuating settings has revealed an artist who can thrive in any setting, from raucous, reverberant halls to packed and pulsing lofts and nightclubs. In an epoch marked by infinite musical possibilities, Natalie Cressman is a singular force who draws from an improbable breadth of sonic realms. Cressman is an artist endorser for King Trombones.
Visit Website
Watch Video
---
Halie Loren
$20.00
Friday
6/29
8:30 pm
Buy Tickets
Rising Vocal Star from Eugene, OR and Alaska and her group make Cleveland debut live at Nighttown! CD Release Event!!
Authenticity and connection have been essential roots of the artistic growth of Halie Loren. Whether injecting the American Songbook with old-school soul, or finding a familiar thread of nostalgia in newly-penned originals, the Alaskan-born, award-winning singer/songwriter continues to find new ways to bridge cultures and musical genres.
Halie Loren is truly an international artist. Like her multi-lingual recordings that transcend cultural borders, her art transcends musical genres via a common thread that weaves a rich tapestry. That tapestry connects her original works with pop-smart jazz, flowing into blues, soul and contemporary compositions that are universal, yet deeply personal.
"For the past few years, I have felt more and more drawn to the idea of putting my songwriter self out there in a much bigger way, as a 100% personal form of expression," explains Loren. "When I write, it's all about the story and the feelings behind it, but never about the particular style in which it takes shape."
The result is art in an eclectic form, with soulful compositions reflecting wounded defiance, stubborn love and hard-earned hopefulness. Her voice connects to the soul of her song writing, reminding us that there is always beauty to be found, even in the most painful experiences. That powerful personal connection is the driving force behind From the Wild Sky, Halie's latest and most ambitious album to date. Set for release in April 2018, the album, produced by Troy Miller, features 10 original compositions, as well as a stunning rendition of Roberto Livi's 'A Mi Manera'.
"The songs on the album speak to some very meaningful, transformational moments in my life, some of which were inspired from experiencing new discoveries, love and deep loss," Halie says. "It feels like the most risk-taking and honest art that I've ever created, reflecting my spirit and my personal story in a very revealing way."
The participation of producer Troy Miller (Jamie Cullum, Gregory Porter, Amy Winehouse) was a dream come true for Halie.
"Halie's songs are some of the most pleasing and melodically beautiful I've heard," says Miller. "So much thought and love has gone into crafting them, and I know that any listener will be left nourished in a very profound way."
From the Wild Sky promises to weave Halie Loren's faithful fans into her evolving tapestry, while crossing musical boundaries to forge bonds with diverse audiences worldwide as she has throughout her illustrious career. Her jazz/pop debut in 2008, They Oughta Write a Song, earned Halie an award for 'best vocal jazz album' in the JPF Music Awards (2009's largest independent music awards in the world, with over 42,000 album entries from 160 countries). Her songs have placed at the top in competitions including Billboard World Song Contest, John Lennon Songwriting Contest, and myriad others.
Halie's powerful connection with her fans has grown through relentless touring in the U.S., Canada, Asia, and Europe. Her music has also dazzled prestigious concert halls, including performances with the Jazz Orchestra of Sicily, the Britt Festival Orchestra in Oregon and the Monroe Symphony in Louisiana
Visit Website
Watch Video
---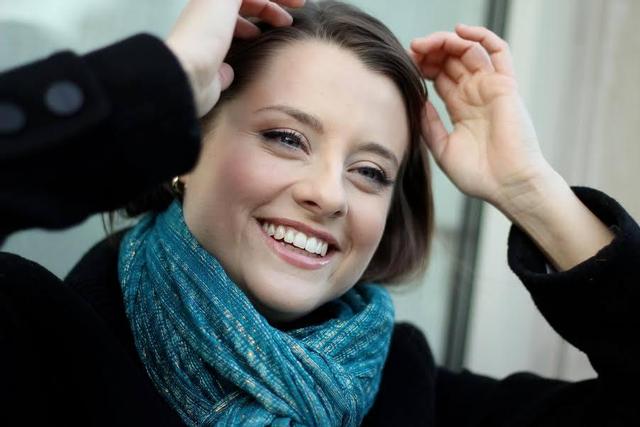 Ariel Pocock
$20.00
Saturday
6/30
8:30 pm
Buy Tickets
From Durham, North Carolina!
Rising vocal and piano star makes her Cleveland debut Live at Nighttown! Justin Time Recording Artist plays music from her recent release "Living in Twilight".
Featuring: Ariel Pocock-vocals & piano, Tim Lekan-acoustic bass, Donnie Patterson-drums, & Special Guest Vocalist Halie Loren.
25-year-old Ariel Pocock has received international acclaim as an equally captivating jazz pianist, vocalist, and composer. Ariel's notable performances as a headline act include the Montreal International Jazz Festival, the Gilmore International Keyboard Festival, the Rochester International Jazz Festival, the Vancouver International Jazz Festival, the 2014 Jazz Cruise, the Tokyo Jazz Festival, the Quebec City International Jazz Festival, the Stanford Jazz Workshop, and many more.
Ariel's original compositions and songs draw inspiration from a wide array of sources: Cuban and Brazilian folk music, the Great American Songbook, modern jazz composers such as Chick Corea and Brad Mehldau, and songwriters like Joni Mitchell, Randy Newman, and Paul Simon.
Ariel's second album, Living in Twilight, was released worldwide on June 9th, 2017 on Justin Time Records. The album "...demonstrates levels of stylistic and emotional breadth and artistic depth that few of Pocock's peers can match" (Ottawa Gazette). Recorded in Montréal in December 2016 and produced by Matt Pierson, the record features in demand Montréal musicians Jim Doxas (drums), Adrian Vedady (bass) and special guest, New York based guitarist, Chico Pinheiro one of the leading figures in the modern Brazilian Jazz scene. The song selection is original, thoughtful and surprising. Ranging from classic American Songbook fare - Ray Noble's The Very Thought Of You and Cole Porter's So In Love to Chick Corea's 500 Miles and breathtaking interpretations of Adele's Someone Like You and Sufjan Stevens To Be Alone With You presented here as an instrumental. Other stand outs include the title track by The Weepies, Living in Twilight and the heartbreaking Kate McGarrigale penned Go Leave. Ariel's chops as a composer/songwriter are on display with original's Gonzalo's Melody – and the reflective So Long. Living in Twilight spent over three weeks at #10 on the JazzWeek radio play charts, and Ariel continues to tour with her trio to promote the album.
Touchstone, Ariel's debut album, features fresh and compelling takes on classic jazz standards, original compositions, and her own arrangements of singer-songwriter material. Also produced by Matt Pierson, the album features an all-star band of Julian Lage (guitar), Eric Harland (drums), Larry Grenadier (bass), and Seamus Blake (saxophone). Touchstone was released on Justin Time Records in 2015.
Visit Website
Watch Video
---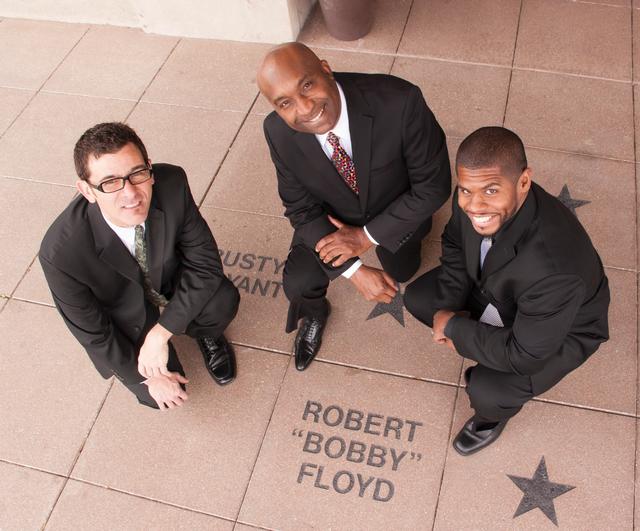 Bobby Floyd Trio
$20.00 - $25.00
Sunday
7/01
12:00 pm
Buy Tickets
In Association with Tri-C Jazz Fest.
Pianist extraordinaire from Columbus, Ohio and his Trio cap off the 2018 Tri-C Jazz Fest for special Brunch Show live at Nighttown!
Featuring: Bobby Floyd-piano, Derek DiCenzo-bass, & Reggie Jackson-drums.
Bobby Floyd's talent has launched him into a very rewarding career. He is presently the feature pianist for the world-famous and legendary Count Basie Orchestra and pianist/organist for the Columbus Jazz Orchestra. He has traveled the world accompanying Ray Charles on piano and organ. He currently makes guest appearances with some of the most distinguished orchestras, including The Boston Pops, The Rochester Philharmonic, and The Detroit Symphony and with highly recognized artists such as Dr. John and Diane Schuur.

Bobby brings his music to Nighttown as leader of his own trio. Each set by the Bobby Floyd Trio is unique and fully "joyful" for their audiences. With Derek DiCenzo on bass and Reggie Jackson on drums, this group develops musicals ideas and engages audiences in the process. Truly, this is the place where Bobby loves to be. Their set lists will include Jazz Standards, the American Songbook, gospel and funk.
Visit Website
Watch Video
---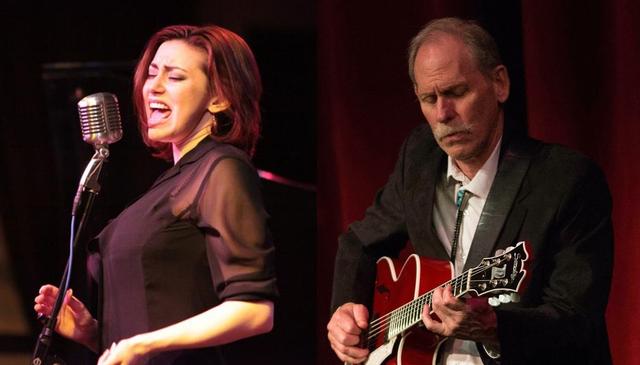 Erin McDougald featuring Bruce Forman
$20.00
Sunday
7/01
7:00 pm
Buy Tickets
Dynamic Chicago Vocalist makes her Cleveland debut with All-Star Band featuring West Coast Guitarist Bruce Forman.
Featuring: Erin McDougald-vocals, Bruce Forman-guitar, Roger Hines-acoustic bass, & Cedric Easton-drums.
Erin McDougald, a Chicago-based, internationally lauded improvisational jazz vocalist, has just released her fourth studio album, "Outside the Soiree", which features two of the most famous living modern jazz instrumentalists: Dave Liebman (saxophone) and Tom Harrell (trumpet), among six other luminaries. The album's title is Erin's original, hauntingly heady composition, with multiple tracks showing off her multi-octave vocal-range and exquisite rhythmic savvy. A steady stream of critical aplomb/reviews/press, (-with a dozen "Editor's Picks" lists, including Downbeat Magazine in May 2018-) has followed Erin's tour dates since the album's release-date in mid-March. She has remained on the National Jazz Billboard Charts for 6 straight weeks and praised by ICON magazine, among many music publications globally, including the World Poetry Organization for her deeply poetic, socially conscious writing and album's theme. ?
Internationally renowned jazz master-guitarist Bruce Forman (based in L.A.), known for redefining bebop guitar through his collaborative band CowBop and over 4 decades of tours and records with Dizzy Gillespie, Ray Brown, Freddy Hubbard, Bobby Hutcherson and Roger Kellaway, among others, has also arranged and played guitar for numerous Clint Eastwood films and their soundtracks, including the Academy Award winning blockbuster Million Dollar Baby. Considered one of the greatest living jazz guitarists, Bruce teaches clinics all over the world between touring dates. His latest project, "The Red Guitar" is a one-man "jazz libretto" is a comical, poignantly philosophical insight into the world of a jazz musician.
Together, Forman and McDougald (the "Cowboy" of Bebop Jazz Guitar and the "Flapper Girl" of Modern Vocal Jazz), are touring the country, with a musical vignette which incorporates aspects of Bruce's "The Red Guitar" and Erin's dynamic, improvisational reinventions of songs within and outside of the jazz idiom. The result of pairing these two individual talents with their complimentary wit, rhythmic prowess and eloquent disclosures is an engaging, joyful and memorable experience.
"Perhaps it is time the music industry start referring to Erin as the gold standard by which all others aim to be compared...
in years to come when they talk about iconic jazz artists -and Erin McDougald's name comes up- you will want to be able to say you saw her in concert"
- Riveting Riffs international music magazine
Visit Website
Watch Video
---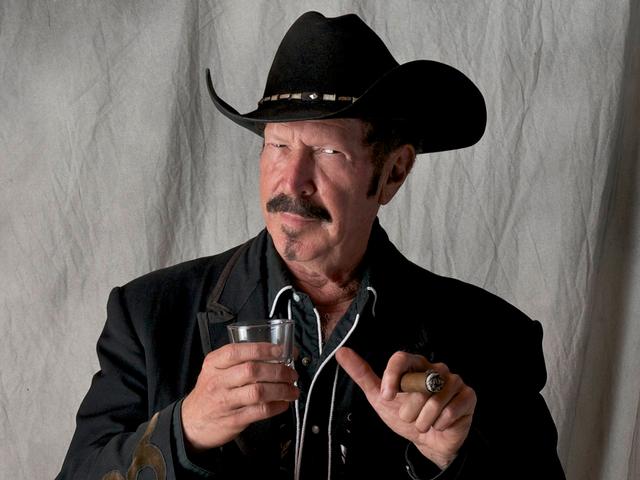 Kinky Friedman's "Circus of Life" Tour
$30.00
Tuesday
7/03
7:00 pm
Buy Tickets
Wednesday
7/04
7:00 pm
Buy Tickets
Legendary Outlaw Country Singer/Songwriter, Novelist, & Raconteur Kinky Friedman releases his new CD "Circus of Life" and hits the Stage at Nighttown for Two Big Nights!
At long last, Kinky Friedman's second musical act begins. With the proclamation that it "is what music was, before it came homogenized, trivialized and sanitized," Kinky is dropping his first all new cd of original tunes in four decades. Called Circus Of Life, it presents a side of Kinky that few would have suspected in the halcyon days of the Texas Jewboys, laying perhaps legit claim to the title, "The Leonard Cohen of Texas."
And on July 3rd, he will be releasing it on his own terms and on his own Echo Hill Records label. The first single, Autographs In The Rain (Song To Willie) is already in heavy rotation on SiriusXM Outlaw Country.
Like so many cool people in the boom generation, Kinky Friedman first saw the world through the Peace Corps in the sixties. It was in Borneo that Kinky began to write the tunes that would propel the rest of his life.
When he returned to the states, he formed his band, Kinky Friedman and The Texas Jewboys. For his first album, Kinky released 'Sold American' in 1973 for Vanguard Records. His repertoire mixed social commentary ('We Reserve the Right to Refuse Service to You') and maudlin ballads ('Western Union Wire') with raucous humor (such as 'Get Your Biscuits in the Oven and Your Buns in Bed'). His 'Ride 'Em Jewboy' was an extended tribute to the victims of the Holocaust, and one of his most famous tunes from this session, 'They Ain't Makin' Jews Like Jesus Anymore,' is still on many hip playlists.
In the mid-'70s, Friedman and the Jewboys toured with Bob Dylan & the Rolling Thunder Revue. By 1976 he had recorded his third album, 'Lasso From El Paso,' featuring appearances by Dylan and Eric Clapton. Friedman moved to New York, where he became a Sunday night fixture at the legendary Lone Star Café, often featuring guests like Robin Williams and John Belushi.
Kinky was a musical guest on Saturday Night Live in October 1976, the first year of SNL.
Starting in the early eighties, Friedman shifted his creative focus to writing detective novels. During this period, his musings began appearing in such places as the New York Times, Playboy and Texas Monthly .
In 1986, Kinky took a break from writing and touring to try something new - politics. He ran for justice of the peace in his home town of Kerrville, Texas. Then again in 2004, the Kinkster returned to the political field, this time daring the state of Texas to think big and elect him governor in 2006. Kinky garnered over a half million votes - not good enough to win it, but good enough to influence Texas politics.
In February 2007, Sustain Records released a compilation of the songs of Kinky Friedman sung by other artists called 'Pearls In The Snow.' The album includes contributions by Dwight Yoakam, Willie Nelson, Lyle Lovett, and Kelly Willis.
And now on July 3rd, he will be releasing his first all-new self-penned album in nearly forty years, 'Circus Of Life.'
https://www.kinkyfriedman.com/
Watch Video
---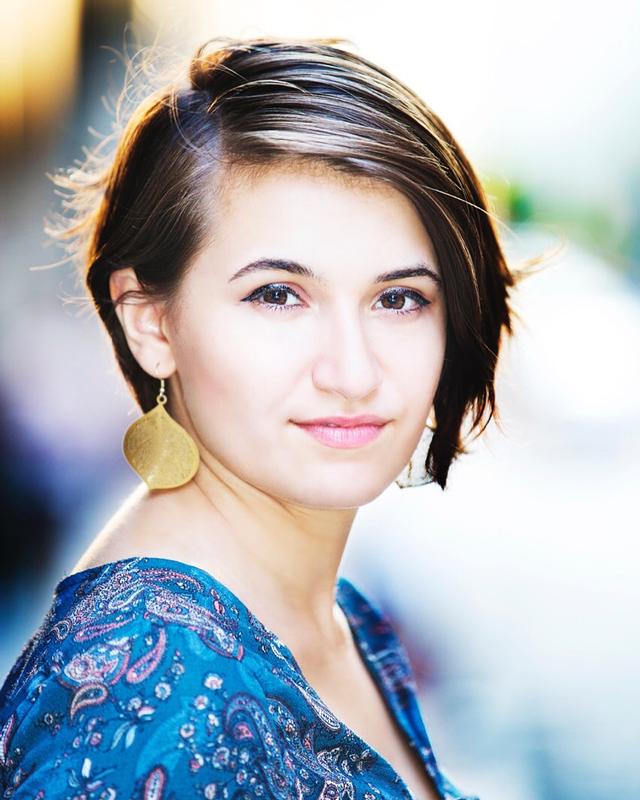 Kristina Koller
$15.00
Friday
7/06
8:30 pm
Buy Tickets
Exciting new NYC vocalist and her group play music from her debut CD "Perception" Live at Nighttown!
Featuring: Kristina Koller - vocals; Fima Chupakhin - piano; Ben Rubens - bass; Darrian Douglas - drums
"Behold the arrival of a great new talent" - ALL ABOUT JAZZ
Accomplished vocalist, composer and arranger Kristina Koller will present music from her exciting debut album 'Perception'!
As one of the most applauded rising stars in jazz, Koller has developed quickly into a highly individual vocalist, melding jazz, funk, R&B and alt-rock sounds into her songs. Kristina arranges tunes in unique ways, knowing that adding to the legacy of jazz is much more important than recreating the performances of others. The New York native culled her musical chops in the NYC jazz scene, performing at venerable jazz haunts such as Smalls, Smoke, Minton's, Mezzrow as well as The Apollo Theater
Koller is a very original contemporary jazz vocalist, one that anyone interested in jazz, or for that matter progressive music, needs to hear.
Visit Website
Watch Video
---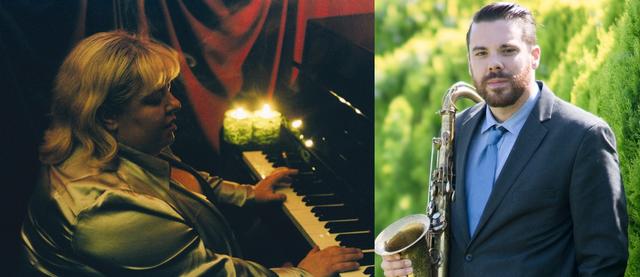 Jackie Warren & Joshua Smith
$10.00
Saturday
7/07
8:30 pm
Buy Tickets
Piano/Sax Duo Playing Selections for their Brand New CD "The Bees Knees"!
Featuring: Jackie Warren-piano & Joshua Smith-sax.
A native of Colorado, pianist Jackie Warren originally came to Ohio to study classical piano at Oberlin Conservatory, where she graduated with a B.M. in performance. While at Oberlin, she also studied jazz arranging, composition, and theory with Wendell Logan, who became a mentor to her, and encouraged her to study jazz piano with Neal Creque and jazz improvisation with Kenny Davis. Jackie received a M.M. from Cleveland State University in classical piano performance, and has been Cleveland favorite ever since.
Jackie performs regularly as a soloist, but has her own jazz trio, which includes bassist Peter Dominguez and drummer Ron Godale. She also arranges and plays salsa and Latin jazz with percussionist Sammy Deleon y Su Orquesta. In addition to these groups, Jackie has performed locally and nationally with such artists and groups as David Fathead Newman, Benny Bailey, Clark Terry, Frank Morgan, Bobby Watson, Frank Foster, Jane Bunnett and the Spirits of Havana, Othello Molineaux, Donald Harrison, Gerald Wilson, Jimmy Heath, Impacto Nuevo, Humberto Ramirez, Tony Vega, Tito Rojas, Tito Puente, Jr., Hector Tricoche, Percy Sledge, King Solomon, the Jazz Heritage Orchestra, the Cleveland Jazz Orchestra, and the Afro Cleveland Orchestra.
Jackie is also an educator and clinician, and has taught jazz arranging and composition and coached jazz combos at Oberlin. She is currently on the Jazz Studies Faculty at Cuyahoga Community College, Metro Campus. She is also on the faculty at the Cleveland Music School Settlement.
Joshua Smith is a saxophonist/multi instrumentalist residing in the San Francisco Bay area. He has been performing for the past 20 years with a wide array of notable jazz and creative musicians, beginning in his hometown of Cleveland, Ohio.
Joshua has performed in the straight-ahead jazz realm for the past 20 years. His current sidemen are the best of the San Francisco Bay area. Growing up, Smith began gigging at a very early age with older jazzmen of his hometown, Cleveland, Ohio... He was a member of "Greg Bandy's Young Lions'" and studied under saxophone iconoclast Ernie Krivda.
Scott has performed with funk drumming legend Clyde Stubblefield, toured as a member of The Youngblood Brass Band, and bluegrass legend Peter Rowan.
He's been a member of The Scott Amendola Quartet for the last five years, having performed with guitar luminary Nels Cline, at John Zorn's NYC venue, The Stone.
In 2010 he acted as music director and contributing composer to the "Leave Me Alone" opera, an avant garde jazz opera written by Smith's good friend Harvey Pekar, at Oberlin College.
Visit Website
Watch Video
---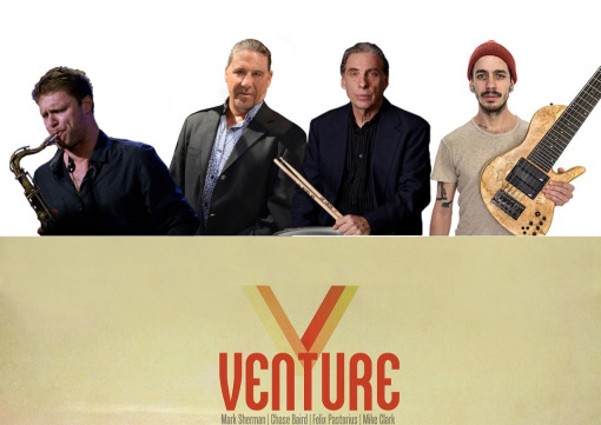 Venture featuring Mark Sherman, Felix Pastorius, Mike Clark & Chase Baird
$25.00
Friday
7/13
8:30 pm
Buy Tickets
Saturday
7/14
8:30 pm
Buy Tickets
All-Star NYC Group Venture hits the stage at Nighttown for Weekend Extravaganza!
Featuring: Mark Sherman-piano/vibes, Felix Pastorius-bass, Mike Clark-drums & Chase Baird-sax.
VENTURE: featuring drummer Mike Clark, bassist Felix Pastorius, vibraphonist/pianist Mark Sherman, and tenor Chase Baird, have individually performed globally as leaders with tours of North America, South America, Europe , Asia, Africa, and Australia. VENTURE brings a deeply rooted POST BOP/FUSION approach to a program of originals and standards that convincingly carry on the art form with a potent level of invigorating musicianship. Their music is relentlessly energetic, hard charging, and brimming with incredible improvisations from their collective refined skills, and deep commitment to the art form itself. The members of VENTURE have recorded on over 200 CD recordings as sidemen, 30 CD's as leaders. When witnessing a VENTURE performance, one will be captivated by the intensely powerful, groove oriented feeling that transpires from this quad generational band.
Mark Sherman
http://www.markshermanmusic.com/html/
Esteemed vibraphonist and composer, Mark Sherman, has worked with Tony Bennett, Liza Minnelli, Michael Brecker, Larry Coryell, and Kenny Barron and is frequently heard on Broadway, as well as in a long list of blockbuster films. Sherman is currently on faculty at The Juilliard School and runs Miles High Records. Across these extremely competitive fields, Sherman stands out as an expressive, versatile, and consistently inspiring artist.
Felix Pastorius
https://www.facebook.com/FelixPastoriusMusic/
For Felix Pastorius, music is a family tradition. His grandfather, "Jack" Pastorius, was a stand-up jazz drummer, who sang while he swang. Felix's dad was legendary bassist, "Jaco" Pastorius. Felix has toured world-wide with the Yellowjackets. He's earned his place, learned to navigate, and he's here to take you for a ride.
Mike Clark
https://www.drummermikeclark.info/
A true ambassador of rhythm, Mike Clark is known around the world for his diverse and innovative playing. He brings that spark to whatever genre-- blues, funk post bop. He gained worldwide recognition as one of America's foremost jazz and funk drummers while playing with Herbie Hancock and The Headhunters in the early seventies. His incisive playing on Hancock's "Actual Proof" garnered him an international cult following and influenced generations of drummers. His versatility led him to a two-year stint with Brand X, the British jazz/rock fusion band founded by Phil Collins.
Chase Baird
He has worked with jazz artists including Brad Mehldau, Antonio Sánchez, Nir Felder, Dan Chmielinski, Mike Clark, Mark Sherman and Thana Alexa as well as pop and rock artists including Chaka Khan and Matthew Morrison
Watch Video
---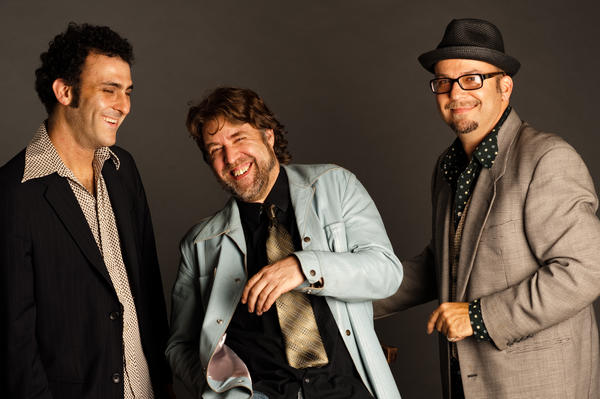 Dred Scott Trio + Tom Scott
$20.00
Sunday
7/15
7:00 pm
Buy Tickets
Cutting Edge NYC based pianist and NE Ohio Native brings his East Coast Based Trio to Nighttown.
Featuring: Dred Scott-piano, Ben Rubin-bass, & Diego Voglino-drums.
Special Guest Opening Act: Tom Scott (Dred's Brother)-piano and vocals.
"The compositions and performances balance heady modernism with accessibility, demonstrating a cheeky playfulness in the process. We need to hear more from this strong, distinct voice."
- Sharrone Cohen / JAZZ TIMES
This longtime working band, led by the sly pianist-raconteur Dred Scott, recently released "Going Nowhere" (Ropeadope), a good showcase for its puckish but aggressive take on postbop aerodynamics. The trio's acclaimed weekly residency here has ended, after a productive six years — but this one-nighter kicks off a new one, the last Tuesday of every month. \
- Nate Chinen, NEW YORK TIMES
The Dred Scott Trio gives off an intimate, anything-can-happen vibe...sometimes swinging hard and sometimes careening out of control. The feeling of ramshackle spontaneity...is something of a front for sophisticated, multi-segmented piano trio compositions.
- Philip Booth, RELIX
"Pianist Dred Scott uses an irreverent veneer to disguise old-fashioned jazz scholarship, which buttresses his rich, well-rounded intonation and flair for phrasing."
- Brit Robson EMUSIC
"The hard-swinging group never gets too deep, which might actually be a good thing: Their music has the buoyant groove of gospel and the charming shuffle of the Big Easy on parade."
- NEW YORK MAGAZINE
Visit Website
Watch Video
---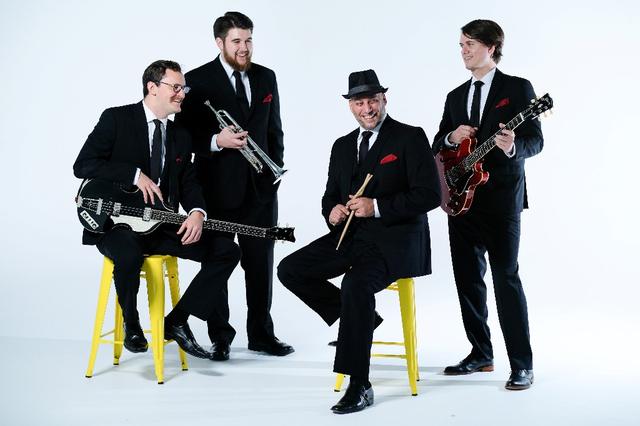 The Four Freshmen
$30.00
Tuesday
7/17
6:00 pm
Buy Tickets
8:00 pm
Buy Tickets
Legendary Vocal Group back on Nighttown Stage! Playing Music from their new CD "Four Freshmen & Friends".
Featuring: Bob Ferreira, Tommy Boynton, Stein Malvey, & Jon Gaines.
The Four Freshmen have released over 60 albums, won numerous DownBeat and JazzTimes readers' polls, and have been honored with the Satchmo Award for unique and enduring contribution to the living history of jazz.
The Four Freshmen remain the Acclaimed Masters of Harmony presenting their unique brand of vocal pop harmony of headlining concerts around the globe. As the Wall Street Journal proclaims, "Long live The Four Freshmen, may they never graduate."
TOMMY BOYNTON is the newest member of The Four Freshmen, singing 1st tenor and playing bass. Growing up in Aurora, Co., his musical journey began in the 3rd grade, singing in a children's chorus, and studying piano and drums. Tommy's love for music lead him to Phil Mattson's prestigious School for Music Vocations in Creston, Iowa. He then graduated from the New England Conservatory in Boston, MA, where he studied with Dominique Eade and Ran Blake. Boynton continued to share his love and passion for music by returning to SMV to teach. Tommy has shared the stage with several Grammy nominated musicians, including jazz pianist Fred Hersch, and critically acclaimed jazz vocalist Kate McGarry. While on the road, he does miss his kitties, Alice and Little Brother, more than anything.
Image
STEIN MALVEY sings the 2nd tenor and plays guitar with The Four Freshmen. He began his musical journey at age four, studying piano at St. Olaf College in his hometown of Northfield, MN. Growing restless with classical repertoire, he discovered guitar at age 12, and fell in love. Just two years later he was playing guitar professionally. He graduated with a Bachelor of Music degree in guitar performance from Lawrence University Conservatory of Music. Stein spent years in both the New York and Minneapolis music scenes, recording and touring with groups in many genres: rock, pop, r&b, soul, funk, jazz, country, and avant-garde. When he isn't touring with The Four Freshmen, Stein lives in Los Angeles.
Jon Gaines was introduced to the world of music at the age of 5 when he began taking piano lessons from his grandmother in his hometown, Derry NH. By fifth grade, young Jon was expanding his musical talents to the trumpet, but it wasn't until Jon first heard a recording of Louis Armstrong that a passion was sparked. After high school, Jon attended the prestigious New England Conservatory where he furthered his studies in jazz improvisation. Along with all his instrumental studies on trumpet and piano Jon also undertook several years of vocal instruction before earning his bachelors degree in 2014.
BOB FERREIRA auditioned for The Four Freshmen in 1992 for bass voice and percussion while a music student at Central Washington University. The group asked Ferreira to join, presenting him with a difficult decision of whether or not to leave his academics behind in lieu of a career in entertainment. Bob is still pleased with his decision and has not looked back since. He enjoys being part of such an iconic musical legacy having performed in fifty states, ten countries, and on nine Freshmen recordings. When not on the road with The Four Freshmen, Ferreira occasionally freelances as a drummer in Las Vegas.
Visit Website
Watch Video
---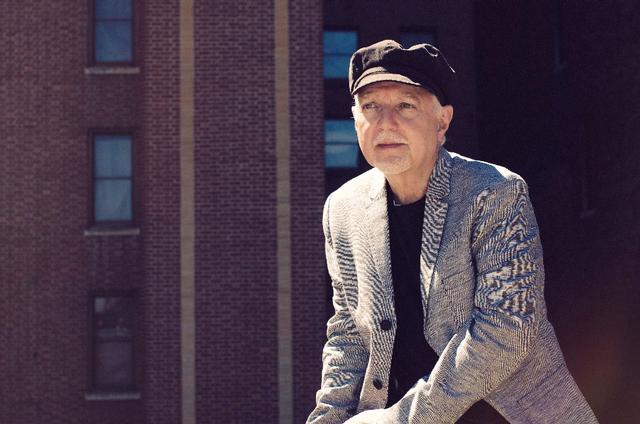 Phil Keaggy
$50.00
Wednesday
7/18
7:00 pm
Buy Tickets
Thursday
7/19
8:00 pm
Buy Tickets
From Nashville & Youngstown, Ohio!
Two Big Nights at Nighttown with Legendary Guitarist of Glass Harp Fame in a rare, and exclusive, Small Club Appearance!!
Visit Website
Watch Video
---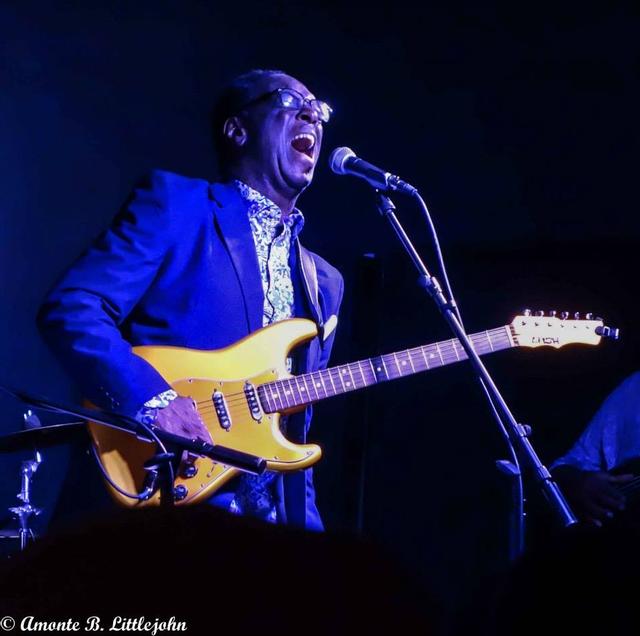 Sam Hooper
$10.00
Friday
7/20
8:30 pm
Buy Tickets
Guitarist Extraordinaire leads All-Star Group playing Jazz, Blues, & More live at Nighttown!
Featuring: Sam Hooper-guitar & vocals, Sakait Baksar-keyboards/vocals, Derrick James-bass/vocals, & Chuck Orange-drums.
Sam Hooper Group is an exciting Cleveland band rooted in the blues. Originally formed when Hooper lived in Boston, the band has evolved through tours and recording in the USA and Asia to develop its own interpretation of this classic art form. Hooper has kept the approach fresh, since returning to his hometown roots in Cleveland, OH four years ago and performing all over Northeast Ohio.
The current band is a mix of talented musicians who are old and new friends with experience in jazz, rock, funk, and blues. The mailing list grows with every performance so the bands influence is steadily growing. Check them out on their newest CD, "Sam Hooper & Mike Null - Hoodoo Blues."
Hooper's newest CD, "Sam Hooper and Mike Null - Hoodoo Blues," was the Winner for 2015 Best Self-Produced CD in the Cleveland Blues Society's annual International Blues Challenge competition.
"Without eschewing the gritty soul of traditional blues, guitarists Hooper and Null break stereotypes by sidestepping standard shuffles and stomps for fresh takes on classic tunes that buoy their sweet molasses vocal performances with jazz informed chord changes, rhythms and melodies. And Hooper's original "Itchin' To Be Your Man" has the hip, sophisticated vibe of a lost Mose Allison gem."
- Ted Drozdowski, Nashville Scene
Visit Website
Watch Video
---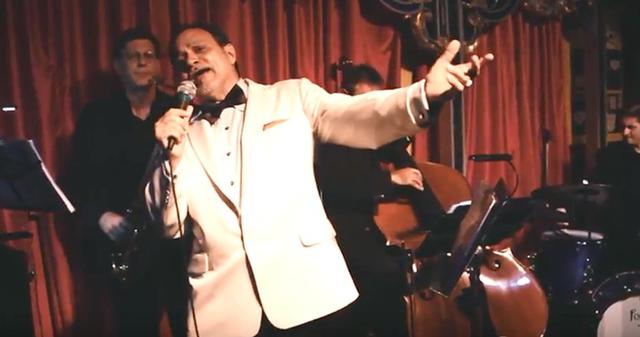 Lou Armagno "Sinatra Selects"
$15.00
Saturday
7/21
8:30 pm
Buy Tickets
Vocalist Lou Armagno & his group Sinatra Selects plays the music of "Old Blue Eyes" for Special Summer Show at Nighttown!
Featuring: Lou Armagno-vocals, Marc Paige-sax, Mike Elkins-piano, Jim Mass-bass, & Ricky Exton-drums.
Lou Armagno Lou was performing in Honolulu Hawaii before moving back home to Cleveland in 2013. He deputed his first CD, "FLYIN' HIGH" right here on our Nighttown stage May 2014. And their Sinatra Selects CD, "NEVER BEFORE" won a 2016 Hawaii, Na Hoku Hanohano award. What sets Lou apart from other Rat Packer's is his remarkable similarity in sound and delivery to "The Man" himself. You won't believe your ears!"
Marc Paige Marc has been playing clarinet and saxophone for over 55 years. He has performed with many rock, blues and jazz groups, along with most of Cleveland's big bands. Additionally, he is a member of the Solon Philharmonic Orchestra, and a board member with Cleveland Jazz Orchestra.
Mike Elkins Mike Elkins is a pianist, music director, and arranger. He is a veteran of several area big bands and currently the pianist for the Dan Zola Orchestra. He has worked in regional musical theater productions as a pit orchestra member and music director at Beck Center, Huntington Playhouse, Clague Playhouse and the former Berea Summer Theater at Baldwin Wallace University. Mike is one half of the singing duo, Mike and Mary, in which he plays keyboards, sings, and arranges. Mike is employed as a software engineer and lives in Berea with his wife, Linda.
Jim Mass Jim is a Cleveland native with a diverse musical background spanning more than 40 years. Being equally comfortable on both Acoustic and Electric bass, he has played in most every musical genre, including Jazz, Pop, Rock, Big Band, Classical, Country, Bluegrass, Shows and Plays, Christian and Ethnic. His musical foundation makes him a quick study, and a first call on many sub lists in the area. Groups (to name a few) he has played with include the NEO Jazz Orchestra, Skyline, Swing City Big Band, The Juice Band, Jazz Connection, Johnny Baron Quintet, the Tom Fries Orchestra, Summit Jazz, Cleveland Philharmonic, Hermit Club and Chagrin Studio Orchestras, Rob Michaels, and Josephine Venuti.
Ricky Exton Drummer, recording artist, composer, arranger, and producer, Ricky has been active in the music community for over 2 decades. At an early age, Ricky's talents emerged as one of the Cleveland Tri C All Stars. He continued his career in music at the Berklee College of Music in Boston, Mass., where he earned a Baccalaureate in Professional Music. His performance venues include jazz festivals, concerts, television appearances, and private and corporate events. He has performed with Lou Rawls, Wynton Marsalis, Rufus Reid, Cyrus Chestnut, Joanne Brackeen, Kim Nazarian, Linda Presgrave, and international guitar virtuoso Neil Zaza. In addition, Ricky is an active session musician recording in studios from the east coast to the west coast.
Visit Website
Watch Video
---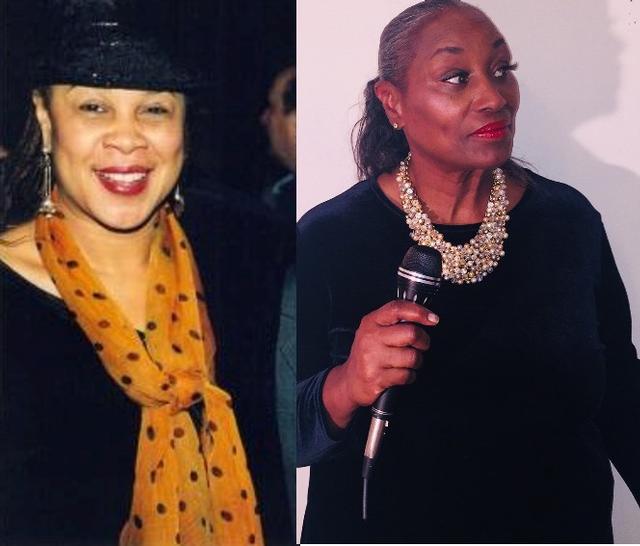 "Beautiful Sisters 2" w/Shirley Cook & Theresa Haney
$20.00
Sunday
7/22
7:00 pm
Buy Tickets
Top flight Cleveland Jazz Vocalists featured with David Thomas Quartet providing support Live at Nighttown!
Featuring: Shirley Cook-vocals, Theresa Haney-vocals, David Thomas-piano & musical director, Chris Coles-sax, George Lee-bass, & Sunny Tabler-drums.
Presented in Association with Quad City Productions.
Memories flowing with mystique and mythical magic are the essence of Beautiful Sisters 2 with its presentation of the glitter and glamour of jazz standards and selections from the great American Songbook. Under the guidance of music director Dave Thomas vocalists Shirley Cook and Theresa Haney will bring to life, the lyrics of timeless classics that have defined more than 80 years of music, now woven into the country's fabric in numerous ways. Appearing with them will be saxophonist Chris Coles, drummer Sunceray (Sunny) Tabler and bassist George Lee.
Shirley Cook -- A tastefully unflashy singer in the Billie Holiday/Sarah Vaughan vocal tradition, singer Shirley Cook inhabits a lyric, staking her music on simplicity and nuance over virtuosity. Cook's voice -- grainy and resonant, like a tenor saxophone -- brings a sweetness to her jazz standards and a graceful swagger to R&B and the blues. Though Cook began singing in the church at an early age, she came rather late to performance and credits the efforts of Carl "Ace" Carter, the first post-Basie pianist to work with the Count Basie Orchestra, and local legend Duke Jenkins with giving her early instruction and her first gigs. Cook now regularly performs around town as well as everywhere from New York to Japan. She has been a featured performer with the Tri-C JazzFest and yearly hosts the JazzFest jam session. (Bio courtesty of Scene Magazine)
---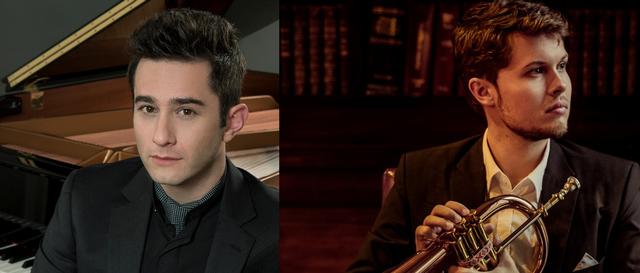 International Double Bill! Matt Baker Trio & Oscar Stenmark Trio
$20.00
Friday
7/27
8:30 pm
Buy Tickets
From Austrailia/NYC! Dynamic Pianist & Vocalist Matt Baker & Trio makes his Cleveland Debut Live at Nighttown!
From Sweden/NYC! Brass Man Oskar Stenmark on Flugelhorn leads his NYC based Trio also for the first time in Cleveland at Nighttown.
Featuring:
Matt Baker-piano & vocals, Endea Owens – acoustic bass, Curtis Nowosad – drums
Oskar Stenmark-flugelhorn, Evan Gregor-acoustic bass, Billy Test-piano.
Australian born Jazz Pianist/Vocalist Matt Baker has performed at jazz festivals, clubs and concert halls in Australia, Europe, USA and the Pacific Rim. As of 2010, he is now proud to call New York City his home.
Baker recorded his 5th album Almost Blue (via JazzElm Music), with producer Matt Pierson, released in June 2016. The album features tenor saxophonist Joel Frahm, along with Luques Curtis on bass, Obed Calvaire on drums and guitarist Lage Lund. His previous album 'Underground' featuring Gregory Hutchinson, Dayna Stephens and Jeremy Pelt received rave reviews in Downbeat, Jazz Times and Jazz Wise UK, and reached #26 on the US JazzWeek charts.
Matt's trio presents music from Baker's new album "Almost Blue" - a "fully realized love letter to the place he longed to be a part of, a place he now calls home", each song echoing a part of the album's haunting narrative. Hard swinging piano and warm vocals – all presented in a program of classic jazz with an exciting contemporary edge.
Oskar Stenmark grew up in Gothenburg, Sweden. His family contains generations of professional musicians, so Oskar split his childhood between the Concert Hall and the local jazz club. He quickly developed a musical interest, and eventually picked up the trumpet. After a Bachelor's degree in improvisation at the Academy of Music and Drama in Gothenburg, Oskar moved to New York to pursue his musical dreams. He has performed with stars such as James Morrison, Dave Liebman and the multiple GRAMMY award winner Maria Schneider Orchestra. In May 2016 Oskar got his Master of Music in Jazz Arts degree at the Manhattan School of Music and continues to develop his playing and artistic vision.
Leading his own trio, Oskar is exploring the traditional melodies he inherited from his ancestors in Sweden and fusing them together with the sounds of New York.
Matt Baker and the Trio - Live at the Blue Note NYC
Matt Baker and the Trio Live at Birdland
Oskar Stenmark - Live from Cornelia Street Cafe, New York City
http://www.oskarstenmark.com/live/
---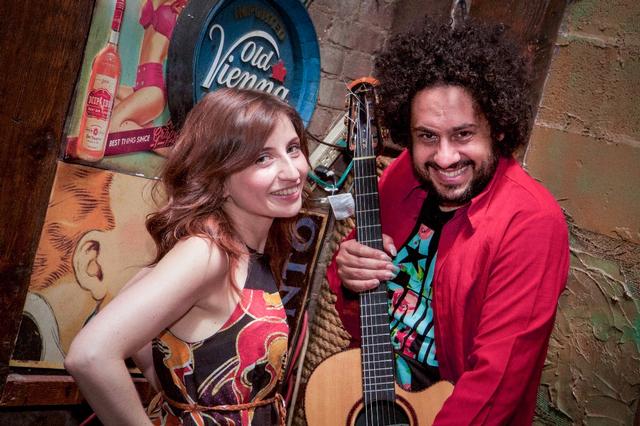 Diego Figueiredo & Chiara Izzi
$30.00
Saturday
7/28
8:30 pm
Buy Tickets
International Weekend Festivities continue with brilliant guitarist Diego Figueiredo from Brazil and delightful vocalist Chiara Izzi from Italy
Diego Figueiredo (pronounced fig-a-ray-doe) is a new star of the guitar world. He is only 37, and he has released 23 CDs, 3 DVDs, and he has played in more than 60 contries around the world. He is the winner of several important competitions including The Montreux Jazz Competition, and the VISA Prize. Diego is now presenting his new concert " From Classical to Jazz". It is a fusion between Jazz, Bossa Nova and Classical music. Diego has a unique interpretation, with tremendous techniques, enormous emotion, and his shows have been a great success to all audiences.
Award winning Italian singer, songwriter Chiara Izzi has been described by Jazz Times as "a talent to be heard, admired and anticipated" after the release of her debut album "Motifs".
She started her musical path in Italy by learning to play the piano and performing very early. She developed a versatility thanks to a multitude of performances in Italy and abroad in Belgium, Switzerland, France, the United States, Finland and Germany, which led to her vocal mastery of traditional jazz alongside contemporary styles. Chiara's sound is based on her own unique interpretation of a fusion of different genres, including jazz, pop and Mediterranean sounds.
Chiara's International debut took place at the Montreux Jazz Festival Vocal Competition in 2011, where she was awarded first prize by the living musical legend Quincy Jones. Following this award the vocalist was invited to open for Paco de Lucìa's concert at the Montreux Jazz Festival in 2012. Thanks to this award she had also the chance to record her debut album "Motifs" released by the New York based label Dot Time Records. The record has been presented in some well-known radio programs in Belgium, Holland, Italy and received notable reviews in the US on Jazz Times, All About Jazz, AXS, Midwest Record, to name of few.
Live on Vail, Colorado TV

Diego solo performing "India"

Chiara Izzi "Just Friends"
---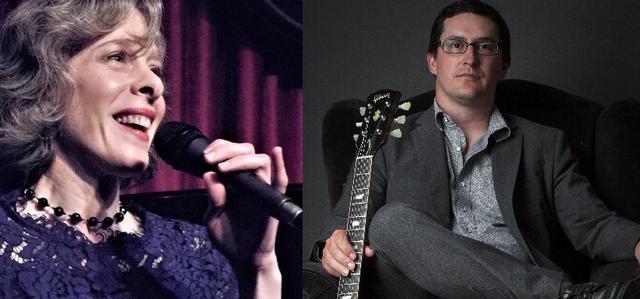 Randy Shane & Daniel Bruce "Tribute To George Michael"
$10.00
Sunday
7/29
7:00 pm
Buy Tickets
North Coast Vocalist & Guitarist pay tribe to the late British Vocalist George Michael live @ Nighttown!
An evening honoring the untimely passing of one of the world's best singers and underrated songwriters. Hear these songs with a fresh ear; stripped down and sung in a female voice.
Randie Shane is a transplant to Cleveland from New York City, though you may have spotted her here in the National Tour of Swing! The Musical at The Palace Theater in 2001, or making an appearance with Ann Hampton Callaway with The Cleveland Jazz Orchestra at The Palace Theater in 2007, or doing an evening of Jerome Kern at Nighttown just last year. She has performed in regional theater and cabaret all over this country, but she is so excited to be back at Nighttown as an official Clevelander with this special program.
Dan Bruce is a recent transplant to Ohio after spending a decade as an important member of Chicago's jazz community. He is active throughout the Midwest and nationally as a performer, recording artist, composer and educator. He has performed on more than twenty albums as a sideman, and just released, Earthshine, his second album as leader in late 2017. As a performer and recording artist, Bruce has had the opportunity to work with a number of eminent musicians including Seamus Blake, Ali Jackson, Dan Wall, Lynn Seaton, and The Cleveland Jazz Orchestra.
Visit Website
---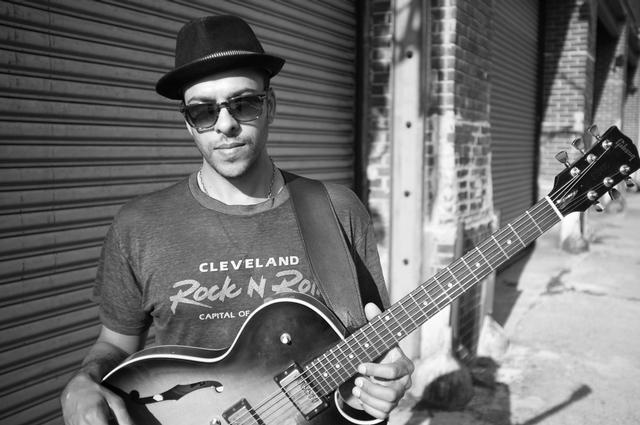 Seth Johnson Trio
$15.00
Monday
7/30
7:00 pm
Buy Tickets
Cleveland Hts. Native & Dynamic Jazz Guitarist now based on East Coast back on Nighttown Stage with his NYC based Group!
Featuring: Seth Johnson-guitar, Jordan Scannella-bass, & Sam Merrick-drums.
Seth L Johnson is an established guitarist, a passionate composer and dedicated educator. Having earned his Bachelor of Music in Jazz Performance from San Francisco State University, and his Master's degree from Mason Gross School of the Arts (under the tutelage of Vic Juris), Johnson grasps and interprets a well-rounded, expansive scope of musical genres. He plays Jazz, Western Classical, Afro-Cuban, Afro-Peruvian, Brazilian, African, Country, Funk, Bosa Nova, and Hip Hop.
Johnson was born in Buffalo, NY and raised in Cleveland, Ohio. There, he began playing and experimenting with guitars, at age 10. Largely self-taught, he developed individualistic approaches to music and his instrument-- prior to receiving formal training. Inspired by his first teacher, Cleveland blues guitarist John Christopherson, Johnson delved deeply into the blues and finger-style guitar. Thus, while thoroughly exploring the outskirts of the guitar's sound and timbre, and embracing his musical versatility, the blues has ultimately remained at the core of his style.
After a somewhat transient lifesyle- Cleveland to San Francisco, Chicago, and Paris, France- you'll presently find Seth L. Johnson living and teaching in New York, NY, and touring around the world. Life in Cleveland, New York, and travels have been (and continue to be) major influences throughout his career.
Over the last decade, Johnson has had the opportunity to share the stage or record with diverse and noteworthy artists such as Pharoah Monch, Jean Grae, Camp Lo, Andy Allo, Mob Deep, Hassan Hakmoun, Kaissa Doumbe, Lee Hogans, Enoch Smith Jr, Jerome Jennings, and countless others. Past festivals performances include The North Sea Jazz Fest (Rotterdam), Big Wig Hip Hop Festival (Singapore), SXSW, Tri-C Jazz Fest (Cleveland), Montreal Jazz Festival (Montreal), Riverside Jazz Festival (Jersey City), Pittsburgh Jazz Fest, Djangology Festival (Brooklyn), Gnawa Music Festival (Morocco).
Noteworthy recordings of late include SoNuvo- Now That You're Gone; Lee Hogans- What We Play Is Life; Shenandoah and The Night- 100 Wants; Chickentown- Doggies Don't Ride The Train; Shirazette Tinnin- Humility and many more to come later in 2017.
Johnson is also a member of the Brooklyn based supergroup People's Champs, whose members have performed internationally with Sharon Jones and The Dap Kings, Boy George, Beyonce and many others. As a leader Seth can be seen performing in such notable New York venues as The Blue Note Jazz Club, The Apollo Theatre, The Lambs Club, The Bitter End, The Rum House, Fat Cat, Smoke, Brooklyn Bowl, The Jazz Standard, Mercury Lounge, Zinc Bar, S.O.B.'s, Joe's Pub, Rockwood Music Hall among others.
Johnson's musical inspirations and enjoyments include, but are certainly not limited to: Jimmy Hendrix, Lenny Breau, Marc Ribot, Robert Johnson, John Coltrane, Billie Holiday, Antonio Carlos Jobim, Nina Simone, Erik Satie, James Blake, D'Angelo, Bjork, and Fiona Apple.
Visit Website
---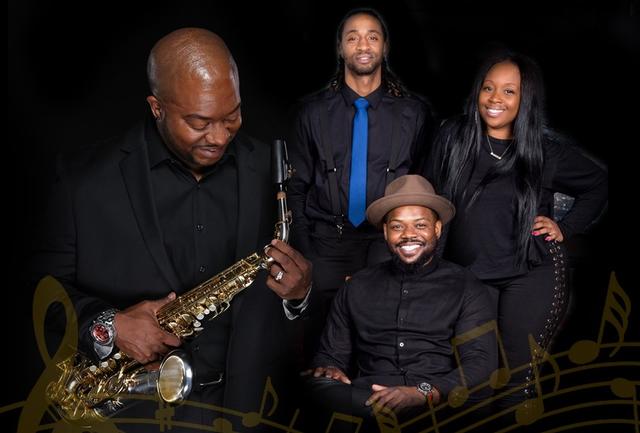 Andre Cavor & The Cavor Project
$20.00
Friday
8/03
8:30 pm
Buy Tickets
North Coast Contemporary Jazz Saxophonist & Group hit the Stage at Nighttown! Featuring music from his brand new CD "Road Trip".
Over the past two decades, urban jazz icons Kirk Whalum and Jonathan Butler have paved the way for emerging artists to take a bolder approach to blending their passions for instrumental pop, jazz and soul and gospel music. While those two artists were well established before they began recording gospel and worship albums – and rarely blend the two styles on a single project – saxophonist Andre Cavor is unabashedly sharing his lifelong love for both styles of music from the get go.

True to its title, the Cleveland based performer's independent debut album Road Trip chronicles his multi-faceted journey – starting with playing the sax in church and, over the past decade, founding and leading The Cavor Project, an 11 piece ensemble renowned as one of the most diverse bands in the city. Andre found the perfect producer to take his artistry to the next level in Darren Rahn, a saxophonist and artist who has worked his studio magic for Whalum and Butler in addition to genre greats Dave Koz, Wayman Tisdale, Najee, Eric Darius, Jeffrey Osborne and Jeff Lorber.

"Mixing contemporary jazz and gospel songs on Road Trip felt like a natural extension of my many live performances over the years," says Andre, who first began playing the sax at 16 but let it go during his eight year stint in the army before rediscovering it in the early 2000s.

"So many people I have played for and entertained liked and responded emotionally to both sides of my artistry," he adds. "When I started thinking about doing my first solo album, I thought I should share everything I truly love to do. Of course, I heard from some fellow sax players and other naysayers, telling me that new artists should never mix gospel and smooth jazz/R&B, that audiences won't get it for some reason. My response was, 'I honestly don't think you were conceived to a gospel tune!' and then told them I believed that people that love church and God also love R&B. I felt it was important to share my entire self with people. Including both on Road Trip was the perfect way to share my entire self with everyone."

Andre laid the foundation for Road Trip with hundreds of performances as leader of The Cavor Project, which has been a mainstay on the Cleveland music scene since 2007. The band is known for infusing fresh, explosive energy into vocal and instrumental classics from the 80's through 2017 and spicing up their set list with dynamic originals. The Cavor Project performs a grooving mix of R&B, smooth jazz, hip-hop, reggae, pop, blues, rock and gospel.

When I see the smiles on people's faces when they hear my music, it's an overwhelming feeling and confirmation that I'm doing exactly what I am put here to do. My goal is always to make people happy, and now with the release of Road Trip, I'm excited about reaching beyond my comfort zone and sharing the joy with more people."
Visit Website
Watch Video
---
Travis 'Moonchild' Haddix
$15.00
Saturday
8/04
8:30 pm
Buy Tickets
World Class Bluesmen orbits in to Nighttown with his Swinging and Soulful 8 Piece Band with Full Horn Section!
With Very Special Guest Jim Chones on bass guitar!
Travis Haddix began playing the piano at the age of seven in his home town of Walnut, Mississippi, located thirty miles south of Memphis, Tennessee. The turning point in his musical learning experience came when he was eight, when the legendary B.B. King came to Memphis and began playing daily at the studios of WDIA. Travis was awed by King;s guitar virtuosity and he hung around the radio station every day to learn all he could. Soon, Travis' piano playing fell by the wayside and was replaced by the guitar, which he plays on stage and in the studio.
Years later, the Haddix family moved to Milwaukee, Wisconsin where Travis, now a budding star, continued to refine his craft by singing and playing throughout the North. The original "Moonchild", he earned the nickname from his beaming presence on stage and his always broad smile and energetic, sexy performances, In 1959, Travis moved to Cleveland, Ohio where he joined the D.L. Rocco Band and achieved regional notoriety that led to a prominent spot with the Little Johnnie Taylor group. Travis also contributed material to five albums by Artie "Bluesboy" White. His material is also covered by Artie "blues boy" White, Dickie Williams, Jimmy Dawkins, Michael Burks, Charles Wilson, the late Son Seals, and Lee Shot Williams.
Haddix has received rave reviews in Living Blues Magazine, Blues Revue, Real Blues, Big City, Jefferson and Audience Magazine, and he has toured Europe since 1992. His style evokes the sounds of the great Stax-Volt days, when the likes of Sam & Dave ruled the urban blues roost. His fifth release on Ichiban Records is A Big Ole Goodun', featuring the Travis Haddix band (together since 1988). He proves, once again, that he is a fixture in the modern blues industry with songs like. "Make Me Say Please" , "From Bad to Worse", and the made-for-jukebox single, "(She Called Me) Knucklehead".
Travis received 4 awards in 1999. Best Male Blues Artist, Best New Blues Artist, Best Blues Entertainer and Contemporary Blues Artist Of The Year. In 1989 he founded Haddix publishing Company and Wann-Sonn Records, and recorded ten CDs under his own label. in 2007 travis won the Gay Rose Production Keeping the Blues Alive Award.
Next time you have a chance, check out the movie April's Fool which features Travis' hit song, Everything Is Everything.
In 2007, Travis' single, "Dick for Dinner" from "Mean Ole Yesterday" was nominated Best Blues Song by the Blues Critic Awards 2007 Readers Poll-Comtemporary Blues. Travis was in great company; the prize was awarded to Omar Kent Dykes & Jimmie Vaughan.
Visit Website
Watch Video
---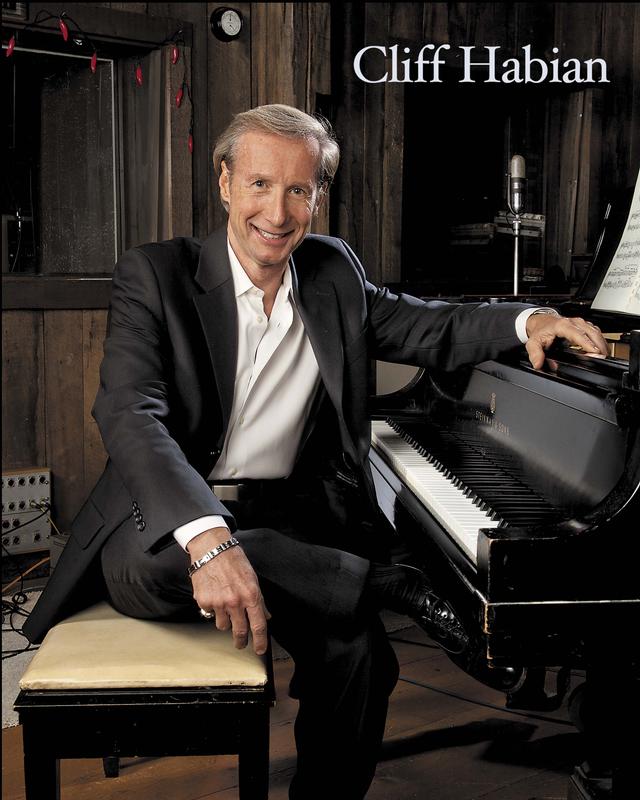 Cliff Habian
$10.00
Sunday
8/05
7:00 pm
Buy Tickets
Solo Show and Brand New Instruction Book Signing from North Coast Jazz Musician and Author Extraordinaire!
Cliff Habian began piano lessons at the age of nine and was composing music just a few years later with both classical and jazz music being strong influences, he decided early on to integrate the two genres into his own unique style.
A multifarious pianist, Cliff can play in virtually any style and performs comfortably in groups settings as well as solo performances. Eventually, Cliff would become s disciple of the "Third Stream" style.
After attending the Cleveland Institute of Music, as a composition major under the late Donald Erb, he accepted a position as Director of American Music and Department Head of Keyboard studies at the Cleveland Music School Settlement, where he taught for 13 years.
He has worked with such greats as Joe Lovano, Freddie Cole, Frank Morgan, Jane Ira Bloom and many others in addition to appearing on "Good Morning America".
Cliff was recently honored to play for the great concert pianist Lang Lang receiving wonderful kudos from the international superstar.
His international reputation began with a recording debut for Milestone/Fantasy Records.
Locally, Cliff regularly has or is performing at Nighttown, Johnny's on Fulton, Johnny's Downtown, Club Isabella, Blu Jazz and Taza.
Visit Website
Watch Video
---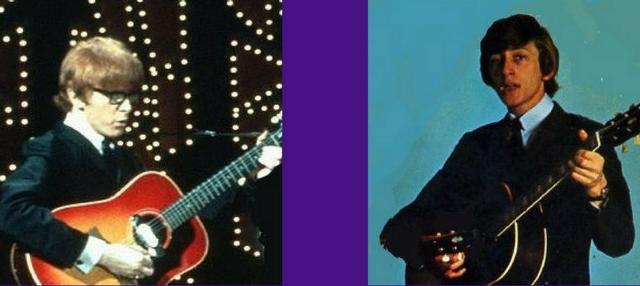 Peter Asher & Jeremy Clyde
$40.00
Monday
8/06
7:00 pm
Buy Tickets
Tuesday
8/07
7:00 pm
Buy Tickets
Peter Asher of Peter & Gordon, & producer for James Taylor, Linda Ronstandt, & many others!
Jeremy Clyde of Chad and Jeremy
Live @ Nighttown!
Two Legendary British Icons Join Forces for Two Special Nights of Acoustic Music with Great Stories and Music!
Peter Asher of Peter & Gordon joins forces with Jeremy Clyde of Chad & Jeremy to star together in an unforgettable evening of music and memories featuring songs and stories from their sixties heyday as recording artists to Jeremy's success on stage, television (Downton Abbey) and film (The Iron lady) and Peter's Grammy-Winning career as Producer and manager of the likes of James Taylor, Linda Ronstadt and more.

Their respective British Invasion duos were collectively responsible for 30 Billboard chart hits. From the Chad & Jeremy catalog, they bring you "Distant Shores", "Yesterday's Gone" "Willow Weep For Me", "Before and After", "A Summer Song" and more. From the Peter & Gordon songbook comes "Woman", "I Go To Pieces", "I Don't Want To See You Again", "Lady Godiva", "A World Without Love" and more.

Don't miss this special opportunity to hear the stories behind the lives and music of these two legendary duos from the era that wiped clean and drew again the face of popular culture!!
"The duo oozed a refreshing abundance of natural English good humor and charm as they told tale after tale from their fabled careers...their voices blended seamlessly...(they) sound virtually identical even 50 years later."
- Steve Smith, Los Angeles Daily News
Watch Video

Planning a
reception,

wedding,

b

usiness
meeting,
graduation, birthday or B'nai Mitzvah?


. . . . . . . . .think Nighttown!

We give you the best package in town at a price that won't break the bank. And everything is included at no extra charge. Our experience is as accommodating as our atmosphere. Private function spaces from 20 - 150. Valet parking available.
To book your party, call Brendan Ring directly at

216-952-9133
Nighttown uses Yamaha Pianos exclusively


For more information about the

Yamaha C-7

,
The New

Avant

Grand Piano or any of the Yamaha pianos,
Please contact Mattlin-Hyde at (440) 449-6180
Nighttown drums provided by




www.fortunedrums.com
Nighttown/JWP graphic designer
Kathy Kelly
216-941-5439



Gerry Paluck RPT

Registered Piano Tuner/Technician

(216) 346-9308
www.gerrythetuner.com
12387 Cedar Road (top of Cedar Hill)
Cleveland Heights, OH
216-795-0550
No need to make an additional table reservation -
it's already included with your concert tickets!!
www.nighttowncleveland.com
Map to
N
ight
t
own
Producers of All the Great Music at Nighttown
Call us for Music for your Private Event
216-721-5624 jwadsworth@aol.com
www.jwpagency.com

To Purchase Concert Tickets

No need to make an additional table reservation -
it's already included with your concert tickets!!




"Late Night at Nighttown"
Fridays Jackie Warren on piano 10:30PM - 1:00AM No cover
Saturdays Jackie Warren on piano 10:30PM - 1:00AM No cover








Thursday, June 28 Natalie Cressman Quintet 8 PM $15.
Vocalist @ trombonist extraordinaire from Trey Anastasio's Group hits the stage at Nighttown with her top flight East Coast Quintet!
Featuring: Natalie Cressman-trombone & vocals, James Casey-sax & vocals, Mike Bono-guitar, Scott Thompson-bass, & Michael Mitchell-drums.





Friday, June 29 Halie Loren 8:30 PM $20.

From Portland, Oregon. Rising Vocal Star and her group make Cleveland debut live at Nighttown!




Saturday, June 30 Ariel Pocock 8:30 PM $20.
From Durham, North Carolina!
Rising vocal and piano star makes her Cleveland debut Live at Nighttown! Justin Time Recording Artist plays music from her recent release "Living in Twilight".
Featuring: Ariel Pocock-vocals & piano, Tim Lekan-acoustic bass, Donnie Patterson-drums, & Special Guest Vocalist Halie Loren.





Sunday, July 1 Bobby Floyd Trio 12 Noon $25. (Jazz Fest Pass Holders $20)

In Association with Tri-C Jazz Fest.

Pianist extraordinaire from Columbus, Ohio and his Trio cap off the 2018 Tri-C Jazz Fest for special Brunch Show live at Nighttown!

Featuring: Bobby Floyd-piano, Derek DiCenzo-bass, & Reggie Jackson-drums.




Sunday, July 1 Erin McDougald featuring Bruce Forman 7 PM $20.
Dynamic Chicago Vocalist makes her Cleveland debut with All-Star Band featuring West Coast Guitarist Bruce Forman.
Featuring:
Erin McDougald-vocals, Bruce Forman-guitar, Roger Hines-acoustic bass, & Cedric Easton-drums.



Tues.-Wed., July 3 & 4 Kinky Friedman's Circus of Life Tour 7 PM Both Nights $30.
Legendary Outlaw Country Singer/Songwriter, Novelist, & Raconteur Kinky Friedman releases his new CD "Circus of Life" and hits the Stage at Nighttown for Two Big Nights!



Friday, July 6 Kristina Koller 8:30 PM $15.
Exciting new NYC vocalist and her group play music from her debut CD "Perception" Live at Nighttown!
Featuring:
Kristina Koller - vocals
Fima Chupakhin - piano
Ben Rubens - bass
Darrian Douglas - drums



Saturday, July 7 Jackie Warren & Joshua Smith 8:30 PM $10.
Piano/Sax Duo Playing Selections for their Brand New CD "The Bees Knees"!
Featuring: Jackie Warren-piano & Joshua Smith-sax.



Fri. & Sat. July 13-14 Mark Sherman / Felix Pastorius / Mike Clark Venture Trio 8:30 PM Both Nights $25.
All-Star NYC Group Venture hits the stage at Nighttown for Weekend Extravaganza!
Featuring: Mark Sherman-piano/vibes, Felix Pastorius-bass, & Mike Clark-drums.



Sunday, July 15 Dred Scott Trio + Tom Scott 7 PM $20.
Cutting Edge NYC based pianist and NE Ohio Native brings his East Coast Based Trio to Nighttown.
Featuring: Dred Scott-piano, Ben Rubin-bass, & Diego Voglino-drums.
Special Guest Opening Act: Tom Scott (Dred's Brother)-piano and vocals.



Tuesday, July 17 The Four Freshmen 6 & 8 PM $30.
Legendary Vocal Group back on Nighttown Stage! Playing Music from their new CD "Four Freshmen & Friends".
Featuring: Bob Ferreira, Tommy Boynton, Stein Malvey, & Jon Gaines.



Wed.-Thurs. July 18-19 Phil Keaggy 7 PM Wed. 8 PM Thurs. $50.
From Nashville & Youngstown, Ohio!
Two Big Nights at Nighttown with Legendary Guitarist of Glass Harp Fame in a rare, and exclusive, Small Club Appearance!!



Friday, July 20 Sam Hooper 8:30 PM $10.
Guitarist Extraordinaire leads All-Star Group playing Jazz, Blues, & More live at Nighttown!
Featuring: Sam Hooper-guitar & vocals, Sakait Baksar-keyboards/vocals, Derrick James-bass/vocals, & Chuck Orange-drums.



Saturday, July 21 Lou Armagno "Sinatra Selects" 8:30 PM $15.
Vocalist Lou Armagno & his group Sinatra Selects plays the music of "Old Blue Eyes" for Special Summer Show at Nighttown!
Featuring: Lou Armagno-vocals, Marc Paige-sax, Mike Elkins-piano, Jim Mass-bass, & Ricky Exton-drums.



Sunday, July 22 "Beautiful Sisters 2" w/Shirley Cook & Theresa Haney 7 PM $20.
Top flight Cleveland Jazz Vocalists featured with David Thomas Quartet providing support Live at Nighttown!
Featuring: Shirley Cook-vocals, Theresa Haney-vocals, David Thomas-piano & musical director, Chris Coles-sax, George Lee-bass, & Sunny Tabler-drums.
Presented in Association with Quad City Productions.



International Music Festival at Nighttown

Friday, July 27 International Double Bill! Matt Baker Trio & Oscar Stenmark Trio 8:30 PM $20.
From Austrailia/NYC! Dynamic Pianist & Vocalist Matt Baker & Trio makes his Cleveland Debut Live at Nighttown!
From Sweden/NYC! Brass Man Oskar Stenmark on Flugelhorn leads his NYC based Trio also for the first time in Cleveland at Nighttown.
Featuring: Matt Baker-piano & vocals, Endea Owens – acoustic bass, Curtis Nowosad – drums
Oskar Stenmark-flugelhorn, Evan Gregor-acoustic bass, Billy Test-piano.


Saturday, July 28 Diego Figueiredo & Chiara Izzi 8:30 PM $30.
International Weekend Festivities continue with brilliant guitarist Diego Figueiredo from Brazil and delightful vocalist Chiara Izzi from Italy



Sunday, July 29 Randy Shane & Daniel Bruce "Tribute To George Michael" 7 PM $10.
North Coast Vocalist & Guitarist pay tribe to the late British Vocalist George Michael live @ Nighttown!



Monday, July 30 Seth Johnson Trio 7 PM $15.
Cleveland Hts. Native & Dynamic Jazz Guitarist now based on East Coast back on Nighttown Stage with his NYC based Group!
Featuring: Seth Johnson-guitar, Jordan Scannella-bass, & Sam Merrick-drums.



Friday, August 3 Andre Cavor & The Cavor Project 8:30 PM $20.
North Coast Contemporary Jazz Saxophonist & Group hit the Stage at Nighttown! Featuring music from his brand new CD "Road Trip".



Saturday, August 4 Travis 'Moonchild' Haddix 8:30 PM $15.
World Class Bluesman orbits in to Nighttown with his swinging, and soulful 8 Piece Band with full horn section!
With Very Special Guest Jim Chones on bass guitar!



Sunday, Aug. 5 Cliff Habian 7 PM $10.
Solo Show and Brand New Instruction Book Signing from North Coast Jazz Musician and Author Extraordinaire!



Mon. & Tues. August 6-7 Peter Asher & Jeremy Clyde 7 PM both nights $40.
Peter Asher of Peter & Gordon, & producer for James Taylor, Linda Ronstandt, & many others!
Jeremy Clyde of Chad and Jeremy
Live @ Nighttown!
Two Legendary British Icons Join Forces for Two Special Nights of Acoustic Music with Great Stories and Music!


###