To Purchase Concert Tickets

No need to make an additional table reservation -
it's already included with your concert tickets!!
---
New Shows Recently Added





6/06 Hathaway Brown Music Program

6/10 KC Harmon Blues

6/13 David Murray & Kalil El'Zabar
6/17 Eddie Baccus Sr. & Jr. / Fathers Day Celebration


6/18 Master Class at Nighttown: The True Gospel of Gospel Music

6/19 Cast of Cain Park's Memphis the Musical

6/21 Mike Phillips
6/28 Natalie Cressman Quintet
6/30 Ariel Pocock




---
Bloomsday at Nighttown
A 3-day Festival, a complete reading of James Joyce's "Ulysses". Costumes are encouraged but not required. All are welcome to read, or read along.
Featuring Bill Kennedy
Friday June 15
"Ulysses in Nighttown"
The Circle chapter - pick a character and read their part
10am - closing
Saturday June 16
Bloomsday
Beginning at Chapter 1 "Stately, plump Buck Mulligan..."
10am - closing
Sunday June 17
Molly
We continue and end with Molly's soliloquy
10an - finish
For more info call Bill Kennedy at 440-564-7760
---

Nighttown Selected as Best Jazz Club and Best Blues Club in Scene Magazine Reader's Poll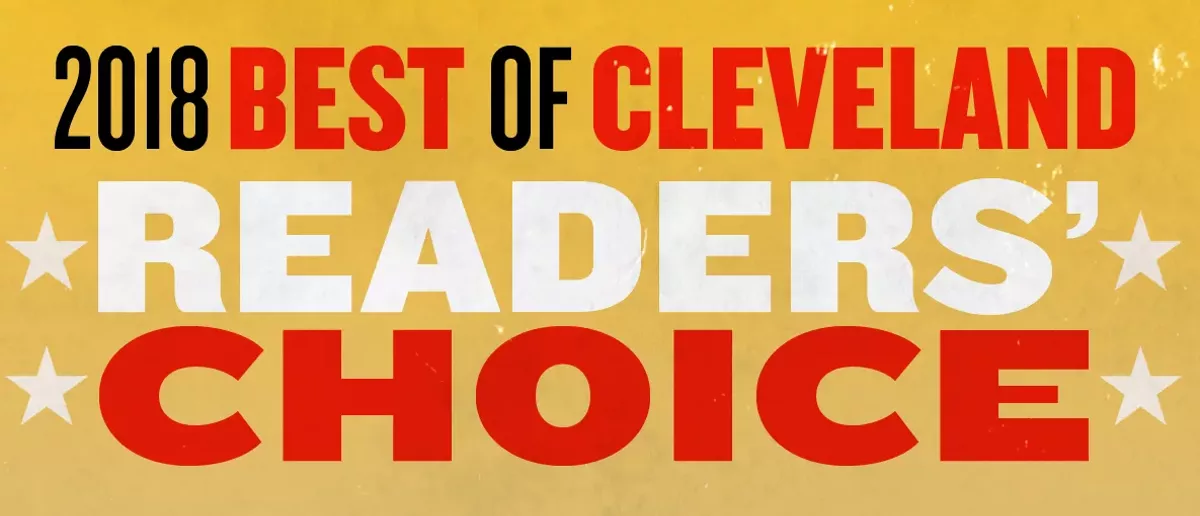 Thank you for selecting us as your favorite place for jazz and blues in NE Ohio. We work hard to bring you amazing international artists, and the best of NE Ohio artists, in an acoustically perfect room, with fantastic food, and a warm atmosphere. Everyone at Nighttown is working hard and committed to briningg you a great place to enjoy music, food, family and friends. Thank you to the people who voted, and to Scene Magazine.
---
"Late Night at Nighttown" ** Every Week **

Fridays
Jackie Warren
on piano 10:30PM - 1:00AM No cover
Saturdays
Jackie Warren
on piano 10:30PM - 1:00AM No cover
Nighttown Newsletter


Click here to sign up for the Nighttown newsletter. Subscribers receive advance notice and discounts to many of the shows.
Nighttown
Tickets

and Seating Policy

To purchase tickets go here, Do not make an additional table reservation - it is already included with your purchased tickets. All seats are General Admission. All seating is based on the time that you arrive for the show and based on how many people are in your party and where we have tables of that size. You may be sharing a table with other people.

---
Nighttown Student Discount Policy
Students up to age 26 are 1/2 off the regular price. Student priced tickets are only available the night of the show, are available only at the door, and are subject to availability. Students must have a photo ID from a generally-recognized high school, college or university. Full-paying ticket holders get priority on admission and seating. Certain select shows have no discount based on arrangements with the artist. On evenings when there are two shows (i.e. shows at 7 & 9PM), the discount is only good for the second show. Students under the age of 18 must be accompanied by an adult paying full price in order to be eligible for the discount.
---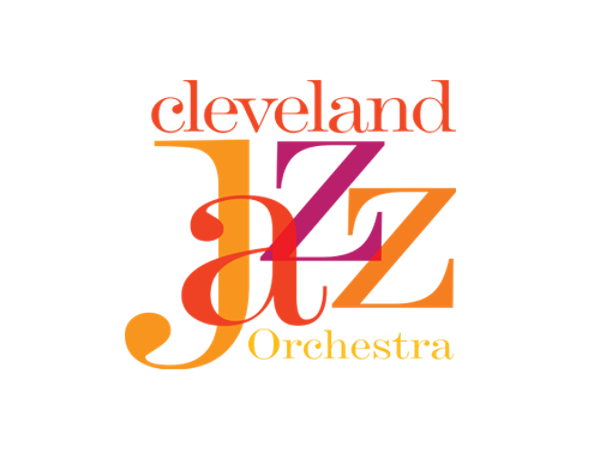 Cleveland Jazz Orchestra with Vocalist Evelyn Wright
$40.00
Friday
6/01
8:00 pm
Buy Tickets
World Class North Coast Big Band Live on Nighttown's Stephens Green Patio! Featuring Vocalist Evelyn Wright!
Exclusive Announcement of their upcoming season with Selections from next Seasons program performed live!
For 34 years, the Cleveland Jazz Orchestra has provided NEO with many memorable educational and entertaining events. Every year, the CJO can be heard with the finest jazz musicians in the idiom as well as the region's budding jazz neophytes.
Nighttown is excited to share an evening on June 1st on the Fully Covered Stephens Green Patio with the CJO as they hold their first ever season announcement event called "Looking Forward, Laying Back." The evening will feature a CJO small group during a cocktail hour, and the big band will perform selections from the upcoming and current seasons.
Paul Ferguson has been director of Jazz Studies at Case Western Reserve University since 1988. A graduate of the University of Akron and the Eastman School of Music, Paul has traveled with the Tommy Dorsey and Glenn Miller bands as lead trombonist and arranger and currently fills those functions with the Cleveland Jazz Orchestra. Paul was principal trombonist of the Canton Symphony from 1989-98 and at various times has also performed with the Cleveland Orchestra, Cleveland Opera, the Ohio Chamber Orchestra, Apollos's Fire, the Cleveland Chamber Brass, the New Hampshire Festival Orchestra and various groups across Northeast Ohio. In 1995, Paul was the recipient of the Gil Evans Fellowship in Jazz Composition.He has two recordings–"Blue Highways", recorded with the RIAS Big Band of Berlin, and "Friends", recorded with his own orchestra. Last summer, Paul taught at an International Jazz Seminar in Zarautz, Spain, wrote three arrangements for the Glenn Miller Orchestra and wrote three arrangements for the Cleveland Pops for use on the Drew Carey show.
Evelyn Wright will be one of the featured vocalist for this concert with The Fat Tuesday Big Band. Evelyn Wright has been a professional vocalist for over twenty five years with experience in Jazz, R&B and Pop styles of music. Evelyn is a native from Cleveland, Ohio, and was voted Best Female Vocalist in 1985 in conjunction with WCPN radio station. She is also the winner of Most Promising Female Artist and Favorite Female R&B Singer 1993 by Midwest Urban Music Awards. Evelyn has toured throughout the United States and Canada performing in the top hotels, nightclubs, and concert halls.
Visit Website
Watch Video
---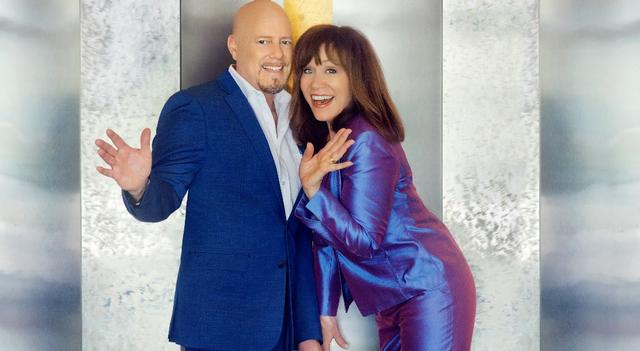 Anne Cochran & Abe LaMarca


$30.00


Friday

6/01


8:30 pm

Sold Out



Vocalists Anne Cochran & Abe LaMarca join forces with 7 pc. Band For Exciting Spring Show Live on Nighttown's Main Stage!
Anne Cochran
Anne has established herself in the music industry through numerous solo albums ( Anne Cochran, Thinking of You, Lucky Girl, Cover Girl, This Is The Season, Close To Me, Two of Hearts, Christmas Wish) and accompanying pianist Jim Brickman on several recordings, TV Specials, co-host to his syndicated radio show and as his lead touring vocalist on tour. Brickman and Cochran had a top 5 Adult Contemporary hit single "After All These Years". She has performed for Stars On Ice at Madison Square Garden and Gund Arena, NBC's A Golden Moment, and has performed with numerous symphonies and pop orchestras of Pittsburgh, Atlanta, Minneapolis, Phoenix, Louisville, Kansas City, Colorado, Cincinnati, Nashville and Columbus.
Throughout her career, Cochran has shared many memorable duets with renowned artists such as Donny Osmond, Michael Bolton, Wayne Brady, Collin Raye, Dave Koz, Richie McDonald, Mark Masri, Ben Utecht and her favorite soulful singer, Abe LaMarca. Anne and Abe have enjoyed radio success with their popular duets, "Rise and Shine" and "Who's Gonna Baby You", off her newest cd, "Deeper", produced by LaMarca. Cochran is thrilled to be re-uniting with Abe, on the Nighttown stage.
Abe LaMarca
Northern soul music has been the driving and motivating musical force behind this powerful vocalist since he was a teenager growing up in Cleveland Ohio in the late 60's. He has recently returned back home after living and performing in Las Vegas.
Abe LaMarca is also a proud member of the highly respected stable of singers and musicians often referred to as the "Crown Jewel" of Las Vegas, Santa Fe and The Fat City Horns.
Abe grew up on a steady diet of sophisticated soul and jazz music well beyond his years. He was influenced by Dinah Washington, Jackie Wilson, Dave Brubeck and Little Richard to name a few. The height of his young career as a local singer was to land a huge gig with one of Cleveland's most memorable horn bands, Rastus. It was at this time he was schooled by these older and hipper cats, most of all, tenor sax player, Vic Walkuski. "Whenever you started to feel cool and cocky about how good you were, Vic would pull out some obscure soul record with these amazing singers to knock you back down to earth. Most notable was an album by "The Blind Boys of Alabama". I decided then and there that if I was gonna be respected I would have to strive to that level".
After leaving the band he spent time in LA singing demos and working for songwriters Gerry Goffin and Michael Masser. In the 80's Scottie Bros/CBS Records released "LaMarca", a solo endeavor that found this soul lover singing some catchy pop songs, a few of which made it to the big screen, most notably, "Hold on Blue Eyes" from the movie "The Wraith" starring Charlie Sheen. He devoted the 90's to raising his kids in Cleveland and singing radio jingles and T.V. commercials. In 2005, Abe decided to make the move to Las Vegas where he worked at just about every hotel on and off The Strip with various bands and show projects.
Abe's current cd, "Stand and Deliver" is receiving much praise at Smooth Jazz Radio.
Watch Video
---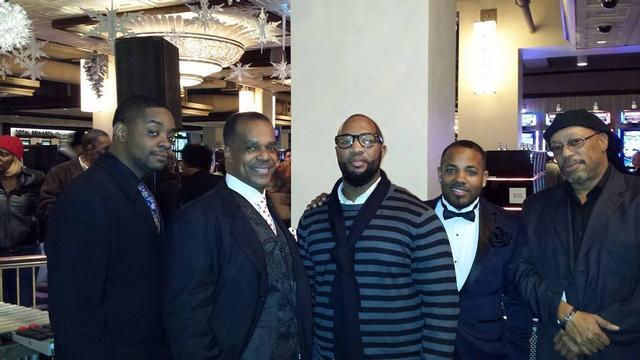 Forecast
$15.00
Saturday
6/02
8:30 pm
Buy Tickets
North Coast's Premier Contemporary Jazz Group back on stage at Nighttown! Back by Popular Demand after sold out show in May!
Featuring: Lem Adams-vibes, Gary Stevenson-bass, Alphonso McDuffie-keyboards, Riley Richards-sax, & John Turner-drums.
On Nighttown's Stephens Green Patio. Get tickets early…seating limited!
Forecast is the leading contemporary jazz group in the Northeast Ohio area. Founding members Lem Adams on vibes and Gary Stephenson on electric bass have been entertaining Ohio audiences for over 20 years. The current Forecast lineup includes Jermaine Lockhart on sax, Dave Crawford on keyboards, Kevin Byas on guitar, and Gene Butler on drums.
Forecast has shared the stage with many of the top names in contemporary jazz including Stanley Turrentine, Roy Ayers, The Crusaders, Bob James, Pieces of a Dream, and several others. They have won numerous awards and competitions over the years and have been the house band at The Q for Cleveland Cavs games.
Visit Website
Watch Video
---
The Legendary Count Basie Orchestra
$50.00
Sunday
6/03
6:00 pm
Buy Tickets
8:00 pm
Buy Tickets
Monday
6/04
6:00 pm
Buy Tickets
8:00 pm
Buy Tickets
Tuesday
6/05
7:00 pm
Buy Tickets
The Big Band in Jazz! The Legendary Count Basie Orchestra are returning to the Nighttown Stage!!
Directed by Scotty Barnhart. With Special Guest Vocalist Everett Greene.
20 Pc. Orchestra live on Nighttown Stage! Longest running group in Jazz History….83 Years Strong!!!!
BACK BY POPULAR DEMAND 5 BIG SHOWS!!!!!
2015 marked the 80th Anniversary of The Count Basie Orchestra. William "Count Basie" (1904-1984) started his orchestra in Kansas City in 1935, and proceeded to develop and maintain one of the greatest jazz orchestras in music history. With Mr. Basie's meticulous attention to detail, selecting the very best musicians, and making sure that every tune could be danced to, The Count Basie Orchestra soon became the favorite for everyone to listen and dance to with it's irresistible Kansas City Swing beat.
Count Basie was able to get many of the greatest instrumentalists and vocalists in jazz to be a part of his orchestra, including Billie Holiday, Lester Young, Sweets Edison, Joe Jones, Joe Williams, Snooky Young, Frank Foster, Thad Jones, Frank Wess, and Clark Terry amongst others.
The orchestra has played many times for Kings, Queens, and other members of Royalty around the world. Appeared in movies, television shows, tv and radio commercials, won every respected jazz poll in the world at least once, and has 18 Grammy Awards, the most for any orchestra.
Today, under the leadership of it's Director, Scotty Barnhart, The Count Basie Orchestra is traveling the world celebrating it's 80th Anniversary and continuing the excellent standards in swinging and shouting the blues with precision, and continuing to be "The Most Explosive Force In Jazz".
Visit Website
Watch Video
---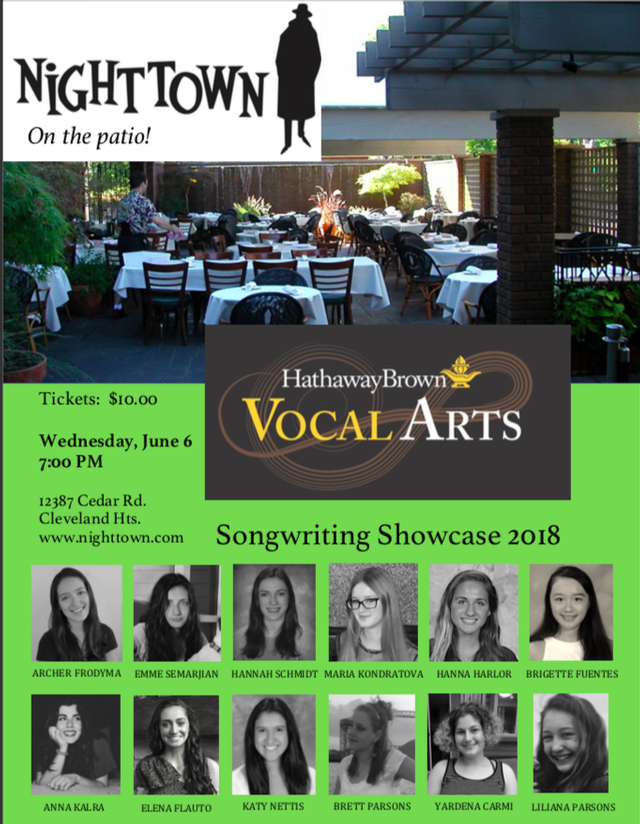 Hathaway Brown Music Program
$10.00
Wednesday
6/06
7:00 pm
Buy Tickets
Next generation of Musical Stars hit the stage Live at Nighttown! On Nighttown's Fully Covered All Weather Stephens Green Patio Space. An evening of all original songs with full trio.
Hathaway Brown School Vocal Arts Department offers a class called Solo Voice. This class for high school age female vocalists explores a singer's performance with songs in various styles of jazz, contemporary music, music for theatre, and original work, emphasizing communication with the audience, working with an accompanist or band, song arranging and material selection. Dynamics of vocal interpretation and style are also examined. This evening of jazz and contemporary song is the culminating experience of the course. Come out and see the newest talent Cleveland has to offer.
Visit Website
Watch Video
---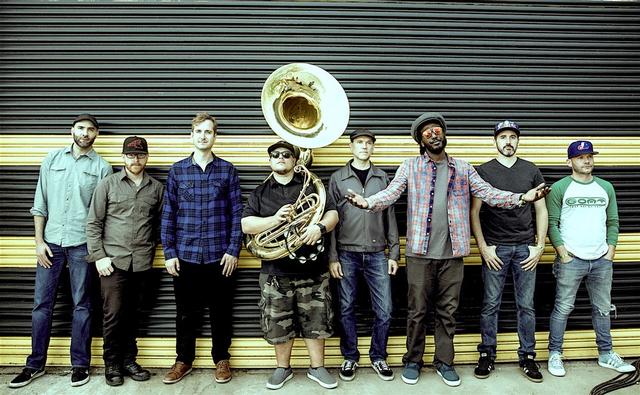 Low Down Brass Band
$20.00
Thursday
6/07
8:00 pm
Buy Tickets
From Chicago! 8 Pc. Brass Band Combines the Sounds of Chicago and the Crescent City with Bold New Approach Live at Nighttown!
LowDown Brass Band (LDB) deftly synthesizes the gritty sounds of Chicago with the high energy second-line street beat of the Crescent City. LDB brandishes a powerful brass frontline of trumpets, trombones, saxophones, with a funky backline of drums and sousaphone. Combining the poetic ferocity of Billa Camp with stellar vocal harmonies, adventurous improvisation, movement, and grooves, LDB creates an infectious and diverse sound that has something for every listener.
Fresh off their appearance at The 2017 Chicago Jazz Festival, LowDown maintains a constant performing and touring schedule throughout North America. In 2015, LDB released an ambitious project titled "LowDown Sounds" that included a critically acclaimed cameo by Roy Ayers on the track "Everybody Loves The Sunshine." LowDown Brass is now set to begin the next chapter with the release of their 5th self-produced full length studio album "LowDown Breaks." This new offering steps deeper into refining their unique sound, combining the hip hop sound with multiple world music and jazz styles.
"LowDown Breaks" sounds as if it could be comprised of samples – as if every instrument came off an old soul record - the drum "break" from a JB's record, or a horn blast ripped from an Al Green cut - and that was the idea from the beginning. But there are no samples on this record except in the transitions: DJ Alo (The Dread/Chicago) and Laelo (Sousa/Producer) sampled the LDB horns and drums, cut up them up, replaced, remixed, and create"LowDown Breaks." This concept is a nod to the breaks used by the original DJs and producers from the Golden Age of Hip Hop and gives the album a sound akin to "The Apache" or "Funky Drummer" while always sounding new and fresh.
"Lowdown Breaks" includes several marquee collaborations with stellar artists including: Chicago rapper Ang13 on "Cold Shoulder," Fada Dougou on "Don't Wait! Right Now!," DJ ALO and The Dread on "Ghost Town" and "Can I Kick It", as well as a remix for the video for "Can I Kick It" by Nick The Graduate (Illuminati Congo/Chicago). The album was tracked in Chicago at The Drake by Anthony Gravino (Davy Knowles/Marquis Hill) and mixed by legendary hip hop engineers/ producers Alex Gross and Dan Zorn at Studio 11. As track #1 iterates – LowDown breaks tradition, breaks expectations, and makes a break for your ears.
Visit Website
Watch Video
---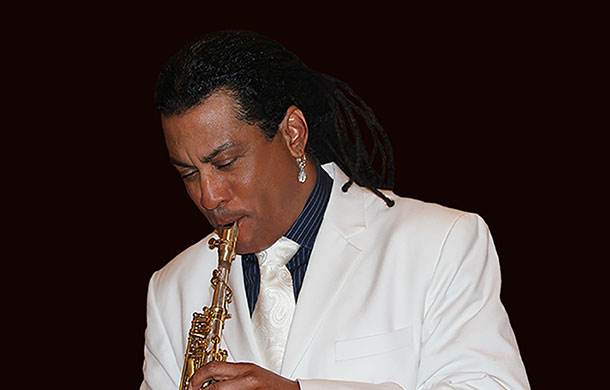 Marion Meadows
$40.00
Friday
6/08
8:00 pm
Buy Tickets
10:00 pm
Buy Tickets
Soprano Saxophonist & Star of Contemporary Jazz, and His Group back in Cleveland to play 2 big shows at Nighttown!
Meadows was born in West Virginia and grew up in Stamford, Connecticut. He began playing the clarinet and studying classical music at the age of nine. He started playing tenor sax in high school, and then migrated to soprano sax.
His passion for various types of music led him down an eclectic musical path. He was intrigued by the styles of jazz musicians, like Stanley Turrentine, Sidney Bichet, Johnny Hodges, John Coltrane, Sonny Stitt, Rahsaan Roland Kirk, Dexter Gordon, Cannonball Adderley, Coleman Hawkins, Sonny Fortune, Joe Henderson, Grover Washington and many others. After studying jazz at Rippowam High School in Stamford, CT with Anthony Truglia, Meadows attended Berklee College of Music. There he majored in arranging and composition. He later went to the SUNY Purchase School for the Arts. During his college years he played in a number of bands including disco, R&B and various jazz ensmbles. I got a lot of sideman jobs in college, and I have always said I got my real graduate degree playing clubs, says Meadows, who perfected his craft studying with Sonny Fortune, Joe Henderson, Dave Liebman and Eddie Daniels.
"Not long after I finished school, (drummer) Norman Connors recorded one of my songs, "Invitation" and then asked me to join his band. I later produced his Passion album with my colleague Jacques Burvick (Aquarium Dream) . Things just fell into place. Meadows first hit the airwaves in 1991 with "For Lovers Only", but his career really began one day in the late '80s at New York's Grand Central Station. He had been a sideman with Connors for three years, with only vague notions of eventually going solo. One day, while waiting for a train, he pulled out his horn and began playing under the huge dome. His sweet sound caught the attention of fellow traveler, producer and TV composer Jay Chattaway, who happened to be passing by on his way to the train. Chattaway was so impressed with Meadows' sound that he hooked Meadows up with legendary keyboardist Bob James. Meadows and James collaborated on a recording which unfortunately went unreleased.
The experience put him on the road to his eventual success. Meadows hooked up with numerous artists and musicians and became a well known sideman in his own right, recording or performing over the years with Brook Benton, Eartha Kitt, Phyllis Hyman, Jean Carne, The Temptations, Michael Bolton, Angela Bofill, Will Downing , Bob Baldwin, Chuck Loeb, John Lee, among many others.
In 1990 Meadows submitted a solo project to Steve Backer at Novus/RCA and was signed to a recording contract, thus marking the beginning of his solo career. Meadows' first RCA release "For Lover's Only" was a huge success and was followed by his ground breaking "Keep it Right There" album. He became a staple of the contemporary jazz format with his subsequent recordings, which include Body Rhythm (1994) and Forbidden Fruit (1996), Passion (1997), Another Side Of Midnight (1999), Next To You (2000), In Deep (2002), Players Club (2004), Dressed To Chill (2006), Secrets (2009) Whisper (2013) and Soul Traveler his current release on the New York based Shanachie Label.
Visit Website
Watch Video
---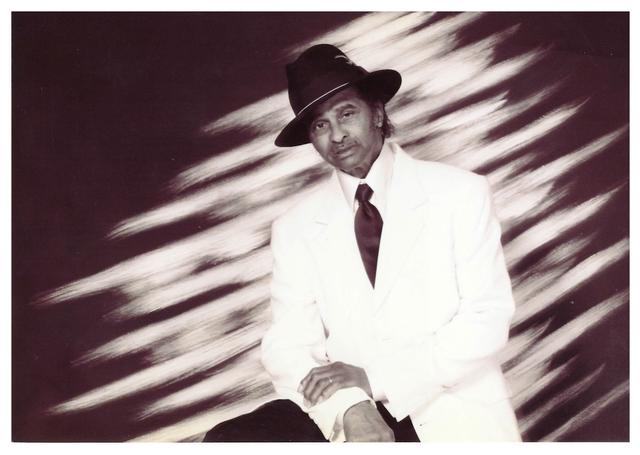 KC Harmon Blues Band
$20.00
Sunday
6/10
7:00 pm
Buy Tickets
"Raw, Ripe, & Rugged! KC Harmon Sings the Righteous Blues!"
Featuring: KC Harmon-vocals, Afi Scruggs-bass/vocals, Carlos Kincaid-drums, Jerome Mitchell-guitar, Kerry Holland-piano, & Special Guest Vocalist Linda (Wild Rabbit) Weiss.
Presented in Association with Quad City Productions.
Stepping out on his own, as a group leader, was a long time coming for KC Harmon, as he finally decided to pursue his dream of becoming a blues singer 10 years ago. Prior to seeking the spotlight, he had served as road manager for Travis Haddad, one of the most widely recognized and regarded blues performers in Cleveland for 22 years, before the urge to try his own luck overpowered him. KC has recorded one CD titled Everybody Gone Crazy. He is presently working on his second and writes his own material. Joining him will be bass player/vocals Afi Scruggs, pianist and music director Kerry Holland, drummer Carlos Kincaid, guitarist Jerome Mitchell and veteran singer Linda (Wild Rabbit) Weiss, who is his special guest.
Watch Video
---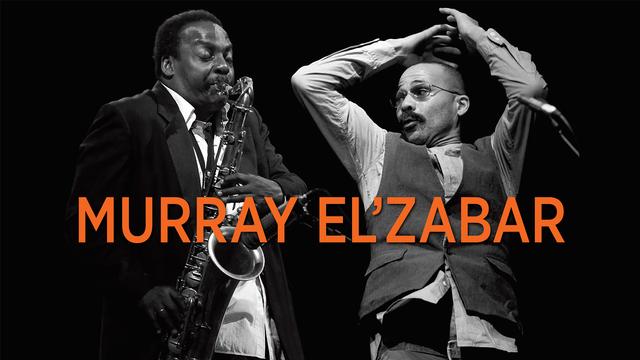 David Murray & Kalil El'Zabar
$20.00
Wednesday
6/13
7:00 pm
Buy Tickets
Modern Jazz Masters and Cutting Edge Artists team up for Unique Duo Show Live at Nighttown!
Featuring: David Murray-sax & reeds, Kalil El'Zabar-percussion.
These two modern music masters, have been at the forefront of creative exploration and compositional diversity over the past four decades. Murray and El'Zabar are recognized by their peers to be consummate virtuosos, who possess ingenious interpretations within the history and future of Great Black Music! This magnificent duo, shares with us all, the hope and desire that comes from blowing fire in an acquired wisdom. This is freedom music in its noblest sense, meant to heal and release one from the regurgitated mediocrity currently flooding our airways. These two wise men know firsthand what's genuine and real. They have both played and recorded with the legends. These cats express brilliantly what true musicians feel and see, which is the epiphany to be free! They are body and soul, in a moment's notice, that ignites the call to have a ball with the one and only Murray/El'Zabar Duo!
Sir Kahil El'zabar is revered globally as a cultural visionary and an innovative music conceptualist. He has recorded more than 60 acclaimed projects as the leader, composer, and arranger. El'Zabar, who holds a PHD in Inter/Disciplinary Arts from Lake Forest College, has worked with such luminaries as Dizzy Gillespie, Pharoah Sanders, Nina Simone, Stevie Wonder, Cannon Ball Adderly, Archie Shepp, Paul Simon, Lester Bowie and more. In May 2014, Sir Kahil El'Zabar was Knighted by the Council General of France, making him a (Chevalier Medal De Lettres).
David Murray is one of the most recorded musicians as a leader in the history of jazz, with well over 200 celebrated projects. Murray was one of the founding members of the World Saxophone Quartet and has worked with greats like, Elvin Jones, Jack DeJohnette, Mc Coy Tyner, Lester Bowie, Jerry Garcia, Max Roach, Amiri Baraka, and Randy Weston. He is currently working with Macy Gray as part of his David Murray Big Band. In 2012, David Murray received an Honorary Doctorate Of Music Degree from Pomona College, Claremont, California. He has won numerous awards over his vast career garnering a Grammy Award for the Best Jazz Instrumental Group Performance, for his Tribute to John Coltrane and a Guggenheim Fellowship.
Watch Video
---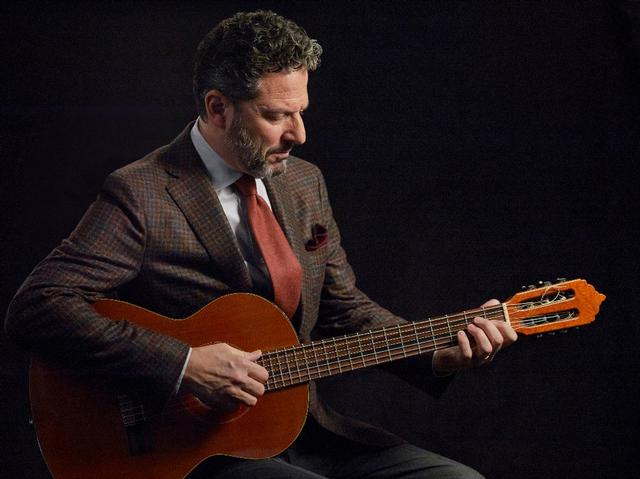 John Pizzarelli
$40.00
Thursday
6/14
7:00 pm
Buy Tickets
9:00 pm
Buy Tickets
Friday
6/15
7:00 pm
Buy Tickets
9:00 pm
Buy Tickets
Landmark Vocalist and Guitarist & his group back at Nighttown for Two Big Nights!
World-renowned guitarist and singer JOHN PIZZARELLI has been hailed by the Boston Globe for "reinvigorating the Great American Songbook and re-popularizing jazz." The Toronto Star pegged him as "the genial genius of the guitar," and the Seattle Times saluted him as "a rare entertainer of the old school."
Established as one of the prime contemporary interpreters of the Great American Songbook, Pizzarelli has expanded that repertoire by including the music of Paul McCartney, Joni Mitchell, Neil Young, Tom Waits, Antônio Carlos Jobim and The Beatles. His themed shows, often performed with his wife Jessica Molaskey, suggest there is no limit to Pizzarelli's imagination or talent.
Having concentrated on the music of Paul McCartney, Johnny Mercer and Frank Sinatra over the last two years, Pizzarelli has returned to the bossa nova of Antonio Carlos Jobim with his July 28, 2017 Concord Jazz release Sinatra & Jobim @ 50. With co-vocalist Daniel Jobim, grandson of the legendary Brazilian composer, the two explore songs Sinatra and Jobim recorded in 1967 and 1969 as well as add new songs to the mix flavored with the spirit of the classic Francis Albert Sinatra and Antonio Carlos Jobim album.
Pizzarelli's latest album for Concord is a follow-up to his wildly successful Midnight McCartney, an album The New Yorker said "may be the best collection of McCartney covers ever recorded."
Since its release in 2015, Pizzarelli has toured North America, South America, Asia and Europe performing shows centered on Frank Sinatra's centennial, the songs of Johnny Mercer and a McCartney program in which his quartet is joined by strings and a horn section. He also tours on a double bill with pianist Ramsey Lewis and is looking forward to touring a celebration of Nat King Cole's music for his centennial, which will be in 2019.
While plenty of jazz greats influenced his work – Benny Goodman, Les Paul, Zoot Sims, Clark Terry and Slam Stewart, among others – Cole has been Pizzarelli's hero and foundation over the last 25 years. He devoted two albums to his music, Dear Mr. Cole in 1994 and P.S. Mr. Cole, recorded and released five years later.
In addition to being a bandleader and solo performer, John has been a special guest on recordings for major pop names such as James Taylor, Natalie Cole, Kristin Chenoweth, Tom Wopat, Rickie Lee Jones and Dave Van Ronk, as well as leading jazz artists such as Rosemary Clooney, Ruby Braff, Johnny Frigo, Buddy DeFranco, Harry Allen and, of course, Bucky Pizzarelli. He was featured opposite Donna Summer, Jon Secada and Roberta Flack on the GRAMMY Award-winning CD, Songs from the Neighborhood: The Music of Mr. Rogers in 2005.
John has performed on the country's most popular national television shows such as The Tonight Show Starring Jimmy Fallon, Conan, Great Performances and the talk shows of Jay Leno, David Letterman, Regis Philbin and the Macy's Thanksgiving Day Parade.
Don't miss the phenomenal John Pizzarelli in a special intimate club setting at Nighttown!
Visit Website
Watch Video
---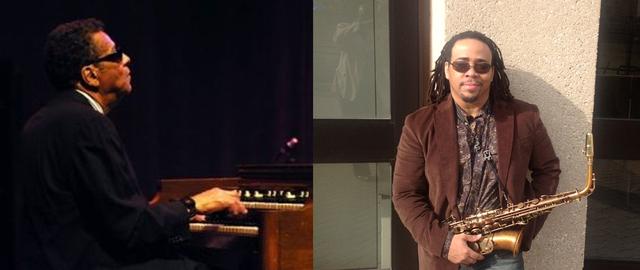 Eddie Baccus Sr. & Jr. - Fathers Day
$20.00
Sunday
6/17
7:00 pm
Buy Tickets
Father's Day Celebration with the legendary Baccus Family leading All-Star Group live at Nighttown!
Featuring: Eddie Baccus Sr.-Hammond B-3 Organ, Eddie Baccus Jr.-Sax, Cecil Rucker-Vibes, Billy Artis-Guitar, Perry William III-Drums, & Special Guest Vocalist Mike Cady.
One of the senior statesman of the Cleveland Jazz Scene, organist Eddie Baccus Sr. has set the standard locally since the early 1960's. Like the late great Jimmy Smith, Baccus is a virtuoso on the Hammond B-3, equally adept at soul jazz and bebop. In many ways Eddie Baccus Sr. has been to the jazz scene what the late Robert Jr. Lockwood was to the local blues scene; he has been a leader, mentor, and the soul of the community for many years.
Early on his talent was evident as he was linked with another jazz legend, saxophonist Roland Kirk. Baccus and Kirk were schoolmates at the Ohio School of the Blind and their sessions together in the old Euclid and 105th area are the stuff of local legends. Kirk would go on to national acclaim before his untimely death in the late 70's. Baccus stayed close to home and it has been our good fortune.
Eddie Baccus Sr. has been the bedrock of the Cleveland jazz scene and his influence on fans and musicians alike has been invaluable.

After 15 years of recording and touring with famed urban jazz ensemble Pieces of a Dream, saxophonist Eddie Baccus, Jr. stepped out on a lush, soulful and funky Journey To Love, his independent debut demo to promote him for upcoming shows. Though it has been extraordinarily well received, Baccus is excited about a remixed and remastered version of the collection, which also features three new songs. The Cleveland born and raised, Virginia based artist will be releasing the revamped version as part of a package with his soon to be released follow-up album whose title perfectly reflects Baccus' life and career as he reflects on the last 20 years and looks forward to the future: Living The Dream.
Baccus is currently putting the finishing touches on the new album, which will feature jazz greats like keyboardist Russell Ferrante of the Yellowjackets, fellow saxmen Eric Marienthal and Elan Trotman, blues guitarist Robben Ford and a special guest appearance by Baccus' father, organist Eddie Baccus, Sr
Like his hero Grover, Baccus switches artfully between soprano, alto and tenor, and on Living the Dream is also playing baritone sax and EWI. Since leaving Pieces of a Dream, he has been recording and performing live with his band Straight to the Point, a powerful group of musicians who live in the Beltway region (Maryland and Northern Virginia) .
Joining Eddie Sr. and Eddie Jr. for their appearance at Nighttown will be an All-Star Cleveland lineup. They are Cecil Rucker on the Vibes. Eddie Sr. has frequently appeared with Cecil's group Good Vibes. Billy Artis is on guitar. Many will remember Billy from his days backing the late great Bill Doggett at the Theatrical in downtown Cleveland. Perry Williams III is on drums. Perry is a veteran on the soul jazz circuit and has worked with Eddie Sr. and Cecil extensively. And on vocals is Mike Cady.
Visit Website
Watch Video
---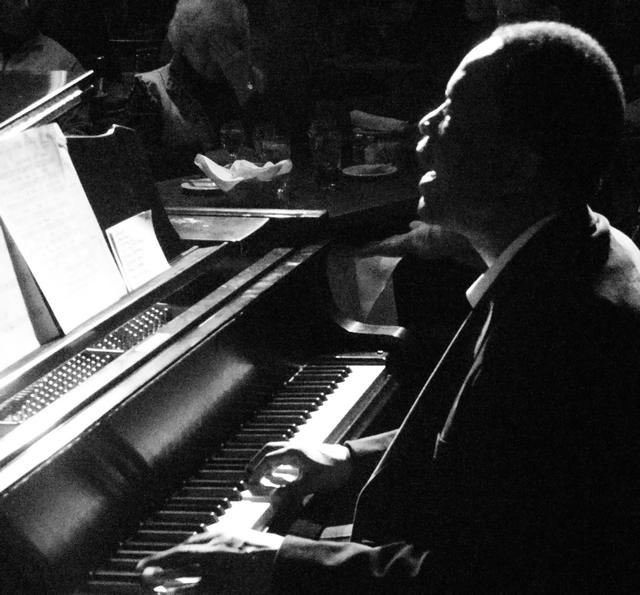 Master Class at Nighttown: The True Gospel of Gospel Music
$15.00
Monday
6/18
7:00 pm
Buy Tickets
Join us as celebrate and explore the agony and ecstasy of gospel music on Monday, June 18 when Dr. David Thomas will deliver a "Master Class" on the history of gospel music. This will be a multi-media event, with video and sound clips, as well as a gospel choir on the legendary Nighttown stage.
Join us as celebrate and explore the agony and ecstasy of gospel music when Dr. David Thomas will deliver a "Master Class" on the history of gospel music. This will be a multi-media event, with video and sound clips, as well as a gospel choir on the legendary Nighttown stage.
By its very definition, the term gospel means 'good news,' music that is deeply rooted in the rich traditions of the African-American church. During the late 1800s, African-American churches in the southern United States started fusing various styles of music into their worship services, including African-American spirituals, hymns, and sacred songs. At the heart of the gospel music tradition was the use of a choir. The types of music sung by the gospel choir followed the call-and-response format similar to that used in traditional hymns and sacred songs.
The traditional structure of gospel music changed in the late 1930s with the birth of 'gospel blues,' which combined blues and jazz with traditional gospel music. Later on came other variations, including 'gospel quartet,' 'contemporary gospel,' 'praise and worship' and in the late '50s and early 1960s, 'soul music' appeared, as best exemplified by the music of Ben E. King (Stand by Me), Aretha Franklin and many other Motown and soul artists.
Dr. David Thomas has a Bachelor and Master degrees in Music Education from Case Western Reserve, as well as a Master degree in Music Composition from Cleveland State University. David did post-graduate work at the Royal Holloway College (U.K.), Camden University (London), then completed his course of studies in the doctoral Music program at Kent State University.
David is a piano, organ and keyboard specialist with the ability to play five other instruments. Music, composed by David Thomas for choir and orchestra, entitled "The Creation Sermon", had excellent reviews and repeat performances by popular demand. He has directed The Cleveland Chamber Symphony Orchestra. He is co-author of a book entitled "A Child's First Book of Spirituals", which is the recipient of the Coretta Scott King Award.
David has toured with Major Harris and recorded with the world renowned Saxophonist Phil Woods & The Saint Thomas Quartet. He has performed with other artists including Jennifer Holiday, Roz Ryan, James Cleveland, Dizzy Gillespie, Albert Ayler, Jean Carne, David Ruffin, Grover Washington, David Sanborn, and Gerald Levert.
David is a member of the music staff at Southeast Seventh Day Adventist Church. He served as the director of music at the Morning Star Baptist, Saint Timothy Baptist and Associate Minister of Music at Olivet Institutional, and Liberty Hill Baptist Church. He is presently a worship leader at South Euclid United Church of Christ, a faculty member at Richmond Heights Schools System and music director of the Cleveland All-City performance after school program.
---

Cast of Cain Park's Memphis the Musical
$20.00
Tuesday
6/19
7:00 pm
Buy Tickets
Get a taste of 1950s and 60s Beale Street with classic Rock 'n' Roll and Rhythm & Blues. Plus a special performance of songs from Memphis the Musical.
With performers from Cain Park's production of Memphis featured live on Nighttown Stage!
Featuring: Douglas F. Bailey II, Nicole Sumlin, & More. Direction by Joanna May Cullinan.
Inspired by actual events, Memphis the Musical is about a white radio DJ who wants to change the world and a black club singer who is ready for her big break. Audiences will be taken along on their incredible journey to the ends of the airwaves – filled with laughter, soaring emotion and roof-raising rock 'n' roll. Winner of four 2010 Tony Awards including Best Musical and two 2015 Olivier Awards, Memphis features a Tony-winning book by Joe DiPietro and a Tony-winning original score with music by Bon Jovi founding member David Bryan.
Watch Video
---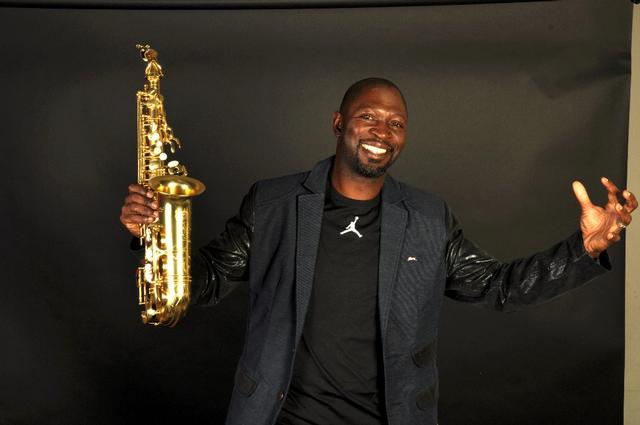 Mike Phillips
$30.00
Thursday
6/21
8:00 pm
Buy Tickets
Exciting Contemporary Jazz Saxophonist hits the stage at Nighttown with All-Star Group!
Featuring:
Mike Phillips-sax,
Robert Hubbard-drums (From Hubb's Groove)
Steve Johnson-keyboards (From Funkyard X)
Jeremiah Napier-electric bass (From Funkyard X)
The emergence of saxophonist Mike Phillips marks the beginning of a new, exciting chapter in the jazz music scene. A rare combination of youthful exuberance and seasoned craftsmanship, Mike is poised to take his position among the leaders in his field.
Mike began his musical odyssey at the age of five in his native Mt. Vernon, NY. After experimenting with an assortment of instruments including acoustic and electric bass, violin, piano, French horn and trumpet, he focused on the saxophone because it was the vehicle best suited to express his creative passion.
In the summer of 1993, Mike made his presence felt on the music scene with his now legendary debut performance at the well-known New York City jazz & R&B spot, Wilson's. Invited there by a friend who was playing keyboards with the house band, Mike literally walked on stage and, much to the surprise of the band leader, began to blow before anyone asked him to sit in. The looks of bewilderment quickly turned to smiles and the rest, as they say, is history.
Mike has been a regular there ever since, performing with such artists as Babyface, Rachelle Farrell, Brian McKnight, Boyz II Men, and the artist formerly known as Prince. He has also showcased his extraordinary talent via performances throughout the US and abroad, touring with such notables as Teddy Riley & Blackstreet, Jonathan Butler, Simply Red, Wayman Tisdale, Kenny Lattimore and the incomparable Stevie Wonder.
In 1996, Mike was invited to perform at President Clinton's Inaugural Gala held at The Kennedy Center in Washington, DC. Other milestone events include the 80th Birthday Celebration for President Nelson Mandela in South Africa, a Superbowl appearance with Stevie Wonder, and the Billboard Music Awards. Mike's television credits include Saturday Night Live, The David Letterman Show, BET On Jazz, BET Sound Stage, and The Tonight Show.
Mike's artistry exceeds category, as shown by his recording sessions with an assortment of diverse performers including the late rapper Notorious B.I.G., mega movie star and recording artist Will Smith, vocalist Mariah Carey, and the gospel ensemble Anointed.
Visit Website
Watch Video
---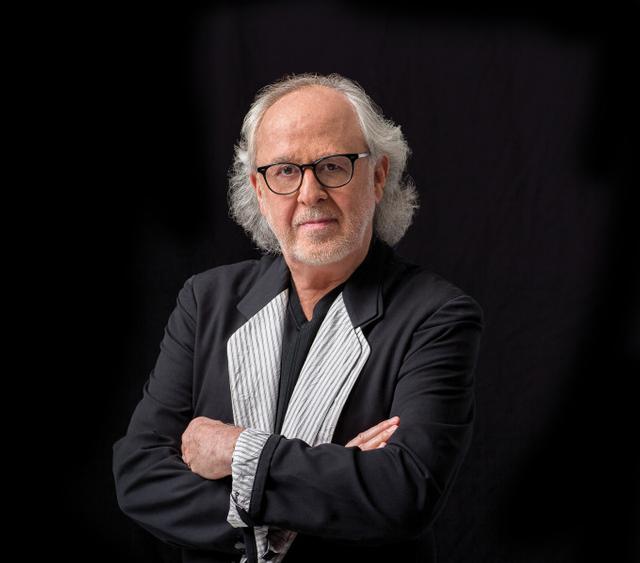 Bob James
$30.00 - $40.00
Friday
6/22
7:00 pm
Buy Tickets
9:00 pm
Buy Tickets
Saturday
6/23
7:00 pm
Buy Tickets
9:00 pm
Buy Tickets
Sunday
6/24
7:00 pm
Buy Tickets
Legendary Contemporary Jazz Pianist, Composer, and Arranger and His Trio perform Friday and Saturday. Sunday's Show features his Ohio Band.
Featuring:
Friday & Saturday Trio: w/Bob James-piano & keys, Billy Kilson-drums, & Michael Palazzalo-bass.
Sunday: Ohio Band w/Bob James-piano & keys, Hilary James-vocals, Kevin DiSimone-keyboards, Wilbur Krebs-bass, & Ike Wiley-drums.
The career of Bob James is long, varied and continues to evolve at every turn. From his first days in Marshall, Missouri, the music of Bob James has captivated audiences throughout the world.
Discovered by Quincy Jones at the Notre Dame Jazz Festival in 1963, James recorded his first solo album, Bold Conceptions, that year for Mercury Records. 58 albums and innumerable awards would follow through five decades. He honed his skills working with Creed Taylor, working on albums for artists like Hank Crawford, Grover Washington, Jr, among others. While with CTI, James found great popular success overseeing significant hits for Paul Simon, Neil Diamond, Maynard Ferguson, and Kenny Loggins.
In 1974, James finally recorded his own album, One, which launched a lifelong career of recording and performing live. After three more albums, James began his own label, Tappan Zee Records. This allowed James to spend more time in the studio, focusing on his own creative works. It was during this time that he recorded his own gold seller, Touchdown, which included his composition, "Angela", the instrumental theme from the sitcom Taxi, and possibly James' best know work. Bob composed all the original music used in that television series for its entire run. One On One, the first in three collaborations with Earl Klugh, was awarded a Grammy in 1980 for Best Pop Instrumental Performance, and has sold over a million copies. During this time, James set the standard for the smooth jazz sound in the late 1970s.
In 1985 James moved to Warner Bros Records, and kicked things off with Double Vision, a collaboration with David Sanborn, and produced by Tommy LiPuma. Double Vision was another Grammy winner, selling over a million albums.
While recording his album, Grand Piano Canyon, in 1990, James reunited with longtime friend, drummer Harvey Mason, Jr. It would also be the first time James would work with guitarist Lee Ritenour, and bassist Nathan East. This would be the start of something beautiful, as these early sessions ignited a spark which would engulf the Jazz world as Fourplay. Fourplay's first album was recorded and released in 1991. The Group would collaborate on a total of three albums, until 1998 when Ritenour left the group, and Larry Carlton took over. This version of Fourplay continued the group's huge success for seven more albums. After 12 years, Carlton decided to delve further into his solo career, and the band brought in guitarist Chuck Loeb in 2010.
A personal and professional highlight was the collaboration with his daughter, Hilary, on their Flesh & Blood album, which toured 15 U.S. cities. James continued collaborating on separate projects with Earl Klugh, (Cool) and Kirk Whalum (Joined At the Hip). Both albums were nominated for Grammys. continued
Visit Website
Watch Video
---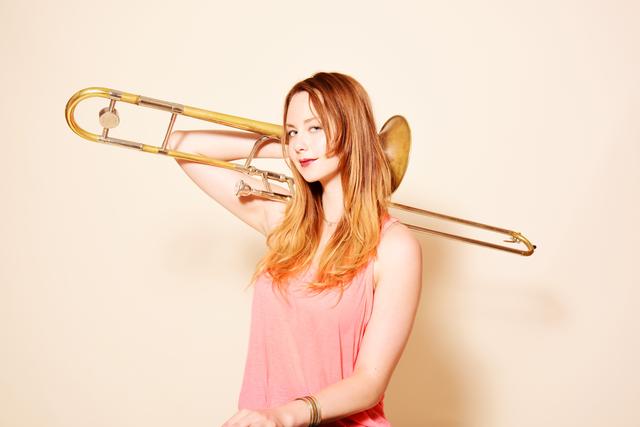 Natalie Cressman
$15.00
Thursday
6/28
8:00 pm
Buy Tickets
Vocalist @ trombonist extraordinaire from Trey Anastasio's Group hits the stage at Nighttown with her top flight East Coast Quintet!
Featuring: Natalie Cressman-trombone & vocals, James Casey-sax & vocals, Mike Bono-guitar, Scott Thompson-bass, & Michael Mitchell-drums.
Possessing a voice as cool and crystalline as an Alpine stream, Natalie Cressman is a rising singer/songwriter and trombonist who draws inspiration from a vast array of deep and powerful musical currents. Her new EP five-song EP Traces reveals her latest evolution, a sleek and sensuous electronica-laced sound with even a trace or two of dance floor sweat.
Steadily evolving in many directions, the 25-yearold Cressman has already put down deep roots in several overlapping scenes. A prodigiously talented New York City-based trombonist, she's spent the past seven years touring the jam band circuit as a horn player and vocalist with Phish's Trey Anastasio (and recently played with Phish at Madison Square Garden). Deeply versed in Latin jazz, post-bop, pop, and Brazilian music, she tapped the interlaced traditions on her first two solo albums, 2012's Unfolding and 2014's Turn the Sea.
The Traces EP follows on the heels of 2016's Etchings in Amber, a gorgeous duo album with guitarist Mike Bono that introduced Cressman as a formidable musical force without her horn. While the project focuses on songs featuring lyrics she wrote for several Bono compositions, Cressman also wrote words and music for three of her songs, contributing to the atmospheric suite of jazz-inflected, genre-bending tunes.
With Traces, Cressman expands her creative reach into post-production, meticulously crafting Soundscaped tracks. Her vocal work in increasingly intimate and rhythmically insinuating settings has revealed an artist who can thrive in any setting, from raucous, reverberant halls to packed and pulsing lofts and nightclubs. In an epoch marked by infinite musical possibilities, Natalie Cressman is a singular force who draws from an improbable breadth of sonic realms. Cressman is an artist endorser for King Trombones.
Visit Website
Watch Video
---
Halie Loren
$20.00
Friday
6/29
8:30 pm
Buy Tickets
Rising Vocal Star from Eugene, OR and Alaska and her group make Cleveland debut live at Nighttown! CD Release Event!!
Authenticity and connection have been essential roots of the artistic growth of Halie Loren. Whether injecting the American Songbook with old-school soul, or finding a familiar thread of nostalgia in newly-penned originals, the Alaskan-born, award-winning singer/songwriter continues to find new ways to bridge cultures and musical genres.
Halie Loren is truly an international artist. Like her multi-lingual recordings that transcend cultural borders, her art transcends musical genres via a common thread that weaves a rich tapestry. That tapestry connects her original works with pop-smart jazz, flowing into blues, soul and contemporary compositions that are universal, yet deeply personal.
"For the past few years, I have felt more and more drawn to the idea of putting my songwriter self out there in a much bigger way, as a 100% personal form of expression," explains Loren. "When I write, it's all about the story and the feelings behind it, but never about the particular style in which it takes shape."
The result is art in an eclectic form, with soulful compositions reflecting wounded defiance, stubborn love and hard-earned hopefulness. Her voice connects to the soul of her song writing, reminding us that there is always beauty to be found, even in the most painful experiences. That powerful personal connection is the driving force behind From the Wild Sky, Halie's latest and most ambitious album to date. Set for release in April 2018, the album, produced by Troy Miller, features 10 original compositions, as well as a stunning rendition of Roberto Livi's 'A Mi Manera'.
"The songs on the album speak to some very meaningful, transformational moments in my life, some of which were inspired from experiencing new discoveries, love and deep loss," Halie says. "It feels like the most risk-taking and honest art that I've ever created, reflecting my spirit and my personal story in a very revealing way."
The participation of producer Troy Miller (Jamie Cullum, Gregory Porter, Amy Winehouse) was a dream come true for Halie.
"Halie's songs are some of the most pleasing and melodically beautiful I've heard," says Miller. "So much thought and love has gone into crafting them, and I know that any listener will be left nourished in a very profound way."
From the Wild Sky promises to weave Halie Loren's faithful fans into her evolving tapestry, while crossing musical boundaries to forge bonds with diverse audiences worldwide as she has throughout her illustrious career. Her jazz/pop debut in 2008, They Oughta Write a Song, earned Halie an award for 'best vocal jazz album' in the JPF Music Awards (2009's largest independent music awards in the world, with over 42,000 album entries from 160 countries). Her songs have placed at the top in competitions including Billboard World Song Contest, John Lennon Songwriting Contest, and myriad others.
Halie's powerful connection with her fans has grown through relentless touring in the U.S., Canada, Asia, and Europe. Her music has also dazzled prestigious concert halls, including performances with the Jazz Orchestra of Sicily, the Britt Festival Orchestra in Oregon and the Monroe Symphony in Louisiana
Visit Website
Watch Video
---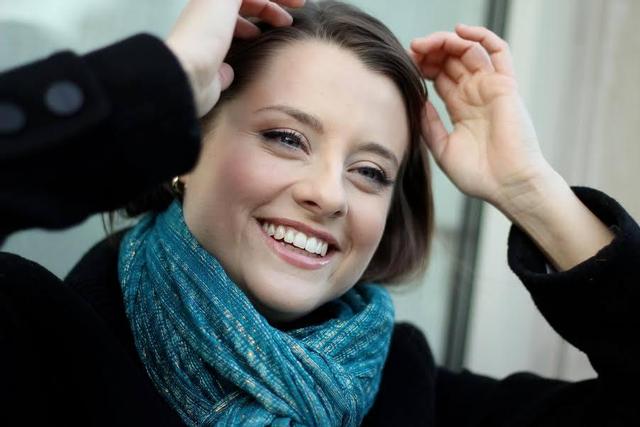 Ariel Pocock
$20.00
Saturday
6/30
8:30 pm
Buy Tickets
From Durham, North Carolina!
Rising vocal and piano star makes her Cleveland debut Live at Nighttown! Justin Time Recording Artist plays music from her recent release "Living in Twilight".
Featuring: Ariel Pocock-vocals & piano, Tim Lekan-acoustic bass, Donnie Patterson-drums, & Special Guest Vocalist Halie Loren.
25-year-old Ariel Pocock has received international acclaim as an equally captivating jazz pianist, vocalist, and composer. Ariel's notable performances as a headline act include the Montreal International Jazz Festival, the Gilmore International Keyboard Festival, the Rochester International Jazz Festival, the Vancouver International Jazz Festival, the 2014 Jazz Cruise, the Tokyo Jazz Festival, the Quebec City International Jazz Festival, the Stanford Jazz Workshop, and many more.
Ariel's original compositions and songs draw inspiration from a wide array of sources: Cuban and Brazilian folk music, the Great American Songbook, modern jazz composers such as Chick Corea and Brad Mehldau, and songwriters like Joni Mitchell, Randy Newman, and Paul Simon.
Ariel's second album, Living in Twilight, was released worldwide on June 9th, 2017 on Justin Time Records. The album "...demonstrates levels of stylistic and emotional breadth and artistic depth that few of Pocock's peers can match" (Ottawa Gazette). Recorded in Montréal in December 2016 and produced by Matt Pierson, the record features in demand Montréal musicians Jim Doxas (drums), Adrian Vedady (bass) and special guest, New York based guitarist, Chico Pinheiro one of the leading figures in the modern Brazilian Jazz scene. The song selection is original, thoughtful and surprising. Ranging from classic American Songbook fare - Ray Noble's The Very Thought Of You and Cole Porter's So In Love to Chick Corea's 500 Miles and breathtaking interpretations of Adele's Someone Like You and Sufjan Stevens To Be Alone With You presented here as an instrumental. Other stand outs include the title track by The Weepies, Living in Twilight and the heartbreaking Kate McGarrigale penned Go Leave. Ariel's chops as a composer/songwriter are on display with original's Gonzalo's Melody – and the reflective So Long. Living in Twilight spent over three weeks at #10 on the JazzWeek radio play charts, and Ariel continues to tour with her trio to promote the album.
Touchstone, Ariel's debut album, features fresh and compelling takes on classic jazz standards, original compositions, and her own arrangements of singer-songwriter material. Also produced by Matt Pierson, the album features an all-star band of Julian Lage (guitar), Eric Harland (drums), Larry Grenadier (bass), and Seamus Blake (saxophone). Touchstone was released on Justin Time Records in 2015.
Visit Website
Watch Video
---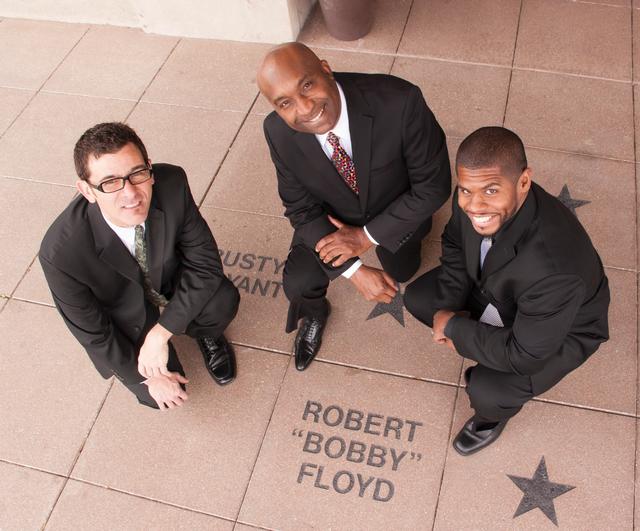 Bobby Floyd Trio
$20.00 - $25.00
Sunday
7/01
12:00 pm
Buy Tickets
In Association with Tri-C Jazz Fest.
Pianist extraordinaire from Columbus, Ohio and his Trio cap off the 2018 Tri-C Jazz Fest for special Brunch Show live at Nighttown!
Featuring: Bobby Floyd-piano, Derek DiCenzo-bass, & Reggie Jackson-drums.
Bobby Floyd's talent has launched him into a very rewarding career. He is presently the feature pianist for the world-famous and legendary Count Basie Orchestra and pianist/organist for the Columbus Jazz Orchestra. He has traveled the world accompanying Ray Charles on piano and organ. He currently makes guest appearances with some of the most distinguished orchestras, including The Boston Pops, The Rochester Philharmonic, and The Detroit Symphony and with highly recognized artists such as Dr. John and Diane Schuur.

Bobby brings his music to Nighttown as leader of his own trio. Each set by the Bobby Floyd Trio is unique and fully "joyful" for their audiences. With Derek DiCenzo on bass and Reggie Jackson on drums, this group develops musicals ideas and engages audiences in the process. Truly, this is the place where Bobby loves to be. Their set lists will include Jazz Standards, the American Songbook, gospel and funk.
Visit Website
Watch Video

Planning a
reception,

wedding,

b

usiness
meeting,
graduation, birthday or B'nai Mitzvah?


. . . . . . . . .think Nighttown!

We give you the best package in town at a price that won't break the bank. And everything is included at no extra charge. Our experience is as accommodating as our atmosphere. Private function spaces from 20 - 150. Valet parking available.
To book your party, call Brendan Ring directly at

216-952-9133
Nighttown uses Yamaha Pianos exclusively


For more information about the

Yamaha C-7

,
The New

Avant

Grand Piano or any of the Yamaha pianos,
Please contact Mattlin-Hyde at (440) 449-6180
Nighttown drums provided by




www.fortunedrums.com
Nighttown/JWP graphic designer
Kathy Kelly
216-941-5439



Gerry Paluck RPT

Registered Piano Tuner/Technician

(216) 346-9308
www.gerrythetuner.com
Looking for great music
on the radio
and the web?

Check out the
Nighttown / Jim Wadsworth Productions
Radio Guide. Updated 10/10/15

Radio List (in pdf)
Thanks to
Bruce Amsel
for
compiling and keeping the list up to date!!!
12387 Cedar Road (top of Cedar Hill)
Cleveland Heights, OH
216-795-0550
No need to make an additional table reservation -
it's already included with your concert tickets!!
www.nighttowncleveland.com
Map to
N
ight
t
own
Producers of All the Great Music at Nighttown
Call us for Music for your Private Event
216-721-5624 jwadsworth@aol.com
www.jwpagency.com

To Purchase Concert Tickets

No need to make an additional table reservation -
it's already included with your concert tickets!!




"Late Night at Nighttown"
Fridays Jackie Warren on piano 10:30PM - 1:00AM No cover
Saturdays Jackie Warren on piano 10:30PM - 1:00AM No cover





Friday, June 1 Anne Cochran & Abe LaMarca 8:30 PM $30.
Vocalists Anne Cochran & Abe LeMarca join forces with 7 pc. Band For Exciting Spring Show Live on Nighttown's Main Stage!


Friday, June 1 Cleveland Jazz Orchestra w/Vocalist Evelyn Wright 8 PM $40.
World Class North Coast Big Band Live on Nighttown's Stephens Green Patio! Featuring Vocalist Evelyn Wright!
Exclusive Announcement of their upcoming season with Selections from next Seasons program performed live!



Saturday, June 2 Forecast 8:30 PM $15.
North Coast's Premier Contemporary Jazz Group back on stage at Nighttown! Back by Popular Demand after sold out show in May! Featuring: Lem Adams-vibes, Gary Stevenson-bass, Alphonso McDuffie-keyboards, Riley Richards-sax, & John Turner-drums. On Nighttown's Stephens Green Patio. Get tickets early…seating limited!



Sunday-Tuesday June 3-5 The Legendary Count Basie Orchestra 6 & 8 PM Sunday & Monday, 7 PM Tuesday (one show only) $50.
The Big Band in Jazz! The Legendary Count Basie Orchestra are returning to the Nighttown Stage!!
Directed by Scotty Barnhart. With Special Guest Vocalist Everett Greene.
20 Pc. Orchestra live on Nighttown Stage! Longest running group in Jazz History….83 Years Strong!!!!
BACK BY POPULAR DEMAND 5 BIG SHOWS!!!!!



Wednesday, June 6 Hathaway Brown Music Program 7 PM $10.
Next generation of Musical Stars hit the stage Live at Nighttown! On Nighttown's Fully Covered All Weather Stephens Green Patio Space. An evening of all original songs with full trio.





Thursday, June 7 Low Down Brass Band 8 PM $20.

From Chicago! 8 Pc. Brass Band Combines the Sounds of Chicago and the Crescent City with Bold New Approach Live at Nighttown!






Friday, June 8 Marion Meadows 8 & 10 PM $40.

Soprano Saxophonist & Star of Contemporary Jazz, and His Group back in Cleveland to play 2 big shows at Nighttown!




Sunday, June 10 KC Harmon Blues Band 7 PM $20.
"Raw, Ripe, & Rugged! KC Harmon Sings the Righteous Blues!"
Featuring:
KC Harmon-vocals, Afi Scruggs-bass, Carlos Kincaid-drums, Jerome Mitchell-guitar, Kerry Holland-piano, & Special Guest Vocalist Linda (Wild Rabbit) Weiss.
Presented in Association with Quad City Productions.



Wednesday, June 13 David Murray & Kalil El'Zabar 7 PM $20.
Modern Jazz Masters and Cutting Edge Artists team up for Unique Duo Show Live at Nighttown!
Featuring: David Murray-sax & reeds, Kalil El'Zabar-percussion.





Thurs. & Fri. June 14-15 John Pizzarelli 7 & 9 PM $40.

Landmark Vocalist and Guitarist & his group back at Nighttown for Two Big Nights!





Sunday, June 17 Eddie Baccus Sr. & Jr. 7 PM $20.
Father's Day Celebration with the legendary Baccus Family leading All-Star Group live at Nighttown!
Featuring: Eddie Baccus Sr.-Hammond B-3 Organ, Eddie Baccus Jr.-Sax, Cecil Rucker-Vibes, Billy Artis-Guitar,
Perry William III-Drums, & Special Guest Vocalist Mike Cady.



Monday June 18 Master Class at Nighttown: The True Gospel of Gospel Music 7 PM $15
Join us as celebrate and explore the agony and ecstasy of gospel music on Monday, June 18 when Dr. David Thomas will deliver a "Master Class" on the history of gospel music. This will be a multi-media event, with video and sound clips, as well as a gospel choir on the legendary Nighttown stage.



Tuesday, June 19 Cast of Cain Park's Memphis the Musical 7 PM $20.
Get a taste of 1950s and 60s Beale Street with classic Rock 'n' Roll and Rhythm & Blues. Plus a special performance of songs from Memphis the Musical.
With performers from Cain Park's production of Memphis featured live on Nighttown Stage!
Featuring: Douglas F. Bailey II, Nicole Sumlin, & More. Direction by Joanna May Cullinan.



Thursday, June 21 Mike Phillips 8 PM $30.
Exciting Contemporary Jazz Saxophonist hits the stage at Nighttown with All-Star Group!
Featuring:
Mike Phillips-sax,
Robert Hubbard-drums (From Hubb's Groove)
Steve Johnson-keyboards (From Funkyard X)
Jeremiah Napier-electric bass (From Funkyard X)





Friday-Sunday, June 22-24 Bob James 7 & 9 PM Friday & Saturday, 7 PM Only on Sunday $40 (Fri.-Sat.), $30. (Sun.)

Legendary Contemporary Jazz Pianist, Composer, and Arranger and His Trio perform Friday and Saturday. Sunday's Show features his Ohio Band.

Featuring:

Friday & Saturday Trio: w/Bob James-piano & keys, Billy Kilson-drums, & Michael Palazzalo-bass.

Sunday: Ohio Band w/Bob James-piano & keys, Hilary James-vocals, Kevin DiSimone-keyboards, Wilbur Krebs-bass, & Ike Wiley-drums.




Thursday, June 28 Natalie Cressman Quintet 8 PM $15.
Vocalist @ trombonist extraordinaire from Trey Anastasio's Group hits the stage at Nighttown with her top flight East Coast Quintet!
Featuring: Natalie Cressman-trombone & vocals, James Casey-sax & vocals, Mike Bono-guitar, Scott Thompson-bass, & Michael Mitchell-drums.





Friday, June 29 Halie Loren 8:30 PM $20.

From Portland, Oregon. Rising Vocal Star and her group make Cleveland debut live at Nighttown!




Saturday, June 30 Ariel Pocock 8:30 PM $20.
From Durham, North Carolina!
Rising vocal and piano star makes her Cleveland debut Live at Nighttown! Justin Time Recording Artist plays music from her recent release "Living in Twilight".
Featuring: Ariel Pocock-vocals & piano, Tim Lekan-acoustic bass, Donnie Patterson-drums, & Special Guest Vocalist Halie Loren.





Sunday, July 1 Bobby Floyd Trio 12 Noon $25. (Jazz Fest Pass Holders $20)

In Association with Tri-C Jazz Fest.

Pianist extraordinaire from Columbus, Ohio and his Trio cap off the 2018 Tri-C Jazz Fest for special Brunch Show live at Nighttown!

Featuring: Bobby Floyd-piano, Derek DiCenzo-bass, & Reggie Jackson-drums.



###