---
Case Footlighters Cabaret
Sunday October 16
6 PM
$10.
12 Top Notch vocalist from CWRU hit the stage at Nighttown! The production will be a review of numbers performed in recent Footlighters shows.
Vocal Directors:
Andrew Deike, Kimberly Star, David Fair.
Cast:
Cezayirlioglu, Abby Walker, Carly Cantilena, Andrea Clarke, Katie Acton, Lauren Fekete, Ellen Schloff,
Mallory Koons, Grace Elliott, Jay Lee, Michael Knobloch, Sean Kruer, Beau Reddington, Brendan Raymond,
Frank Blackman, Nathan Hach
Footlighters is a completely student-run group devoted to promoting musical theater at Case Western Reserve University, The Cleveland Institute of Art, and The Cleveland Institute of Music. Since 1998, the Footlighters have produced one show each semester in order to best serve the community. Recent shows the Footlighters have performed include Chicago, Sweeney Todd, Pippin, Beauty and the Beast, and West Side Story.
Footlighters gives students an opportunity to be involved in all aspects of theater production including directing, choreographing, working backstage, acting, playing in or directing the pit orchestra, constructing sets, making costumes, and publicizing the performances. Every aspect of the musical is done by a student. Each semester, over 1000 students, faculty, staff, and community members come together to watch the Footlighters take the stage!
Don't miss the debut of the Case Footlighters Cabaret at Nighttown on Sunday October 16th.
---

Just announced!!
Casting Call for Cast Party
Monday, October 17
7:00 p.m.
no cover charge
See info below under October 20th.........
---
Just Added!!

De'Sean Jones/Conrad Reeves Septet

Tuesday, October 18
7 PM
$10.

DeSean Jones / Conrad Reeves Septet's "Greyhound" (full mp3 download)
Young Lions from Oberlin College hit the stage at Nighttown! The future of Jazz is here! Featuring: De'Sean Jones-saxophone, Conrad Reeves-guitar, Chase Jackson-vibes,
Aaron Janik-trumpet, Shea Pierre-piano, Matthew Adomiet-bass, & Zaire Darden-drums.
The De'Sean Jones-Conrad Reeves Septet, an idea which was brought to fruition in early 2011, is comprised of some of the finest musicians based out of the esteemed Oberlin Conservatory of Music. Their repertoire consists largely of original material with intricate themes, touching sensibilities, and a stirring capacity to emotionally engage any audience. Comprised of immensely creative musical minds, the ensemble is steeped in the tradition of jazz while placing emphasis on creating music for the future.

This ensemble includes: Chase Jackson, a dazzling vibraphonist whose sound and velocity is both impeccable and mesmerizing in its execution. Drummer Zaire Darden, a native of Camden, NJ, simply ravages the drums with sensibilities drawn from hip-hop, jazz and deeply rooted African tradition. Trumpeter Aaron Janik (Boston, MA) brings a lyrical sound of reason, as each note possesses true passion and purpose, while bassist Matthew Adomiet (Hartford, CT) keeps the entire band in check with heavy anchor-like bass lines. From the piano rings the sound of New Orleans as Shea Pierre combines elements of soulfulness, classical finesse, and a serious harmonic concept. On guitar is Olmsted Falls, Ohio native Conrad Reeves, whose waves of vibrational rapture draw emotions ranging from meditative bliss to distorted discord. Bandleader and saxophonist De'Sean Jones (Detroit, MI) is a shear force of nature as his piercing sound and heartfelt intensity captivates the very heart of an audience.

Collectively the De'Sean Jones-Conrad Reeves Septet creates an electrifying musical experience whose encompassing of Hip-Hop, Jazz, Gospel, and Rock & Roll leave the listener with a feeling of nostalgia coupled with a sense of optimism for the future of music.





---
Just announced!!
Kat Calvosa
Wednesday, October 19
7 PM
$10.
Rising Jazz Vocalist from NYC in Nighttown debut. Featuring: Perry Smith - guitar, Sam MInaie - bass, & Ross Pederson - drums.
New York City Jazz Singer-Songwriter Kat Calvosa has established herself as a force jazz scene and has been hailed as "one to watch" by critics and fans alike. Her unique yet classic jazz sound and masterful lyrics have helped her build a strong fan-base in New York City and beyond, which has assisted her in the production and release of two independently released albums in 2001 and 2009.
Kat's voice has been described by fans and fellow jazz musicians as rich, sterling, and filled with joy. Her songwriting has been highlighted as a perfect blend of Jazz, Folk, and Pop, with a sound evoking modern and traditional influences. Aside from her original tunes, her ability to take what are commonly referred to as new standards - popular songs written in the 1960s and 1970s - and (translate them into a believable Jazz context is one of her most endearing qualities.
Originally hailing from Wisconsin, Kat began her musical career at Lawrence University where she was a classical voice major under the tutelage of renowned soprano Patrice Michaels-Bedi. During her time there she developed a love of Jazz music and began working with Ken Schaphorst and D. Bayne until her curiosity and drive pushed her to New York City. In the fall of 1996, she began attending the prestigious Manhattan School of Music, studying jazz voice with Peter Eldridge of the New York Voices.
Shortly after obtaining her BM in Jazz/Commercial Voice in 1999, Kat began writing and arranging music for her 2001 debut CD , It Could Happen, which features the talents of ECM recording artist Anat Fort, alongside percussionist Greg Beyer, and bassist Mike Epperhart. After spending six years honing her skills on the NYC jazz scene Kat was accepted into the University of Miami in Coral Gables, FL where she earned her Masters' degree in Jazz Pedagogy. During her time in Miami, became known for her range and ability to blend with a variety of jazz musicians, and worked with such noted artists as John Secada, Raul Midon, Chuck Bergeon, Ray Sanchez, and Johnny Rodgers.
She has played at several nationally-renowned venues and festivals across the nation including Smalls Jazz Club, Smoke NYC, The Cornelia Street Café, Googies above the Living Room, The Bitter End NYC, the Speakeasy Wisconsin, Miami Jazz Festival, Hot Jazz for Cool Nights Festival, MN, and The New Leaf Café, NYC. Kat has worked with renowned artists Kate McGarry, Anat Fort, Sam Minaie, Anne Philips, Jackie Presti, Jane Monheit, Travis Sullivan, Carlo De Rosa, David Cook and Sean Nowell.
Kat's recently released her self-produced second CD, Chrysalis. Debuting in March of 2009, it contains all original material that bridges the gap between the singer-songwriter and jazz traditions, making for a record that is at once energetic and elegant, with intelligent lyrics and sophisticated harmonies sure to delight both the novice and experienced listener alike.
---
Cast Party with Jim Caruso & Billy Stritch
Thursday, October 20
7:30 PM
$30.
Casting Call on Monday October 17th at 7PM
Read about Cast Party in the Plain Dealer

http://www.youtube.com/watch?v=Nu0yV20s65w

Dominick Farinacci playing live at Jim Caruso's Cast Party at Birdland last January:
Direct from Birdland in NYC. Host & Vocalist Jim Caruso & pianist extraordinaire Billy Stritch produce
Cast Party in a special Cleveland Edition. Discover Cleveland's awesome up and coming Talent!
"A vital pulse point of the musical theater bloodstream: Every week a star or a standard might be born."
--Time Out New York
First, a bit of background. Jim Caruso's Cast Party is a wildly popular weekly soiree bringing a sprinkling of Broadway glitz and urbane wit to the legendary Birdland in New York City every Monday night.
Jim Caruso's bringing his Cast Party to Nighttown – and you're invited.
Cast Party is a cool cabaret and Broadway musical night-out enlivened by a hilariously impromptu variety show. Showbiz superstars hit the stage alongside up-and-comers, serving up jaw-dropping music and general razzle-dazzle. For the past eight years, Cast Party has been the ultimate spot to mix and mingle with Manhattan show folk and their fans. Caruso guides the entire affair like a bubbly cruise director and the audience is invited to participate in the festivities! It's the party that would happen if somehow David Letterman and Ed Sullivan threw a hip house party around the nine-foot concert grand piano!
Over the last eight years, Cast Party has only ventured away from Manhattan a handful of times to places like Los Angeles and Chicago – and now it's coming to Cleveland's Nighttown to see what kind of musical talent we have here.
The
Casting Call
for Cast Party takes place at
7:00 p.m. Monday, October 17
. It's an open casting call for singers, comedians and novelty acts of all kind to fill slots for the October 20 Cast Party event.
If you've ever dreamt of singing alongside the pros, this is your chance! Bring your own sheet music and be prepared to perform for up to 3 minutes. Musical theater director Vicky Bussert and Nighttown's own Brendan Ring make the final selections.
Not a performer, b
ut want to watch? Casting Call for Cast Party is open to the public, with no cover charge. Come to Nighttown and enjoy watching the tryouts.
Jim Caruso's Cast Party comes to the Nighttown stage at 8 p.m. Thursday, October 20 for one show only. Host Jim Caruso, accompanied by the celebrated and Grammy Award-winning Billy Stritch, longtime pianist for Liza Minnelli, on the piano, will be delighted and surprised by the depth and breadth of Cleveland-bred and borne musical talent.
A few of the slots have already been filled. The rest will be filled by the previous Monday night's Casting Call. Come see Cleveland's best musical theater singers and musicians sing just one number each, which means it'll be their best, on Nighttown's stage for Cast Party.
Casting Call for Cast Party
Monday, October 17
7:00 p.m.
no cover charge
Jim Caruso's Cast Party at Nighttown
Thursday, October 20
7:30 p.m.
$30 cover charge
For reservations, please call Nighttown at 216-795-0550.
---
Hot Club of Detroit
with special guest Cyrille Aimée -
Just Added!
Friday, October 21
8:30 PM
$20.
Hot Club of Detroit's "'J'Attendrai"

Hot Club of Detroit with Cyrille Aimee on "Around Noon" WCPN/NPR Cleveland May 5, 2011 (mp3)

Interview with Marian McPartland on "Piano Jazz"

"Noto Swing" from It's About That Time (2010 Mack Ave) (mp3 sample)

"Restless_Twilights" from It's About That Time (2010 Mack Ave) (mp3 sample)
Following her debut solo performance at Nighttown on 9/27 to a raving audience, the Hot Club of Detroit has decided to bring Cyrille Aimée back to sing with them. The combination is exquisite! The group was a huge hit at the Detroit Jazz Festival this past Labor Day weekend.
Hot Club of Detroit
Normally we would put a short bio of the group here. However HCOD's brand new album has just received an exceptional review from
JazzTimes
magazine. Here is the review.
"San Francisco, Philadelphia, Boulder, New Orleans, Cowtown (a.k.a. Austin): There are enough Hot Club ensembles operating around the country to make even the growth of television's flourishing CSI franchise seem undernourished by comparison. "It's About That Time", the latest release by the Hot Club of Detroit, however, isn't for Django-philes only – or, for that matter, fans of vintage, homebred swing. Instead, the quintet continues to project an inquisitive spirit and a venturesome thrust, something that holds true whether it's revisiting old tunes or unveiling original pieces."
"Certainly the influence of guitarist Reinhardt and violinist Stephane Grappelli plays a prominent role on the album, but so too does the ingenuity of Joe Zawinul, Charles Mingus, Pat Martino, Chick Corea and Frederic Chopin. The combination of these elements, along with the occasional odd-meter excursion, makes for some compelling contrast while also preventing retro-inspired lulls. A case in point is the album's title track, which finds the band slyly wedding Reinhardt's "Heavy Artillerie" to MilIt's About That Timees Davis' seminal fusion-era entry "It's About That Time." Not coincidentally, the same track is one of several distinguished by the close rapport and interplay developed by lead guitarist Evan Perri, Accordionist-bandeneón player Julien Labro and reedman Carl Cafagna."
"Of the original compositions, Labro's "Sacre Bleu," a brightly flowing waltz arranged for trio, swiftly stands out, due in large part to the composer's rhapsodic touch. As for rhythm guitarist Paul Brady and bassist Andrew Kratzat, in addition to providing idiomatic support they contribute and engagingly evocative arrangement of Mingus' "Nostalgia in Times Square."
- Mike Joyce
Cyrille

Aimée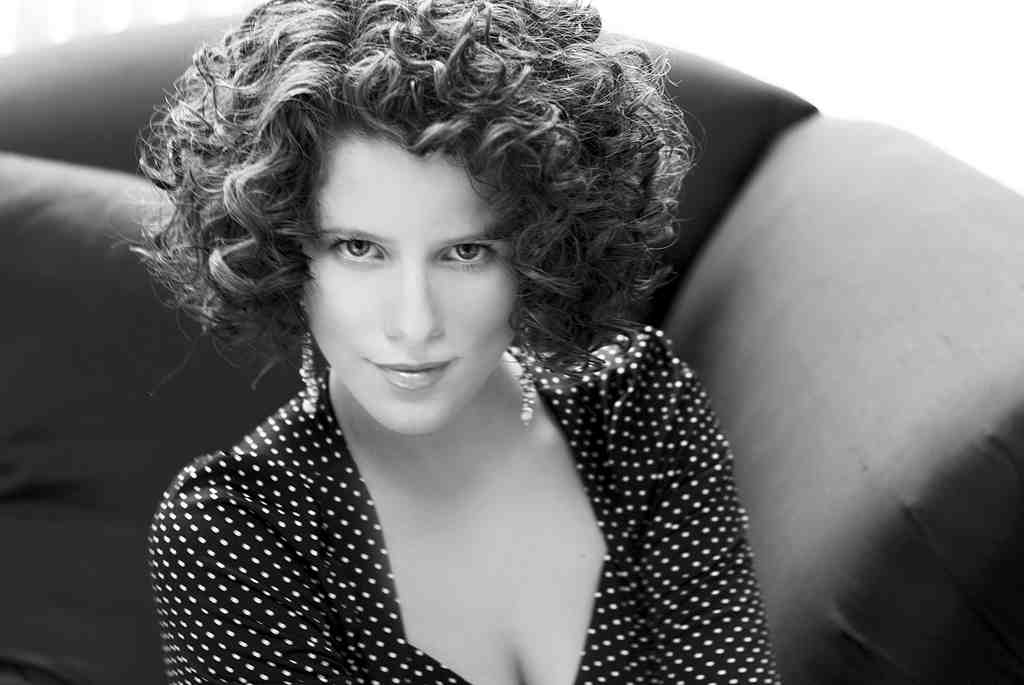 Cyrille Aimée's unique blend of French gypsy jazz and Dominican rhythm and spice combine to create an unmistakably smooth and driving vocal style. Growing up with the French Gypsies in Samois sur Seine brought her into the musical mentality that produced such legends as Django Reinhardt. In 2010 she was a finalist in the Thelonious Monk International Vocal Competition.
While being trained at the conservatory of SUNY Purchase, Cyrille Aimée competed in the famous Montreux Jazz Festival Vocal Competition, where she was awarded first prize as well as the public prize. Cyrille currently resides in Brooklyn, and continues to make her reputation grow as one of the most talented and unique vocalists on the scene today performing in NYC clubs like Dizzy's and Smalls with musicians such as Roy Hargrove and Anat Cohen amongst many others.
Don't miss the return of Hot Club of Detroit with special guest Cyrille Aimée on Friday October 21st.
---
Chuck Redd
Saturday, October 22
8:30 PM
$15.

Chuck Redd at the Kennedy Center with Nicki Parrot and Bucky Pizzarelli

Chuck_Redd's_"I_Hear_Music" (mp3 sample)

Chuck_Redd's_"Moonlight_In_Vermont" (mp3 sample)

Chuck_Redd's_"The_Common_Thread" (mp3 sample)
From Washington DC. Arbors recording artist. Master vibraphonist features music from his new CD "The Common Thread". Featuring: Dan Wilson-guitar, Mike Forfia-acoustic bass, & Ron Godale-drums.
Chuck Redd is an accomplished performer on both drums and vibraphone. Chuck began performing and recording internationally when he joined the Charlie Byrd Trio in 1980 at the age of 21. That year, he also joined the Great Guitars (Barney Kessel, Charlie Byrd and Herb Ellis.) To his credit are thirteen extensive European tours and five tours of Japan, with the Barney Kessel Trio, Ken Peplowski, Terry Gibbs and Conte Candoli. He served as Artist-In-Residence at The Smithsonian Jazz Café in Washington, DC from 2004-2008.
Chuck was featured vibraphonist with the Mel Torme All-Star Jazz Quintet from 1991 until 1996. While appearing in New York with Torme, Ira Gitler of Jazz Times said: "Redd's vibes were equally notable for vigor and melodiousness."
In 2007 Chuck was featured with the prestigious "Milt Jackson Tribute Band". Other recent engagements include jazz cruises in the Mediterranean, stints with Bucky Pizzarelli and Ken Peplowski at Dizzy's Club (Jazz at Lincoln Center) and headlining with his trio at The River Room of Harlem. He has toured and performed with Dizzy Gillespie, Mel Torme, Tommy Flanagan, Dick Hyman, Ray Brown, Monty Alexander, Laurindo Almeida, Tal Farlow, Red Norvo, Scott Hamilton, Mickey Roker and Frank Vignola.
Redd is featured on over 70 recordings. Recent releases include his Arbors CD, "All This and Heaven Too", featuring Gene Bertoncini and George Mraz, and "The Swing Kings", an all-star session featuring Bucky and John Pizzarelli, Ray Kennedy and Ken Peplowski. He can also be heard on the sound track to the popular PBS television series, "The Great Chefs, and the NPR broadcast "Jazz Smithsonian."
Performances by Chuck include a concert with the Dizzy Gillespie Quintet in Africa for the Namibian Independence Celebration, a recital at the White House with the Barney Kessel Trio, concerts at Carnegie Hall with Mel Torme's Quintet, and The Tonight Show. In 2008, he was featured in the finale concert at The Lionel Hampton International Jazz festival with The Lionel Hampton Big Band and the Clayton/Hamilton Jazz Orchestra.
In addition to leading his own groups, Chuck was a member of the Smithsonian Jazz Masterworks Orchestra for 15 years. He frequently performs in New York City and headlines nationally at festivals and clubs. Chuck is on the faculty at The University of Maryland School of Music and presents master classes, workshops and lectures around the country.
Chuck's newly released Noteworthy CD, "When Redd is Blue" is a collaboration with his brother Robert, featuring saxophonist Harry Allen. His Arbors CD "Happy All The Time," is a critically acclaimed tribute to his mentor, Barney Kessel and features Monty Alexander, Jeff Hamilton and Howard Alden.
---
Benefit
Jazz in the Heights for Human Rights
Sunday, October 23
7PM
$10 online, $15 at door
"Full Circle Combo", (the jazz combo at University Circle United Methodist Church), plays standards from the jazz, music theatre, and singer/songwriter repertoire. This event is sponsored by the Gay-Straight Alliance of University Circle United Methodist Church. All proceeds to benefit the Human Rights Campaign. All are welcome.
---
David Bixler/Arturo O'Farrill Sextet
Thursday, October 27
8 PM
$20.

Arturo O'Farrill on JazzSet with Dee Dee Bridgewater
Latin Jazz & Celtic music combined featuring the exciting NYC saxophonist David Bixler & dynamic
Latin Jazz pianist Arturo O'Farrill. Featuring: Heather Martin Bixler-violin, Carlos DeRosa-acoustic bass, Vince Cherico-drums, & Roland Guerrero-percussion. Playing music from their new Zoho records release "The Auction Project.
Arturo O'Farrill
Pianist, composer extraordinaire, educator and winner of the Latin Jazz USA Outstanding Achievement Award for 2003, Arturo O'Farrill was born in Mexico and grew up in New York City. In 2002, Mr. O'Farrill created the Afro Latin Jazz Orchestra for Jazz at Lincoln Center due in part to a large and very demanding body of substantial music in the genre of Latin and Afro Cuban Jazz that deserves to be much more widely appreciated and experienced by the general jazz audience. His debut album with the Orchestra "Una Noche Inolvidable" earned a GRAMMY award nomination in 2006. In 2008, he and the Orchestra won a GRAMMY for Best Latin Jazz Album for "Song for Chico."
Educated at the Manhattan School of Music, Brooklyn College Conservatory, and the Aaron Copland School of Music at Queens College, Mr. O'Farrill played piano with the Carla Bley Big Band from 1979 through 1983. He then went on to develop as a solo performer with a wide spectrum of artists including Dizzy Gillespie, Steve Turre, Freddy Cole, The Fort Apache Band, Lester Bowie, Wynton Marsalis, and Harry Belafonte.
In 1995 Mr. O'Farrill agreed to direct the band that preserved much of his father's music, Chico O'Farrill's Afro-Cuban Jazz Orchestra, which has been in residence at Birdland, New York City's famed nightclub, for the past 13 years, as well as performing throughout the world as a solo artist and with his smaller groups.
Besides recording eight albums as a leader for Milestone Records, 32 Jazz, Zoho and M & I, Mr. O'Farrill has appeared on numerous records including the Grammy-nominated Heart of a Legend, Carambola, and the soundtrack to the critically acclaimed movie Calle 54. Mr. O'Farrill was a special guest soloist at three landmark Jazz at Lincoln Center concerts—Afro-Cuban Jazz: Chico O'Farrill's Afro-Cuban Jazz Orchestra, November 1995; Con Alma: The Latin Tinge in Big Band Jazz, September 1998; and the 2001 Jazz at Lincoln Center Gala: The Spirit of Tito Puente, November 2001.
Throughout the past few years, Mr. O'Farrill has toured. the U.S., Europe and Asia, and in the Spring of 2006, led the Afro-Latin Jazz Orchestra on a tour of Mexico. In 2007, the Afro Latin Jazz Orchestra left Jazz at Lincoln Center to pursue its own educational and performance opportunities. To that end, the Afro Latin Jazz Alliance was created as a not for profit organization dedicated to the preservation, furthering, and education of Afro Latin jazz.
A recognized composer, Mr. O'Farrill has received commissions from Meet the Composer, Jazz at Lincoln Center, The Philadelphia Music Project, and The Big Apple Circus. He has also composed music for films including Hollywoodland and Salud. He is currently on the faculty of SUNY Purchase.
David Bixler
Alto saxophonist, composer, and educator David Bixler has been steadily garnering attention for his unique playing and writing. Since moving to New York City from his native Wisconsin, David has performed and toured with the orchestras of Lionel Hampton, Toshiko Akiyoshi, and Duke Ellington. In 2000 he joined the Chico O'Farrill Afro Cuban Jazz Orchestra which was the beginning of several musical collaborations with GRAMMY award winning pianist Arturo O'Farrill. In 2008 he was invited to join the pianist's RISA NEGRA sextet. On the band's 2009 ZOHO release, "RISA NEGRA", David is also represented as a composer. His tune, "The Darkness Is My Closest Friend", was cited by Down Beat magazine as, "the most intriguing offering on the disc."
David's newest recording, "Auction Project," which is co-led with Arturo O'Farrill, was released in September of 2010 on ZOHO. Auction Project is a unique combination of jazz, Latin, and Irish music which fearlessly traverses borders.
As an educator and clinician David appears at colleges and universities thorough out the world. Since 2008 he has been an Assistant Professor of Jazz Studies at Bowling Green State University.
---
Just Announced!!
Deep Blue Organ Trio
Friday, October 28
8:30 PM
$20.

Deep_Blue_Organ_Trio's_"A_Deeper_Blue"_(sample mp3)

Deep_Blue_Organ_Trio's_"This_I_Dig_of_You"_(sample mp3)

Deep_Blue_Organ_Trio's_"Light_My_Fire" (FULL mp3 download)
From Chicago! Soul Jazz and Organ Grooves live at Nighttown
Featuring: Bobby Broom-guitar, Chris Foreman-Hammond B-3, Gregg Rockingham-drums.
Chris Foreman is a masterful musician and heir to the throne occupied by the soulful, bluesy jazz organ legends who were once his influence. Blind at birth, Foreman started playing piano at age five and began formal training at seven.

As a teenager he was attracted to the organ sounds of Jack McDuff, Groove Holmes, JimmySmith and Jimmy McGriff. This attraction led Chris to pursue playing jazz on the organ, which he undertook through intensive study of recordings. Unlike many African-American musicians whose musical knowledge begins and is established through the church, Chris didn't start his apprenticeship as a church organist until he was almost twenty years old – well after his jazz roots were established.

He has arrived at a most exciting blend of blues-gospel and jazz and has developed a stunning command and range on the instrument. The blend of his sound is evident in his professional experience, which has included work with Hank Crawford, Albert Collins, Bernard Purdie and The Mighty Blue Kings.

Drummer

Greg Rockingham

began playing when he was just three years old and debuted as a professional musician at age five in his father's jazz ensemble. An alumnus of the famed Interlochen Arts Academy and Northeastern University, Greg has performed or recorded with a wide range of famous names, including the orchestras of Glenn Miller and Guy Lombardo, vocalists Freddie Cole, Patty Page and Jerry Vale and instrumentalists Nat Adderley, Kenny Burrell, Charles Earland and Ellis Marsalis.



Bobby Broom

is an internationally acclaimed jazz guitarist. He began playing guitar and studying music at age twelve. Bobby attended New York 's famous High School of Music and Art and by the time he was sixteen was playing with Sonny Rollins, and Charlie Parker pianists, Al Haig and Walter Bishop, Jr. Broom holds a Masters Degree in Jazz Pedagogy from Northwestern University. Bobby Broom has played alongside some of jazz' most dominant figures including Miles Davis, Art Blakey, Stanley Turrentine, Kenny Burrell, Charles Earland, Kenny Garrett and Marcus Miller. He has also released several recordings as a leader.



Don't miss the refined and sophisticated Chicago based Deep Blue Organ Trio featuring guitarist Bobby Broom from the Sonny Rollins Group live at Nighttown on Wednesday, August 18th.




---
Alon Yavnai Quintet
Sunday, October 30
7 PM
$20.

Alon_Yavnai's_"Bayit" (mp3 sample)

Alon_Yavnai's_"Yonatan" (mp3 sample)

Alon_Yavnai's_"Yoman" (mp3 sample)
Direct from Israel! Pianist from the groups of Paquito D'Rivera & Yo Yo Ma leads all Israeli Quintet!
Featuring: Alon Yavnai: piano & voice; Amir Milstein: flutes & voice; Rafi Malkiel: trombone & euphonium;
Haggai Cohen-Milo: bass; Ziv Ravitz: drums & percussion
Israeli pianist Alon Yavnai defies easy categorization. A free agent after six years with Paquito D'Rivera's various bands, now signed with ObliqSound for two albums, with the first one titled "Travel Notes" already released, Alon is one of the most eclectically accomplished players working today. His work with D'Rivera illustrates the vast range of musical styles and languages in which Yavnai is fluent.
Born to an Argentinean mother and Israeli father, Alon Yavnai began to play piano when he was just four years old. By the age of 14, he was already performing professionally in Israel while attending the Thelma Yalin High School of the Arts and the Givatayim conservatory. That early grounding in both classical and popular music was enhanced by the music he was exposed to at home, from Israeli artists to Brazilian artists as well as jazz greats such as Oscar Peterson and Keith Jarrett.
Following his obligatory stint in the Israeli army, Yavnai moved to Costa Rica, which marked the start of a peripatetic lifestyle that would ultimately serve his musical career very well. His next move was to Boston, to study at Berklee College of Music. Yavnai's relationship with Paquito D'Rivera began at a concert in Costa Rica and was cemented in Boston at a Berklee Performance Center duet concert.
By 2001, Alon joined D'Rivera, as an integral member of his Latin Jazz Quintet, his Jazz Chamber Trio, and in duet performances, worldwide. Their repertoire included classical music, such as Brahms' Clarinet Trio which Yavnai and D'Rivera performed at Carnegie Hall with cellist Yo-Yo Ma, the music of Ignacio Cervantes, a 19th century Cuban composer, and much, much more, as exhibited on the 2008 Grammy winner, Funk Tango, with its tango, bebop, post-bop, Afro-Cuban and Brazilian selections. It's no wonder that D'Rivera says that "among all the pianists I've worked with, Alon Yavnai is the most versatile musician."
Yavnai has also continued to expand his own musical horizons. He has an ongoing relationship with the NDR Bigband in Hamburg, for whom he has composed, arranged and recorded multiple times on special commission for broadcast throughout Germany and Europe. Additionally, in October of 2007, he performed as a soloist with the Zurich Symphony Orchestra at Tonhalle Concert Hall in Zurich, Switzerland, under the direction of Christof Escher.
Among the artists with whom Alon has performed and recorded are Freddie Hubbard, Joe Lovano, Nancy Wilson, Rosa Passos, Leni Andrade, Louis Hayes, Bob Moses, Ravi Coltrane, Romero Lubambo, Claudio Roditi, Rufus Reid, Jim Chapin, George Garzone, Leon "Ndugu" Chancler, and the New York Voices.
Now, with the release of Travel Notes, his first recording on ObliqSound, Yavnai continues to explore new musical terrain, involving his deep influence from Israeli music which he grew up with, incorporating rhythms from Cape Verde, Peru and Morocco with Brazilian harmonic influences and his solid grounding in both classical and jazz composition.
Don't miss the return Alon Yavnai with his all Israeli group on Sunday October 30th.
---
Just Announced!!
Mark Gondor & Akron U. Fusion Quintet
Tuesday, November 1
7 PM
$10.
Drummer & Akron University Professor Leads All-Star Student Group Live at Nighttown! Featuring: Mark Gondor-drums, Tom Breadon-bassoon, Joe Leaman-keyboards, Dave Hammer-electric guitar, & Mike Forfia-electric bass.
Veteran drummer Mark Gondor has been has now been on the faculty at Akron University for eleven years. His latest project encourages original music and arrangements of music in the jazz rock style. The group is comprised of some of the best players in the current Akron University program. All of the players are working professional musicians in the Northeast Ohio area.
Mark Gondor the leader of the group brings an impressive resume to the Nighttown bandstand. He has worked extensively with the Cleveland Jazz Orchestra, and has backed many top touring musicians in both Akron, Cleveland, and throughout this region. Gondor has been featured at Nighttown backing vocalist Mark Murphy and trumpeter Jack Schantz among many others.
Here are Mark Gondors words in reference to the upcoming Nighttown gig: "Young Lions you bet! I am looking forward to this gig. Playing with young talented musicians keeps an older musician looking forward."
Don't miss dynamic drummer Mark Gondor and the Akron U. Fusion Quintet live at Nighttown on Tuesday, November 1st.
---
Roy Book Binder
Wednesday, November 2
7 PM
$10.

Roy Book Binder's "I'm Goin' Home Someday"

Roy Book Binder Teaches a Basic C Rag
Acoustic Blues with master guitarist, vocalist, & storyteller.
Roy Book Binder has been a Blues singing, guitar picking, song writing raconteur for the past thirty years. He worked closely in the ' 60s with blues masters Rev. Gary Davis and Pink Anderson. He is a genuine example of the traveling bluesman tradition that began in the ' 20s, was revived in the ' 60s and continues today. Book Binder's stories are as good as the songs. The Sydney Morning Herald said, "behind the humor lurks a musical master."
Currently Roy Book Binder is touring in support of his latest CD "Live at The Fur Peace Station" which was recorded at Jorma Kaukonen's Fur Peace Ranch in Pomeroy, Ohio. This new CD features several originals as well as compositions by the Reverend Gary Davis, Pink Anderson, Dave Van Ronk, and Mississippi John Hurt.
Don't miss the master Piedmont style guitar picker and storyteller Roy Book Binder live at NIghttown on Wednesday, November 2nd.
---
Hal Galper Trio
Thursday, November 3
8 PM
$15.
Dynamic Pianist from the groups of Phil Woods, Cannonball Adderley, and Chet Baker, leads his Trio featuring: Jeff Johnson-acoustic bass, & John Bishop-drums. Playing music from his new CD on Origin Records.
With over 86 recordings to his credit, 30 as a leader in his own right, pianist, composer, publisher, educator, author and touring artist, Hal Galper is best known for his work with Chet Baker, Connonball Adderley, John Scofield and the Phil Woods Quintet. His recordings as a leader with Mike and Randy Brecker are considered among the best.
Graduating from the Berklee College of Music at the height of the be-bop era, his reputation grew steadily in the changing environment of jazz. He anchored such bands as The Slide Hampton Quartet, The Lee Konitz Duo, The Stan Getz Quartet and many others. His biography is listed in the National Encyclopedia of Jazz and he has 100 original compositions recorded and published.
Galper is internationally known as an educator. His theoretical and practical articles have appeared in six of Down Beat Magazines editions and his scholarly article on the Psychology of Stage fright, originally published in the Jazz Educators Journal, has subsequently been reprinted in four other publications. Fast becoming the last word on the subject, his new book "The Touring Musician, A Small Business Approach to Booking Your Band on the Road (Billboard Books) is now into it's second printing. Hal is on the faculty of Purchase Conservatory and the New School of Jazz and Contemporary Music. He extensively travels the College lecture-workshop circuit.
He has won a Grammy nomination and a Grammy for his recordings with the award-winning Phil Woods Quartet and Quintet, was awarded a Distinguished Alumni Award from the Berklee College of Music, musltiple awards For outstanding Service to Jazz Education from the IAJE and has been a recipient of grants from the National Endowment of the Arts, The Lila Wallace-Readers Digest Foundation and the New School of New York.
Hal Galper's music displays some of the best qualities of mainstream jazz. Hal's ability to select and arrange rarely heard tunes from the standard repertoire, his penchant for lyrical improvisation and his commitment to a dancing, deeply swinging beat, makes his music accessible to a broad range of listeners.
---
California Guitar Trio
Sunday, November 6
7 PM
$25.

California Guitar Trio "Echoes" (full mp3 download)

California Guitar Trio's "Pipeline" (full mp3 download)

California_Guitar_Trio's_"Bohemian_Rhapsody" (full mp3 download)

California Guitar Trio's "Andromeda"
International Guitar Masters return to Nighttown! Playing music from their latest CD "Andromeda".
Their performances astounding, and diversity unparalleled, these three revered musicians are not actually natives of the "Golden State." The California Guitar Trio (CGT) is Bert Lams from Belgium, Hideyo Moriya from Japan, and Paul Richards from Utah. Together, their technical wizardry is breathtaking, as is the wide range of instrumental music the group renders... everything from unique originals to dazzling, cleverly-arranged interpretations of jazz, classical music, and even surf rock.
Since their inception in 1991, the Trio has released 12 CDs: seven studio albums (including a Christmas record), four live releases (including An Opening Act from their 1995 worldwide tour with King Crimson) and the recent compilation Highlights, featuring their most popular original works as well classics from Bach's "Toccata and Fugue" and Beethoven's 9th to Chantays' "Pipeline" and Queen's "Bohemian Rhapsody." On screen, CGT can be seen in documentary Following the Music: On The Road w/ California Guitar Trio (©2004 Stone Chapel Films) and the new Hi-Def multi-camera shoot of an intimate house concert in 2009.
In October 2010, the California Guitar Trio releases their 13th career CD Andromeda, an entirely new all-original album nearly three years in the making. In addition, recent stage collaborations with bassist Tony Levin and drummer Paul Mastelotto have renewed demand for national touring.
Don't miss the dynamic California Guitar Trio live at Nighttown on Sunday, November 6th.
---
Mike Jones Trio
Wednesday, November 9
7 PM
$10.

Download a free copy of Mike Jones' new album "Chicago Trio 2010 at
http://www.jonesjazz.com
Dynamic pianist and musical director for the Penn and Teller Show. Chiascuro recording artist. Featuring: Roy King-drums, & Marty Block-acoustic bass.
Heralded for "the most remarkable pure technique of any piano player working in jazz today" (noted critic Neil Tesser), Mike Jones is "the great living Mainstream Monster of jazz piano" (Jeff Simon, The Buffalo News). After attending the Berkee School of Music in the 1980s and playing in some of the East Coast's most notable clubs, Jones headed west. Since 2002 he has served as musical director and opening act (joined by Penn Jillette on bass) for the Penn & Teller Show in Las Vegas, playing to over 1.5 million people in recent years and recording a series of highly-regarded CDs for Hank O'Neal's Chiarascuro label. His recent release Chicago Trio 2010 documents a recent performance at Chicago's legendary Green Mill Jazz Club.
With an outward appearance perhaps more appropriate for a heavy-metal musician than someone who has "quietly established himself as the successor to the stupefyingly virtuostic Oscar Peterson" (Neil Tesser), Mike Jones has always followed his own internal musical path, eschewing the latest jazz flavor-of-the-month for immersion in the jazz piano tradition stretching from Fats Waller and Art Tatum to the two-fisted wizardry of his mentor, the late Dave McKenna . As a jazz pianist, "Jones commands a lavish arsenal of formidable weapons: the rumbling bass lines of an Erroll Garner or Dave McKenna, the meteoric right-hand phrasings of an Art Tatum or Bud Powell, the awesome chops of an Oscar Peterson or McCoy Tyner, the natural rhythmic swing of a Hampton Hawes or Horace Silver, the unerring taste and sensitivity of a Kenny Barron, Hank Jones or Bill Evans" (Jack Bowers, Cadence). Drawing on the Great American Songbook, his performances showcase his "colossal technique, enormous repertoire and heightened sense of style" (Howard Reich, The Chicago Tribune).
Join us for Mike Jones' debut performance at Nighttown on Wednesday November 9th.
---
Michael Kaeshammer Trio
Thursday, November 10
8 PM
$15.

Michael Kaeshammer's "Rendezvous"

Michael Kaeshammer's "Hamps' Boogie"

Michael Kaeshammer's "Lovelight"

3 Free Complimentary Full Song mp3 downloads
From Toronto! Pianist, vocalist, and songwriter combines Boogie Woogie and Jazz. With Marc Rogers-bass, & Mark McLean-drums.
On 2011's KAESHAMMER (Alert Music/Universal), Michael Kaeshammer doesn't simply wow you with his chops; he invites you in and talks to you. Yes, he's a gifted singer and songwriter, a highly trained technician and interpreter and an incendiary piano player. But also, on stage and off, he's a consummate host.
Recorded at Toronto's Drive Shed and Keen Studios in 2010 and produced by Ron Lopata (Jacksoul, Ron Sexsmith) KAESHAMMER plays like a love letter to life – A set of original songs as playful as they are contagious. Literally, a feast for your ears that blends ingredients from Kaeshammer's vast store of jazz, soul, pop and R&B influences, served up fresh, piping hot, and with a huge helping of joy on the side.
That joy is clear from the first note of KAESHAMMER, as is Kaeshammer's uncanny ability to take 'a bit of musical this' and 'a touch of musical that' and create a sound that is uniquely his own – A singular brand of pop tinged jazz that owes as much to Billy Joel and Paul McCartney as to Professor Longhair and Albert Ammons on hook laden love songs like 'A Little Bit Of Love.
But while Kaeshammer's fiery style incorporates elements of his early influences – the New Orleans sound of Fats Waller, Art Tatum and James Booker – on tracks like 'Kisses In Zanzibar' and the high-energy, boogie fuelled romp, 'Rendezvous', he also takes his cue from one of his own all-time favourite records, Robert Palmer's Sneakin' Sally Through the Alley, recorded in New Orleans with influential local funk outfit, The Meters, in 1974. In short, it's the musical equivalent of Gumbo.
No great surprise then that Kaeshammer is as passionate a cook as he is a performer and songwriter. As he told lifestyle writer, Monique Savin: "I love music and food… At home I have dinner parties where I invite some friends and everyone cooks together. The day or occasion doesn't matter. I go shopping just for that meal and I don't start cooking until people actually arrive — preparing food is part of the party." (Globe and Mail, Dec. 16, 2010)
Similarly, at his shows, the joy is in the sharing, the process of getting where you're going, not just the end result. As the Montreal Gazette's Bernard Perusse says: "He's a showman. And showmanship is what makes people talk… If you haven't seen him live, you haven't really experienced him in his true element."
"Technically Brilliant and a spectacle…" says Calgary blogger, Tim Tamashiro. "Like taking a Ferrari for a drive through winding mountain highways and then going for a gourmet meal. It excites all of your senses."
Like the dinners he whips up for friends in his East Toronto loft, Kaeshammer's shows are prepared with your full participation, and never from a set menu. They're a party, constantly evolving and likely to explode in a wild flurry of joy that's as undeniable as it is contagious at any second. While no two shows are exactly alike, here's a breakdown of how a typical night with Kaeshammer might play out…
Don't miss the debut performance at Nighttown of Michael Kaeshammer on Thursday November 10th.
---
The Oblivion Project
Friday, November 11
8:30PM
$20.

Audio Jukebox for The Oblivion Project
Great Lakes based Tango Group in Nighttown debut. Playing the Nuevo Tango Music of Astor Piazzola!
Featuring: Julien Labro on bandoneon; Gabriel Bolkosky on violin; Derek Snyder on cello; Tad Weed on piano; John Holkeboer on bass; Alex Trajano on percussion.
Tango: the sultry, darkly beautiful dance music of Argentina is brought to life in the Northern Hemisphere by the Midwest's foremost tango band, the Oblivion Project. Composed of some of the finest musicians in the area, the group explores the music of the legendary composer Astor Piazzolla. Created to interpret the music of Argentine composer Astor Piazzolla, The Oblivion Project's annual tango concerts at the beloved Kerrytown Concert House in Ann Arbor, Michigan are one of the venue's most popular springtime events. Like no other music, the passion-filled and dramatic tangos of Astor Piazzolla evoke the mystery and romance of Buenos Aires after dark.
Featuring the internationally renowned, award-winning bandoneon* duo of Peter Soave and Julien Labro, the group also boasts some of the area's most talented jazz and classical performers, including jazz pianist Tad Weed, avant-garde percussionist Alex Trajano and Gabe Bolkosky, Derek Snyder and John Holkeboer on violin, cello and double bass.
The Oblivion Project features Julien Labro on bandoneon. Many of you know Julien as he is one of the founding members of Hot Club of Detroit who has performed at Nighttown on many occasions. However, instead of playing accordion as he does in the HCOD, he will be playing the bandoneon, which is rich and exotic instrument rarely heard.
Don't miss the debut performance at Nighttown of The Oblivion Project on Friday November 11th.
---
Legendary Organ player of Booker T. and the MG's
Booker T. Jones
Saturday, November 12
8 & 10 PM
$50.

Booker T. Jones' "Progress"

Booker T. Jones' "Everything Is Everything"

Booker T. Jones' "Native New Yorker"
Legendary Organ player of Booker T. and the MG's fame plays classics and new music from his new CD on Anti Records! With his LA based Quartet. Rare Club appearance!
Booker T. Jones was one of the architects of the Memphis soul sound of the 1960s as the leader of Booker T. & the MG's, who scored a number of hits on their own as well as serving as the Stax Records house band. But Jones' accomplishments don't stop there, and as a producer, songwriter, arranger, and instrumentalist, he's worked with a remarkable variety of artists, from Willie Nelson to John Lee Hooker, from Soul Asylum to the Roots.
Booker T. Jones was born in Memphis, Tennessee on November 12, 1944. Jones developed an keen interest in music as a boy; while working a paper route, he used to pass by the house of jazz pianist Phineas Newborn, and would often stop and listen to him practice as he folded newspapers. By the time Jones was in high school, he helped to direct the school band and was proficient on saxophone, trombone, oboe, and keyboards; he also played organ during services at his church, and would occasionally sneak out and sit in with R&B combos at local nightclubs. In 1960, Jones, a frequent customer at Memphis' Satellite Record Shop, was recruited to play sax on a Rufus and Carla Thomas recording session when the proprietors of the store, Estelle Axton and Jim Stewart, decided to start their own record label. The label soon evolved into Stax Records, and Jones, along with guitarist Steve Cropper (who was managing the record store when he met Jones), bassist Lewis Steinberg (later replaced by Donald "Duck" Dunn), and drummer Al Jackson Jr., would form the MG's, who would back up Stax artists Otis Redding, Sam & Dave, Eddie Floyd, Albert King, and many others, as well as releasing a steady stream of instrumental recordings on their own, including the smash hit "Green Onions." Jones' productivity in the early to mid-'60s is all the more remarkable as he was also a full-time student at Indiana University, where he studied composition and music theory while doing shows and recording sessions during weekends and vacations.
Booker T. & the MG's enjoyed considerable success in their heyday
-- cutting hits, backing Stax's leading artists, touring Europe and the U.K. with the Stax/Volt Revue, and accompanying Otis Redding for his legendary set at the 1967 Monterey Pop Festival -- but between internal disputes at Stax (mostly regarding the spoils of their successful distribution deal with Atlantic Records) and the increasingly busy schedules of the various members, the group was on the verge of breaking up, and in 1970, Jones relocated to Los Angeles. He had already been branching out, appearing on Delaney & Bonnie's 1969 album Home and Mitch Ryder's ambitious The Detroit-Memphis Experiment, and after 1971's Melting Pot, the MG's quietly broke up. Jones stayed busy with session work, playing on albums by Bob Dylan, Steven Stills, Kris Kristofferson, and Rita Coolidge, and in 1971 he released Booker T. & Priscilla, the first of two albums he would record with his then-wife, Priscilla Coolidge-Jones (the sister of Rita Coolidge). The same year, Jones produced Just as I Am, the outstanding debut album by Bill Withers, which featured the hits "Ain't No Sunshine" and "Grandma's Hands." In 1975, Jones and the MG's were working on a reunion album when Al Jackson Jr. was murdered; the group continued to record with drummer Willie Hall, but they parted ways again in 1977. In 1978, Jones released his first solo album, Try and Love Again, and enjoyed one of his biggest successes as a producer, producing Willie Nelson's Stardust, a collection of pop standards that established Nelson as one of country's biggest crossover acts.
Session work and production assignments with Willie Nelson dominated Jones' schedule in the 1980s, though he released a second solo album, I Want You, in 1981, and another followed late in the decade, 1989's The Runaway. In 1992, Booker T. & the MG's were inducted into the Rock and Roll Hall of Fame, and that same year the group reunited for a special, high-profile gig -- they served as the house band for an all-star tribute to Bob Dylan staged in honor of the songwriter's 30th year as a recording artist. Neil Young, one of the artists who appeared at the concert, was impressed enough with the MG's that he invited them to serve as his backing band for a major concert tour in 1993. The tour sparked new interest in the band, and in 1994 Jones and the MG's cut a
new album, That's the Way It Should Be, and they supported it with a number of live dates. Jones soon returned to a steady schedule of session work, and he produced as well as performed on Neil Young's 2002 album Are You Passionate? But in 2008, Jones stepped up for one of his most ambitious solo efforts to date, Potato Hole, in which he was backed up by country-influenced hard rockers the Drive-By Truckers, with Neil Young adding additional guitar on several tunes. The album earned enthusiastic reviews, and Jones supported the release with a number of live dates in America, Europe, and the U.K. In 2011, Jones returned with another inspired collaboration, The Road from Memphis, in which he teamed up in the studio with Philadelphia-based hip-hop/modern soul collective the Roots.
Booker is undiminished in his creative powers, and "Road From Memphis" presents an eclectic mix of melodies, rhythms, and moods. The journey begins with the deliberate, funky march of "Walking Papers," "Anytime someone felt the need to move on to a different era in life," says Booker, "they would say they had gotten their 'walking papers.' This is a happy, undeniable groove about the excitement of a new life." Highlights abound. "The Hive" lays down a propulsive, hypnotic bed atop which Booker neatly fits a soaring southern soul melody. The groove is tightened considerably for "Rent Party," Booker flexing his jazz chops; he builds like a street-corner storyteller, a meandering narrative that hooks us all the way to the punch line. "Progress" is optimistic like mid-1960s pop, countered by the underlying menace of "The Vamp" and its carnival-esque chicanery. Booker's always made the space between the notes a key part of his playing. Like Monk, he creates dimension that way, groove heavy with deep feel. He shaves the beats, making them breathe like human beings, making them dance.
There's a timelessness to these new tunes, but also a startlingly contemporary feel. The Roots are pulling something from Booker, but Booker's also sending The Roots somewhere they've not gone—it's a union of musicians, nourishing each other. The culmination of the exchange may be in "Everything Is Everything," when Booker brings on the distortion, the madness, the pulsating aggression that is a new sound for him, that takes him to a new place and then winds down like great sex, a new seed planted.
Some seeds fall near the tree, some are carried by the winds to distant
lands. Booker's first fruits were drawn from the root of American music—the Mississippi Delta's blues became soul and rock and roll. Memphis and New Orleans passed those rhythms forth and back, then shipped them out across the globe. Booker found his destiny manifested in California, leaving the murky provincialism of the Mississippi River for the vast embrace of the Pacific Ocean. Like any good pioneer, on his road from Memphis he brought only what he could carry, cherished what he could use, and he built a new life, sun-filled with possibilities, rich with distant echoes.
(Excerpted from Robert Gordon, Memphis, 2011 (Robert Gordon is the author of It Came From Memphis and producer-director of the documentary Respect Yourself: The Stax Records Story) and Mark Deming at AllMusic.com)
Be sure to don't miss the legendary Booker T. at Nighttown on Saturday November 12.
---
Andrea Capozzoli
Sunday, November 13
7 PM
$10.

Andrea Capozzoli's "Something About You Baby"

Andrea Capozzoli's "The Next Time"
Vocalist, pianist, and trumpeter from NYC leads Quartet mixing jazz and R&B. Featuring: Casper Gyldensoe-guitar, bassist Dave Buda-bass, & Rob Mitzner-drums.
Named 2004 "Female R&B Artist of the Year" at the New York International Music Festival, vocalist, trumpet player, pianist and producer Andrea Capozzoli has quickly established herself as a force to be reckoned with. From the driving funky energy of the track "Something About You Baby", to the sultry gospel ballad "If I Only Knew", Andrea's album "So Real" has an eclectic appeal that transcends many genres.
Originally from Pittsburgh, Andrea got an early start as a professional musician, studying vocals with the likes of Cheryl Bentyne (Manhattan Transfer), Kevin Mahogany, and Maureen Budway. As Andrea puts it, "Although I grew up listening to Aretha Franklin and Chaka Khan, it was always really important to me to keep a heavy jazz influence in my songwriting as well. I am really fortunate to have bandmates that groove so hard and are also incredibly well-versed in jazz."
The band, which includes Danish guitarist Casper Gyldensoe, bassist Dave Buda and drummer Rob Mitzner, recently played to a packed house at New York's historic Blue Note Jazz Club, which culminated a fast-paced summer of touring the United States and Europe. Andrea has also opened for the likes of Steely Dan, Sister Sledge and Jessica Simpson, and shared the stage with Slide Hampton, Bernard Purdie, and Erik Kloss, among many others; she is on the faculty of the prestigious Berklee College of Music and recently had the honor of performing for President Barack Obama.
---
Audible Distraction featuring Keith McKelley
Monday, November 14
7 PM
$10.


Jazz, funk, r&b, blues, brazilian, & afro-cuban from powerhouse NE Ohio Group. Send off for Keith McKelley before he moves to the West Coast. Featuring: Keith McKelley- Sax; Dan Wilson- Guitar;
George Granville- Piano; Alfredo Guerreri- Bass; Myron Gardner- Drums; Bill Ransom-percussion
Audible Distraction is a group of musicians from diverse musical backgrounds based in Northeast Ohio. The band consists of Theron Brown (on tour with The Glenn Miller Orchestra)-piano, Dan Wilson-guitar, Keith Mckelley-sax, Myron Gardener- drums, and Alfredo Guerrieri- bass. Since each musician leads their own group, and these five musicians blend so well together, Audible Distraction has no definite leader; the band functions as a collective. Audible Distraction boasts a large repertoire of original music and cover songs including; jazz, funk, r&b, blues, brazilian, afro-cuban.
---